Add to favorites
Minato-ku LEGOLAND Discovery Center Tokyo
レゴランドって名古屋の?と思ってましたが、東京・お台場にも小さい規模のレゴランド・ディスカバリーセンターというのがあるんですよね。(レゴランド・ディスカバリーセンターは大阪にもあります。)しょっちゅう生協で割引チケットが出ています。
Is Legoland Nagoya? I thought, but there is also a small-scale Legoland Discovery Center in Odaiba, Tokyo. (The Legoland Discovery Center is also located in Osaka.) Discount tickets are often issued at the Co-op.
レゴランドは割引がたくさんある場所なので、割引を調べてから行った方がいいと思います。本日の「東京の小学生とおでかけ!」のテーマはお台場・東京テレポート駅にあるレゴランド東京ディスカバリーセンターです。
Legoland is a place with a lot of discounts, so I think you should check the discounts before you go. The theme of today's "Going out with elementary school students in Tokyo!" Is the Legoland Tokyo Discovery Center at Tokyo Teleport Station in Odaiba.
レゴランド東京って何歳からがいい?
How old is LEGOLAND Tokyo?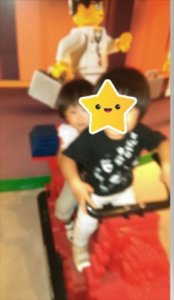 レゴって男の子の遊ぶおもちゃの定番ですよね。はっちゃんは何故か3歳ごろまで男の子っぽいおもちゃが好きだったので、「とりあえず行っとく?」という感じで2歳の頃に行ってみたんです。正直、まだ早すぎました、、。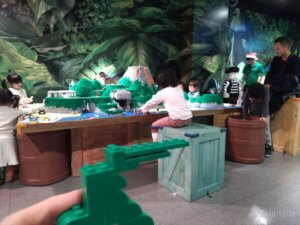 アトラクションに全く乗れず。アスレチックもママがいないと怖いし;レゴブロックいじってるだけなら、家でもできるじゃ~ん!という感じに思いました。まあ、多少楽しかったんでいいんですけどね。ベストは4歳くらいからかな~と思います。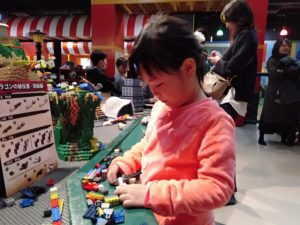 LEGO is a standard toy for boys to play. For some reason, Hatchan liked boyish toys until he was about three years old, so I decided to go when I was two years old with the feeling "Is it going to go?" To be honest, it was too early…
I can't ride the attraction at all. I'm scared of athletics if I don't have a mama; if I'm just playing around with LEGO blocks, I can do it at home! I thought that. Well, I hope it was a little fun. I think the best is from about 4 years old.
レゴランド・ディスカバリー・センター東京はどこにある?
Where is Legoland Discovery Center Tokyo?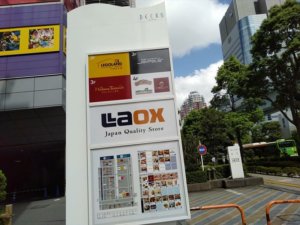 レゴランド・ディスカバリー・センター東京はりんかい線「東京テレボート」駅徒歩5分、または、ゆりかもめ「お台場海浜公園」駅徒歩3分と駅チカの施設です。施設内にランチができるカフェもありますし、デックス東京ビーチ アイランドモールの3階にあるため食事やお子様グッズの調達には困りません。
Legoland Discovery Center Tokyo is a 5-minute walk from "Tokyo Teleboat" station on the Rinkai Line, or a 3-minute walk from Yurikamome "Odaiba Kaihin Koen" station. There is also a cafe on the premises where you can have lunch, and since it is located on the 3rd floor of Decks Tokyo Beach Island Mall, you will not have any trouble procuring meals and children's goods.
店名
Shop Name
LEGOLAND Discovery Center Tokyo
種類
Kind
レジャー施設
Leisure facilities
公式URL
Web Site
https://tokyo.legolanddiscoverycenter.jp/
電話番号
Phone Number
0800-100-5346
住所
Address
東京都港区台場1-6-1デックス東京ビーチ アイランドモール 3階
幼児喜び度(最高max★★★)
The degree of infant's pleasant
★★★
小さな子向けのスペースもあります。でも、3歳からのが楽しめるかな~。
There is also a space for small children. But I wonder if I can enjoy it from 3 years old.
小学生低学年喜び度(最高max★★★)
The degree of primary school child's pleasant
★★★
小3、4年生くらいまで楽しいのではないでしょうか。
I think it's fun until the 3rd and 4th grade.
ママのお財布危険度
(最高max★★★)
The degree of dangerous of Mom's wallet
★★
割引を駆使すれば大丈夫!まずは「レゴランド東京 割引」などで検索してみましょう

It's okay if you make full use of the discount! First of all, let's search for "Legoland Tokyo Discount" etc.
レゴランドの入場料の割引制度
Legoland admission discount system
レゴランド東京の正規のチケット料金は大人一人:2,500円です。でもこの料金で買うのは待ってください。もっと安くできますので!
The regular ticket price for Legoland Tokyo is 2,500 yen per adult. But please wait to buy at this price. Because it can be cheaper!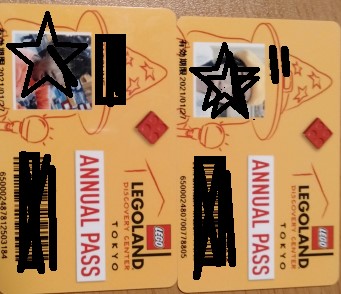 (その1)生協かコンビニで割引チケットを買う
(Part 1) Buy a discount ticket at a co-op or a convenience store
レゴランド東京の割引チケットですが、生協に入っている方は生協が便利です。(食品と一緒にチケット代が口座引き落としされるから)季節ごとにチケットのお知らせチラシがありますが、その中に結構な頻度でレゴランド東京の割引チケットが掲載されています。割引額は1枚300円で正規より安い2,200円で購入できます。
It is a discount ticket for Legoland Tokyo, but if you are in the co-op, the co-op is convenient. There is a ticket information leaflet for each season (because the ticket fee is deducted from the account along with the food), but discount tickets for Legoland Tokyo are posted quite often in it. The discount amount is 300 yen per sheet, and you can purchase it for 2,200 yen, which is cheaper than the regular price.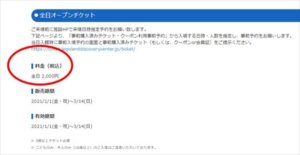 あとはコンビニの端末でも購入できます。ローソンの場合、大人一枚2,000円で購入できます。これだと正規料金より500円の割引です。
You can also purchase it at a convenience store terminal. In the case of Lawson, you can purchase one adult for 2,000 yen. This is a 500 yen discount from the regular price.
(その2)レゴランドの公式ホームページでも前売りは2,200円です

(Part 2)Advance sale is 2,200 yen even on the official website of Legoland

あとは、レゴランド東京の公式ページから前日までにWeb予約すると2,200円になります。1,950円と書かれていますが、私が試しにその料金で購入しようとしても2,200円にしかなりませんでした。
After that, if you make a web reservation from the official page of Legoland Tokyo by the day before, it will be 2,200 yen. It says 1,950 yen, but when I tried to buy it at that price, it was only 2,200 yen.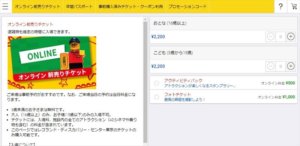 【大人】~Adult
・通常価格(当日券)⇒2,500円 
Regular price (same-day ticket) ⇒ 2,500 yen
・Web前売り券(前日までの購入)⇒2,200円
Web advance ticket (purchase up to the day before) ⇒ 2.200 yen
※Web前売り券は平日:1,950円、休日:2,200円になります。平日の方がさらに250円お安くなります!
* Web advance tickets are 1,950 yen on weekdays and 2,200 yen on holidays. Weekdays are 250 yen cheaper!
(参照:https://www.legolanddiscoverycenter.com/tokyo/tickets-passes/)
【子供】~Kids
大人と同額です。(2歳以下は入場無料♡)
(例)休日に親子2名で行く時の料金
2,200円×2=4,400円
16歳以上から大人料金となりますが、大人のみでの入園はできません。
(その3)年パスのキャンペーン時に破格で年パスを購入
(Part 3) Purchase an exceptional year pass during the year pass campaign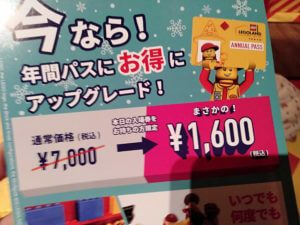 それ以上に最もオトクなのは、来場時に渡されるチラシを見て年パスを購入する方法です。2019年尾年末に遊びに行った際に渡されたチラシを見て仰天!1名1600円で年パスが買える!という内容でした。(本来は年パス1名:7,000円です)2名分を迷わず買いました。本当にレゴランド東京のチケット代ってキャンペーンでかなり安くなると実感しました。(⇒どうせなら元々を下げてほし~!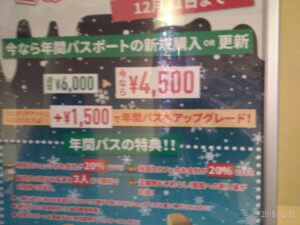 The best way to do this is to look at the leaflets that are given to you when you visit and purchase your annual pass. I was surprised to see the leaflet that was given to me when I went to play at the end of 2019! You can buy an annual pass for 1600 yen per person! It was stating. (Originally, one annual pass: 7,000 yen) I bought two people without hesitation. I really realized that the ticket for Legoland Tokyo would be considerably cheaper in the campaign. (⇒ I want you to lower the original anyway!
なお、今はコロナのため年パス保持者でも事前予約が必要です。当日いきなり行くのではなく、こちらから予約をして行くことになります。
In addition, since it is a corona now, even an annual pass holder needs to make a reservation in advance. Instead of going suddenly on the day, you will make a reservation from here.
(その4)年パス保持者に招待してもらう
(Part 4) Ask the year pass holder to invite you
それよりもっと安いのは、年パス保持者と一緒に行くとひとり1,700円で招待してくれます。(4,500円の年間パスライトは対象外。スタンダードクラスの年間パス以上)
Even cheaper than that, if you go with the year pass holder, you will be invited for 1,700 yen per person. (Annual pass light of 4,500 yen is not applicable. Standard class annual pass or higher)
また、年パスを持っていると年パス保持者の誕生月に3名まで無料で招待できます。
Mata,-toshi pasu o motte iruto toshi pasu hoji-sha no tanjōdzuki ni 3-mei made muryō de shōtai dekimasu.
(その5)レゴランドに行くと、たまに500円で入れるクーポンをもらえます
(Part 5) When you go to Legoland, you will occasionally get a coupon for 500 yen.
私がレゴランドに過去10回くらい行っていますが、そのうち3回「500円で入れる黄色いチケット(5枚綴り)」を頂きました。そのチケットを友人に渡すと喜んでくれました。
I have been to Legoland about 10 times in the past, and 3 of them received "Yellow ticket (5 sheets spelled) for 500 yen". He was happy to give the ticket to a friend.
(その6)EPARKおでかけと経由してチケットを購入すると1,500円
(Part 6) If you purchase a ticket via EPARK Outing, 1,500 yen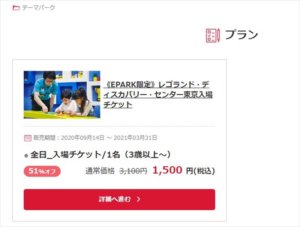 私は2~3年前にEPARKというサイト(グルメや順番予約など)を愛用していました。たまにすっごくオトクな割引があります。(サンシャイン水族館も)EPARKおでかけ(https://ticket.mamakoe.jp/)でレゴランド東京のチケットを購入すると1,500円になります。休日もOKでマダム・タッソー東京(レゴランド東京のすぐ横にある)の入場もついているので大変お得です♪これが現実的にいまは最安値だと思います。
I used to use a site called EPARK (gourmet food, order reservation, etc.) a couple of years ago. Sometimes there are really great discounts. If you buy a ticket for Legoland Tokyo at EPARK Outing (https://ticket.mamakoe.jp/) (also at Sunshine Aquarium), it will be 1,500 yen. Holidays are OK, and Madame Tussauds Tokyo (next to Legoland Tokyo) is also admitted, so it's a great deal ♪ I think this is actually the lowest price now.
他には、最近勢いのあるアソビュー!(https://www.asoview.com/)というおでかけチケットサイトでも割引があり、1,450円です。ただし、このチケットは平日のみです。じゃらん遊び・体験でもチケットがありますが、EPARKよりはオトクではありません。
Besides, the recent momentum of Aso View! There is also a discount on the outing ticket site (https://www.asoview.com/), which costs 1,450 yen. However, this ticket is only available on weekdays. There are tickets for Jalan play / experience, but they are less profitable than EPARK.
年パスホルダーはコロナの時行けなかったけど、どうなるの?
はっちゃんは3月生まれですが、3月はコロナで行けなかったので8月に誕生月無料招待を使いました。でも、もうコロナでの誕生月招待の延長はしてもらえないとスタッフの方に言われました。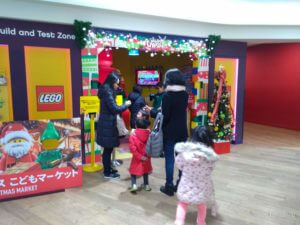 あと、確か公式ページにコロナで行けなかった期間は延長してもらえる、と書いてあったと思うのですが。そこは受付や電話で確認した方がいいと思います。(私は元々安く買ったのであと1回行けたらもういいです;)
I couldn't go to the year pass holder at Corona, what happens?Hakka was born in March, but I couldn't go to corona in March, so I used the free birth month invitation in August. However, a staff member told me that I could not extend the invitation for the birth month in Corona.
Also, I think it was written on the official page that the period when I could not go to Corona could be extended. I think it is better to check at the reception desk or telephone. (I originally bought it cheaply, so it would be nice if I could go there again;)
ワークショップは時間限定!ワークショップに行くなら時間配分とチケット購入を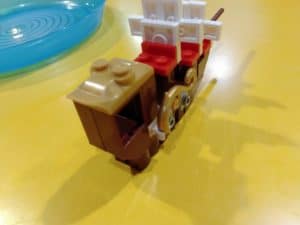 Workshop is limited time! If you go to the workshop, allocate time and buy tickets
レゴランド東京で遊べる内容って、①アスレチック②アトラクション2つ③レゴブロック遊び4か所④カラオケ⑤映画⑥ワークショップ、って感じです。
まだ小さくてアトラクションが暗くて怖いなら、ワークショップを親御さんとするのも良いかもしれません。売店の右手にある自動販売機で500円分のチケットを購入して時間前にワークショップのドアの前の列に並べばOKです。
What you can play in Legoland Tokyo is ① Athletics ② Two attractions ③ Lego block play 4 places ④ Karaoke ⑤ Movie ⑥ Workshop.
If you're still scared and the attractions are dark and scary, it might be a good idea to have the workshop as a parent. You can buy a ticket for 500 yen at the vending machine on the right side of the shop and line up in front of the workshop door before the time.
名物お兄さんが面白い!
The specialty brother is interesting!
レゴランド東京に名物お兄さん(名前忘れた)がいるんです。ドレッドヘアで、「こんにちは~!」とフレンドリーに話しかけてくれるので、すぐにわかるでしょう。コロナの時はオンラインでイベントをしてくれてましたが、このお兄さんの人気ぶりがチャットから伝わり、面白かったですよ♪
There is a famous older brother (forgot the name) in Legoland Tokyo. In dreadlocks, so we talk to friendly and "Hello ~!", You will see immediately. When he was in Corona, he had an event online, but it was interesting to hear from his chat how popular his brother was.
レゴランドの映画は3Dで結構楽しい。怖くない。水かかります!
Legoland movies are pretty fun in 3D. Not scary. It takes water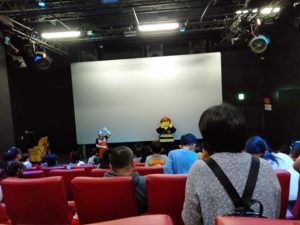 普段、レゴのアニメとかも全く観ないので期待していなかったのですが、レゴランドの3D映画は意外に楽しいです。15分くらいの短い話で、2~3話を繰り返しやっている感じです。ですので、1回の滞在で2種類のお話は見れると思います。
コロナなので、現在は水かけや風が来る演出はなしになっています。
I didn't expect it because I don't usually watch Lego anime at all, but the 3D movie by Legoland is surprisingly fun. It's a short story of about 15 minutes, and I feel like I'm repeating a few episodes. So I think you can see two kinds of stories in one stay. Because it is a corona, there is currently no production of water or wind.
レゴランドのクラウドファンディングをやりました!
We did crowdfunding for Legoland!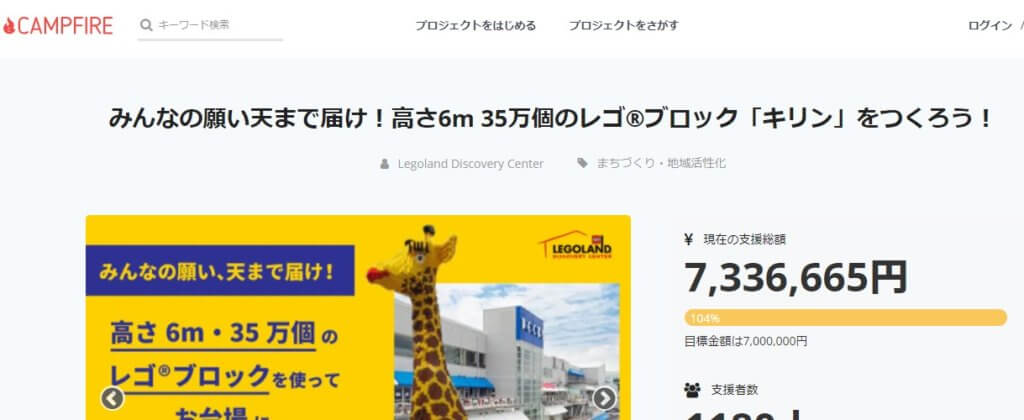 屋内だし、年パス買ってもあんまり行かないかも、なんて否定的な気持ちも最初はありましたが、レゴランド東京では随時イベントをしていて盛り上げようという気持ち満載です。頑張れ、レゴランド東京!
クラウドファンディングで3千円寄付しちゃいました。(その代わり、5千円の商品券をもらえます!)また8月に行くのが楽しみです!
※追伸:2020年8月25日くらいに5,000円分のレゴランド商品券が到着しました。ネット通販には利用できず、レゴランドでのみ使える商品券です。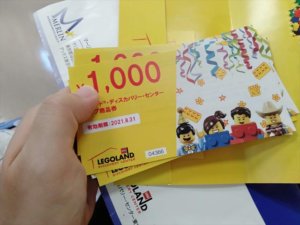 At first I had a negative feeling that I might not go so much even if I bought an indoor pass for a year, but at LEGOLAND Tokyo, I have events at any time and I am full of feelings to get excited. Good luck, Legoland Tokyo!
I donated 3,000 yen through crowdfunding. (Instead, you can get a 5,000 yen gift certificate!) I'm looking forward to going to August again!
*Postscript: A LEGOLAND gift certificate worth 5,000 yen arrived around August 25, 2020. It is a gift certificate that can not be used for online shopping but can be used only at Legoland.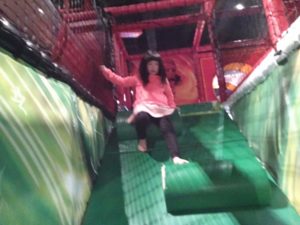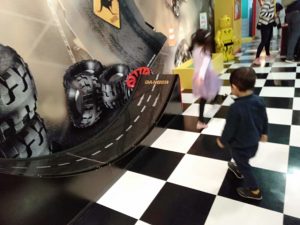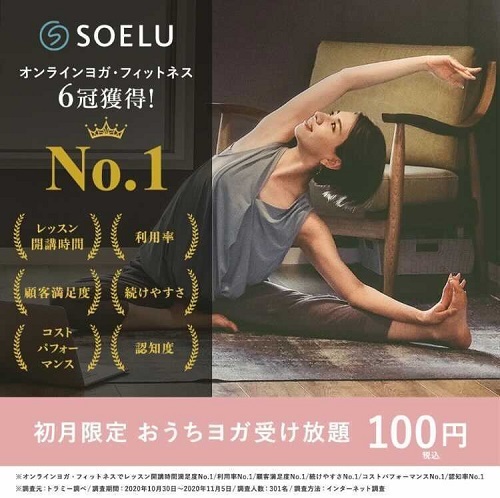 ご覧いただき有難うございました。にほんブログ村ランキングに参加しています。よろしければ、ポチ!ッと押していただけると嬉しいです♡

にほんブログ村