Add to favorites
I got on Skybus Tokyo on a rainy day! Explain ticket counters and discounts ♡
「スカイバス」は東京都内を毎日運行する、真っ赤な2階建てバスです。最大の特徴は、2階の屋根を取っ払っているオープンバスであるという点。昔、銀座を歩いていた時に「イエ~イ!」みたいなパーリーピーポー風の人々が乗っていた(⇒私目線)のを見て、「何あれ?!絶対乗る!」とすぐに調べました。
"Sky Bus" is a bright red two-story bus that runs daily in Tokyo. The biggest feature is that it is an open bus with the roof on the second floor removed. A long time ago, when I was walking in Ginza, I saw people like "Yeah!" Riding (⇒ from my point of view), and immediately looked up "What ?! Absolutely ride!" ..
そんな訳で、本日の「東京の小学生とおでかけ!」はスカイバス東京です。
That's why today's "Going out with elementary school students in Tokyo!" Is Skybus Tokyo.
スカイバスは雨が降っても運行します!
Skybus operates even if it rains!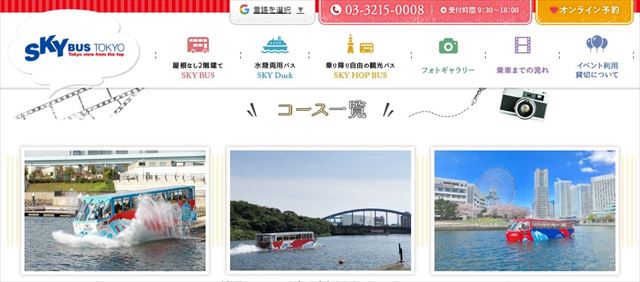 スカイバス東京は結構前からあったと思っていましたが、2009年の開業以来もう12年もたっていたんですね。スカイバス東京は①屋根なしの2階建てバス②水陸両用バス(スカイダック)③乗り降り自由の観光バス、の3タイプあります。今回わたしたちが乗ったのは①の屋根なしバスです。
I thought Skybus Tokyo had been around for quite some time, but it's been 12 years since it opened in 2009. Sky Bus Tokyo has three types: (1) a two-story bus without a roof, (2) an amphibious bus (Sky Duck), and (3) a sightseeing bus that allows you to get on and off. This time we got on the roofless bus ①.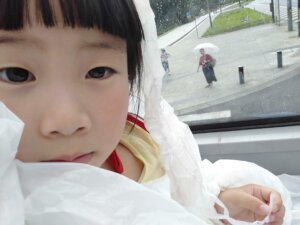 2020年7月26日。はっちゃんと私が乗車し、レインボーブリッジのあと。大粒の雨が降ってきました。すると、バスガイドのお姉さんがてきぱきと「みなさん、雨が降ってきましたので今からポンチョをお配りしま~す!」と大きめのポンチョを配ってくれました。アトラクションみたいで楽しかったです!!強風でない限り、雨でも運行するようです。
July 26, 2020. Hatchan and I got on board, after the Rainbow Bridge. It's raining heavily. Then, the bus guide's older sister gave me a large poncho, saying, "Everyone, it's raining, so I'll give you a poncho now!" It was like an attraction and it was fun! !! Unless it is a strong wind, it seems to operate even in the rain.
(今日の運行はどうなるのかな?)と気になる方は、スカイバスコールセンター(03-3215-0008 9:30~18:00)に電話して確認できますよ~!
If you are wondering (what will happen to the operation today?), You can check by calling the Skybus Call Center (03-3215-0008 9: 30-18: 00)!
スカイバス東京で子供向けのルートは2つ
There are two routes for children in Skybus Tokyo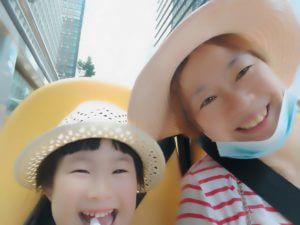 お子様向けの昼コースは①皇居・銀座・丸の内コースか②東京タワー・レインボーブリッジコースの2つです。(所要時間:約50分)幼児に皇居とかどうかな~と思い、私は2回とも東京タワーの方を選びました。東京タワーをまじかに見れるし、お姉さんのガイドは素晴らしいし、私はこのコースが大好きです!(ただ、高速に乗っている間は風にすごくあおられるので、苦手な人もいるかもしれません)バス車内にトイレはないので、乗車前にトイレに行くのは必須です★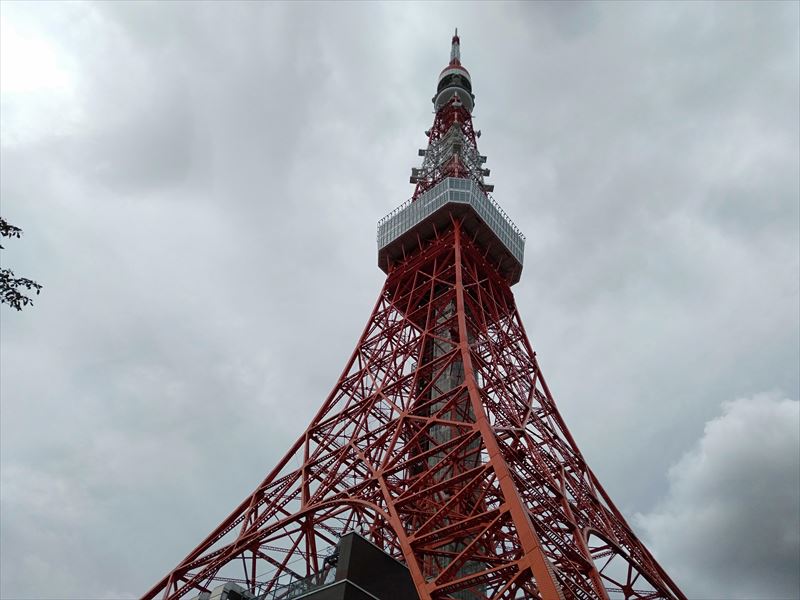 There are two daytime courses for children: (1) Imperial Palace / Ginza / Marunouchi course or (2) Tokyo Tower / Rainbow Bridge course.(Time required: about 50 minutes) I thought it might be the Imperial Palace for young children, so I chose Tokyo Tower twice. You can see Tokyo Tower in person, your sister's guide is wonderful, and I love this course! (However, some people may not be good at it because the wind blows so much while riding at high speed.) There is no toilet on the bus, so it is essential to go to the toilet before boarding.
スカイバス東京のチケットカウンターまでの行き方とキャンセルについて
How to get to the ticket counter of Skybus Tokyo and cancellation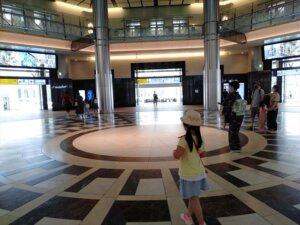 スカイバス東京のチケットカウンターの最寄り駅は「東京駅」です。東京駅の丸の内南口から出ましょう。出るとすぐに丸の内署の交番があります。さらに左手にいくと郵便局があります。郵便局を左に見て前に進むと、横断歩道があるので渡ります。そこで左折します。
The nearest station to the ticket counter of Skybus Tokyo is "Tokyo Station". Let's get out from the Marunouchi South Exit of Tokyo Station. As soon as you leave, there is a police box at the Marunouchi police station. If you go further to the left, you will find the post office. If you look at the post office on the left and go forward, you will cross the pedestrian crossing. Then turn left.
スカイバスは時間が過ぎても乗客が来ない場合、自動的にキャンセルされます。なので特に連絡しなくても大丈夫です★キャンセル時にキャンセル料もかからないため、小さなお子様が急に嫌がったりして予定が変更になっても安心です。
Skybus will be automatically canceled if no passengers arrive after the time has passed. So you don't have to contact us. ★ There is no cancellation fee when you cancel, so you can rest assured that your schedule will change if your small child suddenly dislikes it.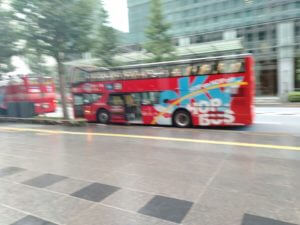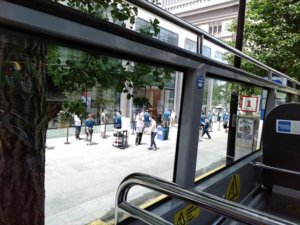 店名
Shop Name
Sky Bus Tokyo
種類
Kind
Bus
公式URL
Web Site
https://www.skybus.jp/
電話番号
Phone Number
03-3215-0008
住所
Address(チケットセンター)
東京都千代田区丸の内2−5−2
幼児喜び度(最高max★★★)
The degree of infant's pleasant
★
5歳くらいからがいいかも。怖がりの子には高速は過酷です。
Maybe about 5 years old. High speed is harsh for a scared child.
小学生低学年喜び度(最高max★★★)
The degree of primary school child's pleasant
★★★
社会の勉強にもなるし、気分爽快だし、結構子供にも向いていると思います!
It's a great way to study society, feel refreshed, and well suited for children!
ママのお財布危険度
(最高max★★★)
The degree of dangerous of Mom's wallet
【料金】
大人1,800円 こども800円
※未就学児が保護者の膝上に乗る場合、無料となります。
[Fee] Adults 1,800 yen Children 800 yen
* Free for preschoolers riding on their parents' lap.
★★
スカイバスだけなら大した出費ではありません。
Skybus alone is not a big expense.
スカイバス東京の割引とは?
What are the discounts for Skybus Tokyo?
スカイバス東京の乗車運賃は大人1名と子供1名(小学生以上)の場合、合計で2,600円でした。しかし、私は窓口で「割引しておきます~!」と言われ、大人500円と子供200円の合計700円分をいきなり割引してもらえたのです。なぜでしょう?
The total fare for Skybus Tokyo was 2,600 yen for one adult and one child (elementary school students and above). However, at the counter, I was told, "I'll give you a discount!", And suddenly I got a discount of 500 yen for adults and 200 yen for children, for a total of 700 yen. I wonder why?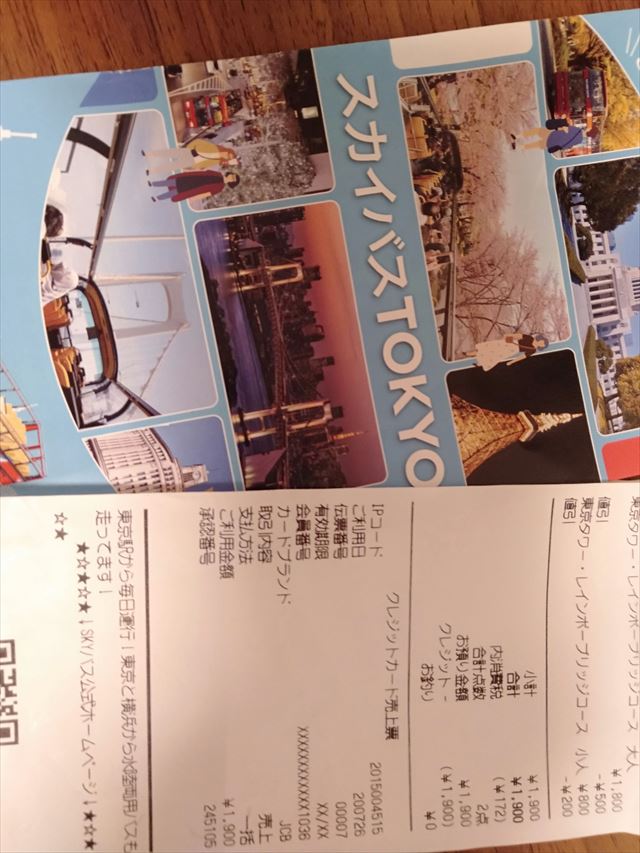 そ、れ、は。降水確率が50%以上の時に乗ると割引が適用されれる「雨天割引」が適用されたからです。(2020年7月~2021年2月まで)※スカイホップバスは適用外
知らなかった~!また、同じ割引額と同じ時期で東京都内に在住・在勤・在学の2名以上でご利用の方にも適用されるそうです。この割引キャンペーンはまもなく終了なので、また次の割引が発表されるのを期待したいですね!!
(詳細はこちら⇒ https://www.skybus.jp/topics/?ca=1&p=1#n1593408648-365335)