Add to favorites
Chuuou-ku,Pokemon Cafe
大学生の時はポケモンのどこがいいか分かりませんでしたが、ついにポケモンカフェに来てしまいました!
When I was a college student, I didn't know what Pokemon was, but I finally came to Pokemon Cafe!
はっちゃんがポケモンに夢中になったのは4歳のはじめからです。幼稚園の年中の時にクラスでポケモンのサン&ムーンが少し流行りまして、テレビで録画するようになったんですね。
で、最初はピカチュウくらいしかわからなかったんですが、サン&ムーンのポケモンのキャラクターってかわいいのが多いし、人間のキャラも個性的で、一気にはまりました。で、クラスの男の子が「俺、今度ポケモンカフェ行くんだぜ」と言ってたので、絶対にはっちゃんも連れて行ってやる!と思って母親も連れて行ってきました。
Hatchan became obsessed with Pokemon since he was four years old. During the year in kindergarten, Pokemon's Sun and Moon became a little popular in class, so I started recording on TV.
At first, I knew only about Pikachu, but the Pokemon characters of Sun & Moon are often cute, and the human characters are also unique, so I got into it all at once. Then, the boy in the class said, "I'm going to Pokemon Cafe next time," so I'll definitely bring her along! I also took my mother with me.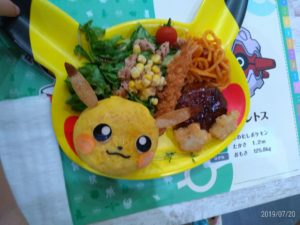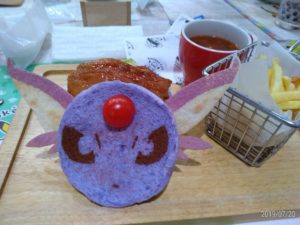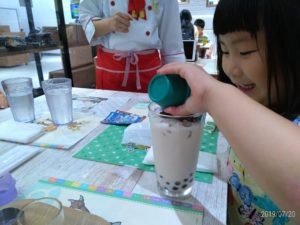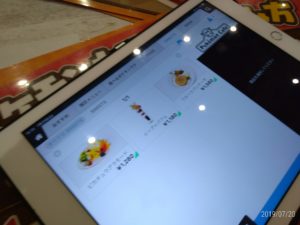 本当はもっと来たいけど、、隣にはポケモンセンターもあるし、かなりママのお財布には厳しいカフェでした
Actually I want to come more, but there is also a Pokemon center next to it and it was a strict cafe for my mom's wallet
ポケモンカフェは日本橋高島屋の東館5階にあります。リッチな幼稚園ママさんでも「ポケモンカフェ、結構高いよ」と言っていたので覚悟していましたが、3人で行って7,000円くらい使いましたかね;これで、グッズとか買ったらもっと使っていたかもしれません。
でも、ポケモンに夢中な時期なら一度は行ってもいいんじゃないでしょうか。親もポケモンが好きなら、「きゃ~!」とテンションが上がること間違いなしです。私たちが行った日はイーブイがダンスしてくれまして、ただのカフェというよりディズニーランド寄りの、ちょっと特別な日のカフェなのです。
Pokemon Cafe is on the 5th floor of the East Building of Takashimaya Nihonbashi. I was prepared because even a rich kindergarten mom said, "Pokemon cafe is quite expensive," but I wondered if three people went and spent about 7,000 yen; I used it more when I bought goods. maybe.
But if you're into Pokemon, why not go there once? If parents like Pokemon, they will definitely get excited with "Kya~!". The day we went, Eevee danced and it was a little special cafe near Disneyland rather than just a cafe.
コロナ前の2019年、どんなに頑張っても平日の変な時間しか予約が取れませんでした
Before corona in 2019, no matter how hard I tried, I could only make reservations on weird hours on weekdays.
ポケモンカフェはかわいい、おいしい(高い)ので、予約はなかなか取れませんでした。コロナ禍のいまはどうですかね?予約はオンラインのWebフォームから行います。https://www.pokemoncenter-online.com/cafe/reservation.html
東京の日本橋以外だと、大阪の心斎橋にもあるそうです。そちらも是非行ってみたいですね~!
店名
Shop Name
ポケモンカフェ
Pokemon Cafe
種類
Kind
Cafe
公式URL
Web Site
https://www.pokemoncenter-online.com/cafe/
電話番号
Phone Number
03-6262-3439
住所
Address
東京都中央区日本橋二丁目11番2号 日本橋髙島屋S.C.東館 5階
幼児喜び度(最高max★★★)
The degree of infant's pleasant
★★★
店内が可愛らしいので、居心地よいと思います!
The inside of the cafe is cute, so I think it's very comfortable!
小学生低学年喜び度(最高max★★★)
The degree of primary school child's pleasant
★★★
お料理の見た目が超かわいいので楽しいと思います
I think it's fun because the food looks super cute

ママのお財布危険度
(最高max★★★)
The degree of dangerous of Mom's wallet
★★★
一皿2千円近くするので;
Because one plate costs nearly 2,000 yen;
カフェを出たところには任天堂スイッチが置いてあり、はっちゃんは知らないお兄ちゃんにレッツゴーピカチューのやり方を教えてもらいました。
There is a Nintendo switch at the place where I left the cafe, and my older brother, who didn't know Hatchan, taught me how to do Let's Go Pikachu.
2019年、うちはまだスイッチを買っていませんでしたが、はっちゃんは欲しがっていました。でも、まだ小学生になるまでは何となく買いたくない!と粘っていたのですが、ポケモンカフェのレジ横に無料で遊べるゲーム機がありました。
順番で並んではっちゃんの番になると、知らないお兄ちゃんが親切に教えてくれて嬉しかったです。小学生の男の子、特に小3くらいまでの男の子って優しくて可愛くて大好きです♡
In 2019, we hadn't bought a switch yet, but Hatchan wanted it. But I still don't want to buy it until I'm in elementary school! I was tenacious, but there was a game machine that I could play for free next to the cash register at Pokemon Cafe.
When I was lined up in order and it was my turn, I was happy that my older brother kindly taught me. I love elementary school boys, especially boys up to about 3 years old because they are kind, cute, and cute ♡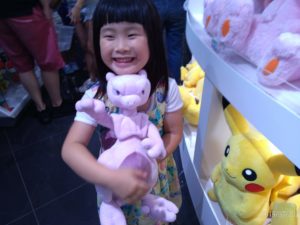 ポケモン好きのお子様にぜひどうぞ♡
にほんブログ村ランキングに参加しています。よろしければ、ポチ!ッと押していただけると嬉しいです♡

にほんブログ村