Add to favorites
Chuuou-ku,Ginza Hakuhinkan TOYPARK
場所柄、外国人がとても多いキディランドみたいな大型のおもちゃ屋さんです
It's a large toy store like Kiddy Land, which has many foreigners.
銀座というより、むしろ新橋駅に近い銀座8丁目にあるおもちゃの百貨店です。近くに外国人観光客を乗せたバスが止まる停留所があるため、外国人観光客も多かったです。(コロナ後は少ないと思いますが)
高校生の頃に銀座好きの渋い友人に教えてもらったんですよね。ここ、面白いですよ。
Rather than Ginza, it is a toy department store near Ginza 8-chome near Shimbashi Station. There were many foreign tourists because there was a bus stop nearby that stopped foreign tourists. (I don't think there will be any after corona)
When you were in high school, you had a cool friend who loves Ginza tell you. It's interesting here.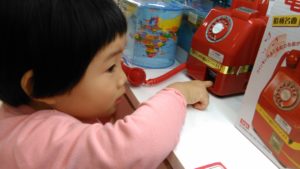 地下1階~4階まで、まるまる5フロア分全部がおもちゃ売り場!大人でもワクワクしちゃうテーマパークのようなお店です。おもちゃなら何でもあります!ここは小学生や幼児を連れて行ったら、軽く2時間は出られませんよ、、!ごはんをしっかり食べてからいくことをオススメします。
From the 1st basement floor to the 4th floor, the entire 5 floors are all in a mess section! It's a store like a theme park where adults can get excited. Any toy! If you take elementary school children or infants here, you can't go out for 2 hours lightly! We recommend that you thoroughly eat rice before you go.
博品館って一日遊べます。上層階の8階には博品館劇場、5階以降にはレストランがあります!
You can play at Hakuhinkan all day long. There is a Hakuhinkan theater on the upper 8th floor and a restaurant on the 5th floor and beyond!
博品館の1階入り口に入ってしばらくすると、土日にはおもちゃについて色々説明してくれるおじさんがいます。向かって右側には変わり種の貯金箱。王様のアイデア系のおもちゃで、大人でも見てて楽しいんですよね。
イトーヨーカドーやイオンなどにあるおもちゃ売り場とはまるで違い、おもちゃを買わなくても沢山のおもちゃサンプルが置いてあり子供は遊べます。なので、近場のスーパーで飽きたらここに来るのもオススメです。数時間いて何も買わないのはアレなんで、私はアクアビーズの補充用を買いました。
博品館TOY PARKはチェーン店です。銀座のお店以外には南町田、成田空港、羽田空港などにもあります。空港ってなぜかおもちゃ屋さん多いですもんね。
【中央区】ポケモンカフェ日本橋の予約と料金とは?
Shortly after entering the first floor entrance of Hakuhinkan, on Saturday and Sunday there is an uncle explaining various toys. On the right side is a different kind of piggy bank. It is a toy based on the idea of ​​the king, and it is fun for adults to see.
Unlike the toy departments in Ito-Yokado and Aeon, many toy samples are stored and children can play without buying toys. So, if you get tired of a nearby supermarket, we recommend that you come here. I didn't buy anything for a few hours, so I bought a replacement for aqua beads.Hakuhinkan TOY PARK is a chain store. In addition to Ginza shops, there are also Minamimachida, Narita Airport, Haneda Airport, etc. There are many toy stores at the airport for some reason.
店名
Shop Name
博品館 TOY PARK
Hakuhinkan TOY PARK
種類
Kind
おもちゃ屋さん
Toy shop
公式URL
Web Site
http://www.hakuhinkan.co.jp/toypark/
電話番号
Phone Number
03-3571-8008
住所
Address
東京都中央区銀座8-8-11
幼児喜び度(最高max★★★)
The degree of infant's pleasant
★★★
2歳のはっちゃんは2階で大喜びでした!
Two-year-old Hatchan was overjoyed at 2nd floor!
小学生低学年喜び度
(最高max★★★)
The degree of primary school child's pleasant
★★★
いや~、小学生だって高学年でも好きでしょ!ここは!
No, even elementary school students like it even in upper grades! here!
ママのお財布危険度
(最高max★★★)
★★★
高額か少額かによらず、おもちゃを買って買って光線を子供から浴びることになるでしょう。
Whether it's expensive or small, you will buy and buy toys and your children will be exposed to the rays of light.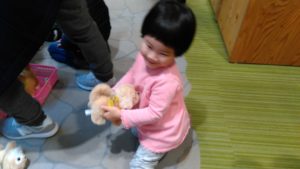 本屋さんが少なくなってる今、おもちゃ屋さんはつぶれてほしくないですね
Now that the number of bookstores is low, I don't want toy stores to collapse.
はっちゃんがここで楽しそうにおもちゃで遊ぶのを見ると、やっぱりおもちゃって大切なんだな~と思います。すぐに飽きるかもしれないし、そんなしょっちゅうは変えないし、家の中で片付け大変なんですけど。
When I see Hatchan playing with toys happily here, I think that toys are really important. You may get bored soon, and I don't change that often, and it's a tough job to clean up at home.
子供が小さい時って文字が読めないしまだお絵描きもろくにできないから、おもちゃが好きなのかな~ってふと思いました。6歳の今でもはっちゃんはおもちゃが好きですが、2歳~4歳の時のようにはあまり欲しがらなくなりました。本が読めるようになったし、お友達と遊んだりおえかきの楽しさを知ったからです。
When I was a little child, I couldn't read the letters and I couldn't draw pictures easily, so I wondered if I liked toys. Even though she is 6 years old, she still loves toys, but she doesn't want much like she did when she was 2-4 years old. I can read books, play with friends, and learn how to enjoy writing.
おもちゃで沢山遊んだら、近くのドンキはいかがですか?
After playing a lot with toys, how about ice cream at a nearby DONKI?
博品館の周りには美味しそうなお店がたくさんあります。なので、ここで遊んでからランチ。またはランチしてから博品館、てなルートもいいですね♪
また、激安の殿堂・ドンキもすぐ近くにあります。家族揃ってお店をハシゴするのも、面白いと思います。