Add to favorites
Edogawa-ku,Kasai rinkai aquarium
東京湾に面した水族館!マイワシの群れを見られる水槽が圧巻です
Aquarium facing Tokyo Bay! The aquarium where you can see a group of sardines is a masterpiece.
JR京葉線の葛西臨海公園駅を下車し、まっすぐ道なりに歩いて左手に曲がるとガラスの大きなドーム型の建物が見えます。それが、葛西臨海水族園(水族館ではなかった;)です。
江戸川区なのに、トロピカルムード満点!海とお友達になれる、格安の施設です。最近の水族館て高級化が進んでいるから、葛西臨海水族園の存在は貴重です。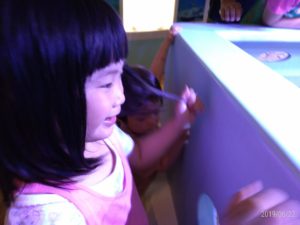 Get off at Kasai Rinkai Koen Station on the JR Keiyo Line, walk straight along the road and turn left, and you will see a large glass dome-shaped building. That is Kasai Rinkai Aquarium (not an aquarium). Even though it is Edogawa Ward, the tropical mood is perfect! A cheap facility where you can make friends with the sea. The presence of the Kasai Rinkai Aquarium is valuable because the aquariums have become more sophisticated in recent years.
1989年に開業!私は葛西臨海水族園の小さいペンギンが好きです
Opened in 1989! I like the small penguins at Kasai Rinkai Aquarium.
葛西臨海水族園は、都内の水族館の中でもどちらかと言うと老舗の部類に入るのではないでしょうか。43歳の私が小学生の時にオープンしたのですから。
水族館の楽しみ方は人それぞれですが、私がこちらで一番好きなのはペンギン展示場です。葛西臨海水族園にはなんと、フンボルトペンギン、フェアリーペンギン、オウサマペンギン、ミナミイワトと4種のペンギンちゃんがいるそうです。
Kasai Rinkai Aquarium is probably one of the long-established aquariums in Tokyo. I opened when I was 43, when I was in elementary school.Each person has different ways to enjoy the aquarium, but the one I like most here is the Penguin Exhibition Hall. There are 4 kinds of penguins in Kasai Rinkai Aquarium: Humboldt Penguin, Fairy Penguin, King Penguin, Minamiiwato.
都内在住じゃなくても、小学6年生までは無料です♡
Even if you don't live in Tokyo, it is free up to the sixth grade in elementary school♡
葛西臨海水族園は東京湾岸地区整備事業の一環として上野動物園開園100周年を記念して計画されたそうです。つまり、税金を使われて開業された、公的な施設ということですね。
そのため、他の公的施設と同様、小学6年生まで料金は無料です。子供のいる家庭は大いに助かりますね。葛西臨海水族園では、水槽ごしに魚や生物を見るだけでなく、しおだまりやウニなどに接近して触れられるコーナーが最後の方にあります。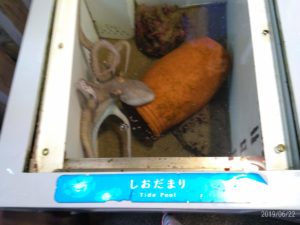 Shiodamari seems to be a place where seawater was left in the recess at low tide in the intertidal zone of the reef.
東京に住んでると、ついつい自然から遠ざかる生活になりがちだと思います。いまは図鑑やテレビでしか虫や生物を知らない子供が増えているそうですね。それは、とてもかわいそうです。
It seems that Kasai Rinkai Aquarium was planned to commemorate the 100th anniversary of the opening of the Ueno Zoo as part of the Tokyo Bay Area Development Project. In other words, it is a public facility that was opened using taxes.
Therefore, as with other public facilities, the fee is free up to 6th grade. A family with children is very helpful. At the Kasai Rinkai Aquarium, there is a corner at the end where you can not only see fish and creatures through the aquarium, but also come in close contact with shiodamari and sea urchins.
When I live in Tokyo, I think it tends to lead to a life away from nature. Nowadays, it seems that more and more children are only aware of insects and creatures on picture books and TV. It looks very poor.
店名
Shop Name
葛西臨海水族園
Kasai rinkai aquarium
種類
Kind
水族館
aquarium
公式URL
Web Site
https://www.tokyo-zoo.net/zoo/kasai/
電話番号
Phone Number
03-3869-5152
住所
Address
東京都江戸川区臨海町
6-2-3
幼児喜び度(最高max★★★)
The degree of infant's pleasant
★★★
お魚を見る体験はワクワクします!
The experience of seeing fish is exciting!
小学生低学年喜び度
(最高max★★★)
The degree of primary school child's pleasant
★★★
小学生の好奇心旺盛な脳にぴったりの水族園です!
It is an aquarium that is perfect for the curious brain of elementary school students!
ママのお財布危険度
(最高max★★★)
★
公的施設なので、安心です
Since it is a public facility, it is safe.
動くロボットや館内スタッフの解説など、アクティブラーニングができる場所
A place where active learning is possible, such as moving robots and explanations from staff inside the building.
開業してから年月が経過している葛西臨海水族園ですが、来るたびに新たな試みがされているな~!と感心します。去年行った時は、イマドキらしいロボットがあったんですね。私もはっちゃんもロボット大好きなんで、「魚だ!」「ロボットだ!」とみるものが多くて、まだまだ楽しめるな~!と思いました。
レストランで超待った!混雑がなければもっと良い
I waited at the restaurant! Better if not crowded.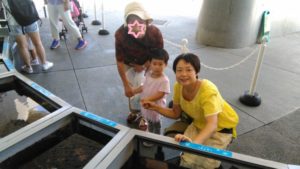 働いているので、おでかけは主に土日に行きます。葛西臨海水族園にはレストランが併設されていますが、土日はかなり混雑しています。(コロナ前)食べ終わっている人も家族連れなので、なかなか席をどかず、、。館内でおにぎりでも食べられると良いのですが、飲食禁止なのです。お昼は食べてから来るとか、土日に来るときはちょっとした工夫が必要だな~!と思いました。
Since I am working, I usually go out on weekends. Kasai Rinkai Aquarium has a restaurant attached, but it is quite crowded on Saturdays and Sundays. (Before Corona) People who have finished eating are also with their families, so it's difficult to leave the seat. It would be nice if you could eat rice balls inside the building, but eating and drinking is prohibited. It's necessary to devise something when you come after eating or on Saturdays and Sundays! I thought.
にほんブログ村ランキングに参加しています。よろしければ、ポチ!ッと押していただけると嬉しいです♡

にほんブログ村