Add to favorites
Kita-ku,Ukima Fishing Park
子連れはもちろん、おじさん同士やカップルにも最高の、魚釣りができる公園です
It is a park where you can fish not only with children but also for uncles and couples.
釣り堀ってなんであんなに楽しいんでしょうか。全部用意してくれてるし、大荷物じゃないし、忙しくないし、ぼーっとできるし。だから、私は釣り堀が大好きです♡でも、なかなか魚を釣ることはできません。
Why is a fishing pond so much fun? I have everything ready, it's not a big bag, I'm not busy, I can do it. That's why I love fishing ponds♡ But I can't catch naanaka fish.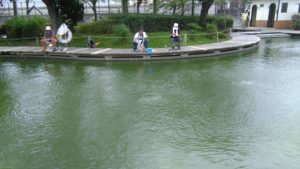 基本的には毎日9時から17時まで開いています。年金暮らしになったら、釣り堀の受付のおばあちゃんになりたいな、、。小学生男子やおじいさん相手に世間話をしたいです。(でも、釣りに関しては全く知識ないし、餌も触れません;)
Basically, it is open every day from 9am to 5pm. When I become a pensioner, I want to be the grandmother at the fishing pond… I would like to talk to elementary school boys and grandfathers. (But I have no knowledge of fishing and I don't touch bait;)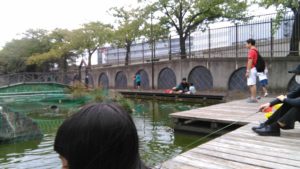 バスとかあるのか?アクセスは不便に感じました
北赤羽は住んでいる場所から近いのにあまり行ったことがありませんでした。今回は旦那がおでかけ情報を調べ、「近い」「魚釣りできる」という2点のポイントでたまらなく楽しみにしているおでかけでした。
しかし、、JR埼京線「浮間舟渡」駅から歩くこと1km以上。5歳のはっちゃんは途中でへばり、半分以上は私が抱っこしてあるくという苦行を強いられました。
Kita Akabane was close to my place of residence, but I hadn't been to it much. This time, my husband was looking forward to the outing information, and I was looking forward to it with two points: "close" and "fishing possible".
However, walking from "Ukima Funado" station on the JR Saikyo line is more than 1km. The 5-year-old Hatchan sank along the way, and more than half had the penalties of holding me.
さすが公的な釣り堀!料金が破格にヤスイ
As expected, a public fishing pond! The charges are exceptional
ここでは、500円くらいあれば遊びまくれます。近所の少年は真夏と真冬以外はここでずっと遊べますね~。私たちが行った時は中国人の家族連れが2組いまして、一生懸命中国語を聞きましたが一言もわかりませんでしたヨ。
足立区の釣り堀ではかなりヒットしたんですが、ここでは全然つれませんでした~。しかし、旦那はばんばん釣っていて、そういう部分はやはり負けちゃうな~と思います。
Here, you can play for about 500 yen. A boy in the neighborhood can play all the time here except midsummer and midwinter. When we went, there were two Chinese families, and I listened hard to Chinese, but I didn't understand a word.
It was a big hit in the fishing pond in Adachi-ku, but I couldn't get it here at all. However, my husband is fishing the best, and I think that part of it will be lost.
店名
Shop Name
浮間つり堀公園
Ukima Fishing Park
種類
Kind
Fishing
公式URL
Web Site
https://www.city.kita.tokyo.jp/d-douro/bunka/koenichiran/ukima.html
電話番号
Phone Number
03-3908-9275
住所
Address
東京都北区浮間5-4-19
幼児喜び度(最高max★★★)
The degree of infant's pleasant
★★
男の子なら特におすすめ!
Especially recommended for boys!
小学生低学年喜び度
(最高max★★★)
The degree of primary school child's pleasant
★★★
小学生は低学年でも高学年でも楽しいと思いますよ!
ママのお財布危険度
(最高max★★★)
★
お財布にやさしいお出かけです!
It is an easy outing for your wallet!
ザリガニの赤ちゃんを釣りました!名前は「ザリちゃん」♪
私は小学生の頃、家でザリガニ、みのむし、カニ、金魚を飼ってました。今の私ならやだな、、と思うかもしれないけど、当時は嬉しかったのです。
で、今の私もザリガニ飼うって言われたら全然OK。なんでしょう。自分にはザリガニOKモードボタンがついていて、それがスイッチオンオフしているみたいな感じです。
When I was an elementary school student, I used to keep crawfish, worms, crabs, and goldfish at home. I might think that it's not good for me now, but I was happy at that time. it would be OK if I was told to keep crayfish now. what do you want. I have a crawfish OK mode button, and it feels like it's switched on and off.
浮間つり堀公園に、セキセイインコmissingのポスターが貼ってありました!
私はこの春まで1年ほどセキセイインコのぴーちゃんを飼っていました。不注意でぴーちゃんをなくしてしまったのですが、ぴーちゃんに似たインコちゃんの「探してます」ポスターが浮間釣り堀公園の入り口付近に貼ってありました。
インコちゃんは今はおうちに帰れたかな~と心配です。
Until this spring, I kept Pee-chan, a budgerigar, for about a year. I carelessly lost Pie-chan, but there was a poster of Inco-chan's "Looking for" similar to Pie-chan near the entrance to Ukimaboribori Park.
I'm worried that Inco-chan will be able to go home now.