Add to favorites
Tama-shi,Sanrio Puro land
ピューロは、ピュア+ピエロを合わせた造語だそうです
Puro seems to be a coined word that combines pure + clown
ピューロって言葉、ありそうですけどね~!造語なんですね!
サンリオピューロランドの中央には大きな木がありまして(適当、、!)、その周りでショーを行ない、「みんなの心を一つに!」みたいなシーンもありますので、ピュアとピエロがコンセプトというのも納得できます。行けば子供だけでなく大人もピュアになれちゃう♡古いけどまだまだ行けちゃう、サンリオピューロです。京王多摩センター駅からの道は超わかりやすく、ベネッセ本社があるので途中でしまじろうとキティちゃん像がいますよ。
The word "Puro" seems to be true! It's a coined word!
There is a big tree in the center of Sanrio Puroland (appropriate! There are scenes, so I can understand that the concept is pure and clown. If you go, not only children but also adults can become pure ♡ Sanrio Puro is old but still able to go.
The road from Keio Tama Center Station is very easy to understand, and since Benesse's head office is located, there is a statue of Kitty who wants to be on the way.
割引なら、ヤフオク!でチケットを買おう!
I was born in the Showa era, so I love Sanrio ♡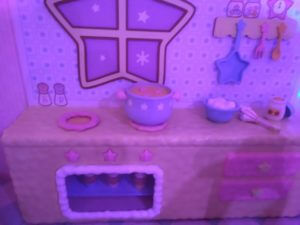 ピューロ―♪ピューロ―♪Welcome to 何とか~というテーマソングが流れてきたあなたは、きっとサンリオ好きな方ですね。私は今まで計3回行きましたが、まだ行きたいです。なぜって、ディズニーより混んでない!ディズニーより安い!サンリオキャラ、カワイイ!、と、完全に子供の事は考えていないのですが;
Puro-♪ Puro-♪ Welcome to ♪ You're sure to love Sanrio when you hear the theme song "Somehow". I've been there a total of three times, but I still want to. Why it's less crowded than Disney! Cheaper than Disney! Sanrio characters are cute! I don't really think abo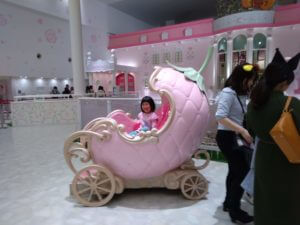 サンリオピューロランドはクーポンが児童館や幼稚園によく置いてありました。その割引率が微妙で、確か200円程度の割引率だったので、そんなに「お得!」と当時は食いつきませんでした。サンリオピューロに行きたくなったのは、私の大好きなヤフオク!で破格のチケットが売り出されていたからです。ヤフオク!では、タダ同然(500円くらい)で売り出されていたので、「じゃ、ちょっくらサンリオでも言ってみっか!」という気分になったのです。
In Sanrio Puroland, coupons were often placed at children's centers and kindergartens. The discount rate was subtle, and the discount rate was certainly about 200 yen, so I couldn't bite it at that time as "profitable!" The one that made me want to go to Sanrio Puro was my favorite Yahoo Auction! Because an exceptional ticket was on sale. Yahoo auction! Then, it was sold for as little as free (about 500 yen), so I felt like "Well, let's say Sanrio!"
コンパクトな屋内型遊園地だから、歩き回ってもあまり疲れません♪
It's a compact indoor amusement park, so you won't get tired even if you walk around.
サンリオピューロランドは全体的にアトラクションの数も少なく、待ち時間も少なめです。土日でも、ここでは30~45分待ちでも「待ったな~」という感じがします。アトラクションでまずオススメなのは「レディ・キティハウス」です。なんと、最後にキティちゃんとご対面できるんですよ!キティちゃん。めっちゃ優しくて良い人(猫)でした、、!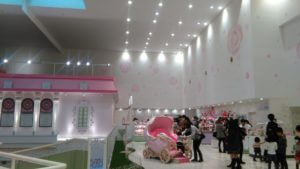 Sanrio Puroland has fewer attractions overall and less waiting time. Even on Saturdays and Sundays, even if you wait here for 30 to 45 minutes, it feels like "waiting". The first recommended attraction is "Lady Kitty House". Finally, you can finally meet Kitty! Hello Kitty. It was a very nice and nice person (cat)!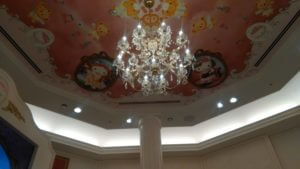 トイレや細部もカワイイ!さすがサンリオ♡
The toilet and details are also cute! As expected Sanrio ♡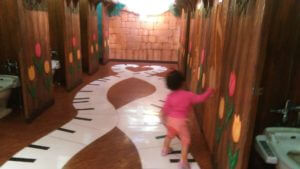 サンリオピューロランドは、サンリオ好きのお母さんと子供ならきっと楽しめる場所です。サンリオピューロ=しょぼい、って思っている人いませんか?そりゃ、ディズニーに比べたら見劣りする部分もあるかもしれませんが、私は待つの嫌いなんで、ここの適度に洗練されていない感じが大好きです!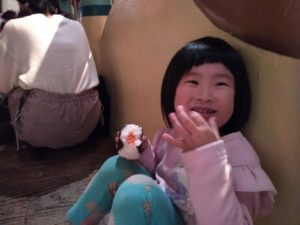 Sanrio Puroland is a place that moms and children who love Sanrio will surely enjoy. Is there anyone who thinks Sanrio Puro = Shoboi? That may be a bit inferior to Disney, but I hate waiting, so I love the moderately sophisticated feel here!
店名
Shop Name
サンリオピューロランド
Sanrio Puro Land
種類
Kind
テーマパーク
Theme park
公式URL
Web Site
https://www.puroland.jp/
電話番号
Phone Number
042-339-1111
住所
Address
東京都多摩市落合1−31
幼児喜び度(最高max★★★)
The degree of infant'spleasant
★★
あまり遠くないなら、2歳から大丈夫だと思います!
If you're not too far away, you'll be fine from 2 years old!
小学生低学年喜び度(最高max★★★)
The degree of primary school child's pleasant
★★★
女の子ならきっと大好きだと思いますよ~!
I think girls will love it!
ママのお財布危険度
(最高max★★★)
The degree of dangerous of Mom's wallet
★★
親子で5,000円あれば何とか遊べます!
Parents and children can play for about 5,000 yen!
サンリオピューロのショーは圧巻!ショーだけ見るために行ってもよいくらいです
The Sanrio Puro show is a masterpiece! You can go to see only the show
サンリオピューロのショーは3回見ましたが、本当にディズニー並みによいですよ(元、ディズニーアルバイターです)
ショーのクオリティは本当に高く、ディズニー―よりまじかに見られます。やたらショー用の光るスティックを売ろうとするキャラクター(ぐでたまなど)がいるのですが、入場料安めだし盛り上がれるからいっか~!と思います。
25周年を記念した「ミラクルギフトパレード」は、良すぎたので振付師をチェックすると、まずテーマ曲がももクロのヒャダインさんでした♪振り付けはMIKIKOさん。ゲスト声優に水樹奈々さんという豪華メンバー~♪悪くなる要素がないパレードです!ぜひ、サンリオピューロどうなの?って方、一度パレードを見てみてくださいね~!
The quality of the show is really high and even more visible than Disney. There are characters (such as Gudetama) who are trying to sell glowing sticks for shows, but it's cheap because the entrance fee can be raised and it's exciting! I think.
The "Miracle Gift Parade" commemorating the 25th anniversary was too good, so I checked the choreographer and found that the theme song was Hyodain's Momo Kuro ♪ choreography Is MIKIKO. A guest voice actor, Nana Mizuki, is a gorgeous member! By all means, how about Sanrio Puro? Please check the parade once!
I've seen the Sanrio Puro show three times, but it's really as good as Disney (formerly Disney Arbiter).
にほんブログ村ランキングに参加しています。よろしければ、ポチ!ッと押していただけると嬉しいです♡

にほんブログ村