Add to favorites
[Koto-ku] What is the reputation of Small Worlds Tokyo? I enjoyed miniature & Sailor Moon with my kids ♡
子供とおでかけの情報は、主にローソンチケット(略してローチケ)で好きなカテゴリのみに限定して登録しているメルマガから得ています。今回のスモールワールズ東京のことも、早くからメールが来たので知っていました。
しかし、スモールワールズ東京の紹介文を見て、どんな施設なのかさっぱり想像がつきませんでした。最初にスモールワールズのことを知った私の感想は、「この21世紀にいまさら、ミニチュアかよ、、?」(⇒私は口が非常に悪いです;)。
ところがどっこい。私はコスプレ好きの気があるので、「浴衣ナイト」で入場料を割引にしてくれると言うバナーを見て即「ポチっ!」としました。
そんな訳で、今回のこどもとおでかけ東京のテーマは、江東区のスモールワールズ東京でお送りします♪ぜひ最後までご覧ください♪行った気になりますよ~。
Information on going out with children is mainly obtained from the e-mail newsletter that is registered only in the category you like with Lawson Ticket (Lawson Ticket for short). I also knew about Small Worlds Tokyo this time because I received an email from an early stage.
However, when I saw the introduction to Small Worlds Tokyo, I couldn't imagine what kind of facility it was. "Is it a miniature now in the 21st century?" (⇒ I have a very bad mouth;) I like cosplay, so when I saw the banner saying that the admission fee would be discounted at "Yukata Night", I immediately said "Pochi!". That's why the theme of this time's outing with children will be sent at Small Worlds Tokyo in Koto Ward ♪
入場料が大人2700円⇒1000円になる!夕方17時からコスプレできるなら、これ一択!
Admission is 2700 yen for adults ⇒ 1000 yen! If you can cosplay from 17:00 in the evening, this is your choice!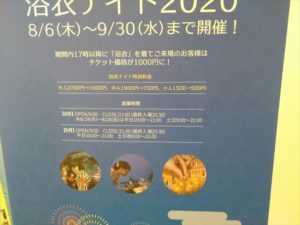 スモールワールズ東京の基本の入場料は、以下の通りです。
The basic admission fee for Small Worlds Tokyo is as follows.
| | |
| --- | --- |
| 大人(18歳以上)Adults | 2700円(税込み) |
| 中人(12歳~17歳)Chungin | 1900円(税込み) |
| 小人(4歳~11歳)Chirdren | 1500円(税込み) |
※3歳以下は無料です。Children under 3 years old.
大人と子供で行くと、2700円+1500円=4200円か~!!楽しいか分からないのに、払いたくないな!と思いましたw
でも、本心としては行ってみたい訳です。で、割引プランがあるかを確認します。すると、夕方17時以降に浴衣を着て入場すると割引になるというプランを見かけたわけです。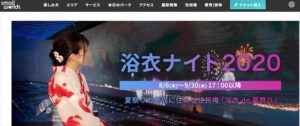 これです。
で、早速りんかい線「国際展示場駅」の女子トイレで親子ともども着替えました。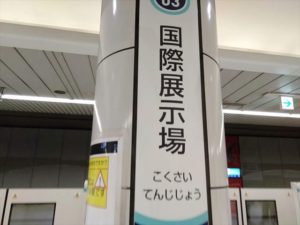 はっちゃん「やだ~!着替えたくない!」
わたし「なんで?楽しんじゃん♪悪いことしてるわけじゃないんだし、楽しもうよ!」
はっちゃん「(キレぎみに)わかったよ!」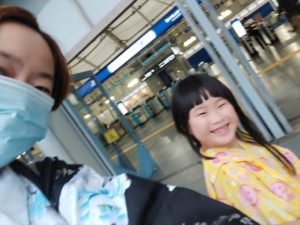 結局、9月の寒めの日なのに親子で浴衣を着まして、はっちゃんは浴衣を気に入り帰りの電車内でも着ていました。なのに、最初は嫌がるんですよ。小学生ってホントに不思議ですね?
ちなみに、10月は浴衣ナイトは終わってハロウィンナイトみたいです。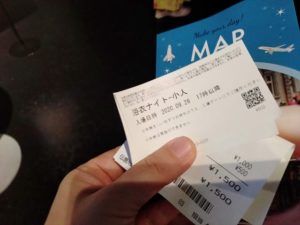 After all, even though it was a cold day in September, parents and children wore yukata, and Hatchan liked the yukata and wore it on the train on the way home. But at first I don't like it. Isn't it really strange for elementary school students?
What's スモールワールズ??
What's Small Worlds? ??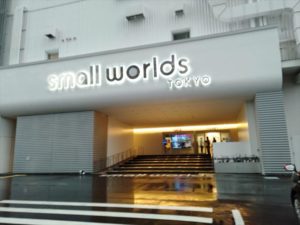 ①スモールワールズ東京の広さと他の店舗について
① About the size of Small Worlds Tokyo and other stores
スモールワールズは正式名称:リトルアンバサダー・スモールワールズと言い、総面積は約8Kmと割と広い施設です。8kmって言われても意味わかんないスよね。8kmって車で15分くらいの距離なんですって。
私は何となくですが、東京ディズニーランドのクリッターカントリーだけ、または、キッザニア東京くらいの広さかと。(エヴァエリアを見なかったから小さめに感じてるかもしれません)
The official name of Small Worlds is: Little Ambassador Small Worlds, and the total area is about 8km, which is a relatively large facility. It doesn't make sense to say 8km. 8km is about 15 minutes by car.
スモールワールズは東京以外には沖縄で建設が予定されており、今のところ海外にはないようです。
Small Worlds is planned to be built in Okinawa other than Tokyo, and it seems that it is not overseas so far.
②スモールワールズに行くと何ができるの?
② What can you do if you go to Small Worlds?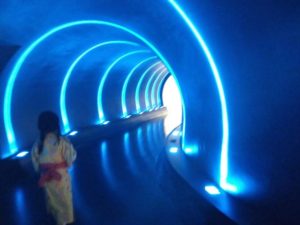 スモールワールズでは主にミニチュアを「見る」という体験ができるんです。それって一瞬、「地味だね」と思いませんか?私は思いました。しかし、それが超すごい量の超すごい凝ったミニチュアで、超すごいキレイな施設の中にあったら、、「派手」なんです。
At Small Worlds, you can mainly experience "seeing" miniatures. Don't you think it's sober for a moment? I thought. However, if it's a super awesome amount of super awesome miniatures in a super awesome clean facility, it's "flashy".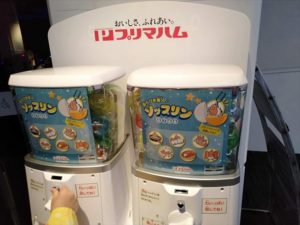 そう。なので、スモールワールズ東京が一度は行って損はない施設だと子供とおでかけ好きのおでかけ慣れしている私は思います。
うちのはっちゃんは展示系のおでかけは苦手ですぐに「もう見た」と言いますが、スモールワールズのミニチュアは「おしっこしてる人がいる~!」とボタンを押したり、ロケットの発射シーンで息を飲んだり、セーラームーンコーナーでうさぎちゃんを探したりと、間違い探しの立体版をしている感じで楽しんでいました。
so. So, I think I'm used to going out with my kids because Small Worlds Tokyo is a facility that is worth visiting once.
ちなみに、スモールワールズ東京のフロアは以下のようになっています。
The floor of Small Worlds Tokyo is as follows.
1階
:チケットカウンター、コインロッカー(と何か。写真がぼやけて見えなくてすいません)
1st floor: Ticket counter, coin locker (and something. I'm sorry I can't see the photo blurry)
2階
レストラン「WHITE ATR」(⇒めっちゃ美味しいです!)
Floor: Restaurant "WHITE ATR" (⇒ It's really delicious!)
3階
ミニチュアワールド沢山、移住サポートセンター、おみやげ屋さん、JCBラウンジ(500円で1ドリンクつき、JCBカード提示で無料利用可)
3rd floor: Lots of miniature worlds, migration support center, souvenir shop, JCB lounge (1 drink for 500 yen, free use by showing JCB card)
なので、1階のチケットカウンターで受付をしたら、メインの遊び場は3階です!階段もエレベーターも両方あります(運動不足の私ですが、3階でもがっちりエレベーター使います;)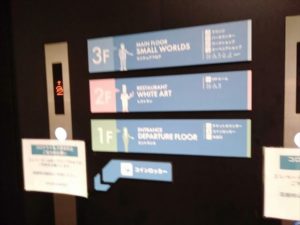 ③雰囲気はどんな感じ?客層は?
③ What is the atmosphere like? What is your customer base?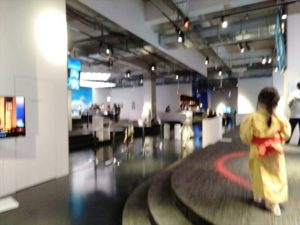 私とはっちゃんが行った日の雰囲気ですが、受付付近の誘導のお姉さんはまだ緊張していて硬い感じでした;私ら以外に浴衣を着ている人は2~3組しかいませんでしたね~。
コロナだからか、全然混んでる感じはなかったですが、でもスカスカ感じもなくちょうどいい。お客さん、200人以上は普通にいたと思います。カップル、小学生の家族連れ、シニアの夫婦、おタク系のエヴァ狙いの若い男性などがいました。
展示の数も多すぎず少なすぎず、ちょうどいい。全部をちゃんと見ると2時間くらいはかかります。で、レストランも行くと3時間以上は滞在するので、入場料(大人で2,700円)の価値はまああると思います。
スモールワールズのミニチュアはスゴイ!住民権付3Dフィギアも作りたいなあ
The small worlds miniatures are amazing! I also want to make 3D figures
①スモールワールズの魅力
The charm of Small Worlds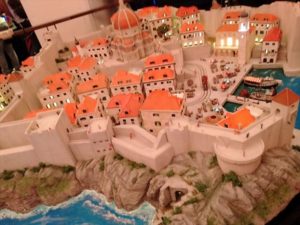 スモールワールズのミニチュアは非常に精巧で凝っているのに加え、ボタンを押してしかけを楽しめます。また、飛行機の離着陸シーンや関西空港、打ち上げ花火など絵になるスポットが満載なので、スマホで写真を何枚とったか!
In addition to being extremely elaborate and elaborate, the Small Worlds miniatures can be enjoyed at the push of a button. Also, there are lots of picturesque spots such as airplane takeoff and landing scenes, Kansai Airport, and fireworks, so how many photos did you take with your smartphone?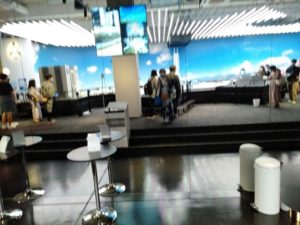 まだ漢字が読めないはっちゃんに「ママ、このボタン押したらどうなるの?」と聞かれて「これは芝刈りって書いてあるよ。あの辺かな」と教えたり、子連れで来ても一緒に楽しめるし広々スペースなので、充分楽しめます。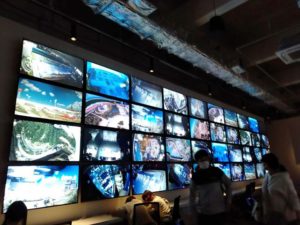 また、いい感じのバーがあるんですよね。一杯飲みながらミニチュアを見る、ってデートもいいんじゃないでしょうか。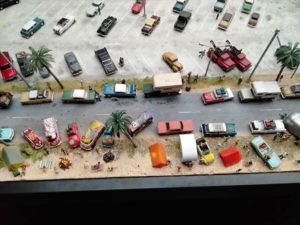 ②住民権付フィギアとは?
What is a resident figure?

スモールワールズの独特な楽しみ方は、自分のフィギアを1/80のサイズで作れちゃうことです。そして、住民権を購入するとさまざまなワールドに自分が住めちゃうんです。
最初は「それが何?」と思ってましたが、スモールワールズに来ると作りたくなります。
大人の本格的なおままごとですよ、これは。でも、大人が全力で遊ぶのってとても良いと思います♪年パスいらんわ!住民権もいらん、て方は、一体4,800円でお持ち帰り用フィギアを作ってもらえます。
詳細は、こちらのURLからどうぞ! ⇒ https://www.smallworlds.jp/figureprogram/
スモワーはレストランもスゴイ!シェフの経歴がもっとすごい
The restaurant is amazing! The chef's career is even more amazing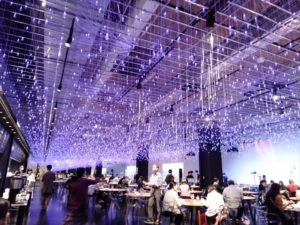 スモールワールズはもしかするとレストランだけでも来たいかもしれないほど、レストランがイイです。なんていったって、シェフの経歴がスゴイです。
総支配人兼料理長(シェフ)鴨志田 昇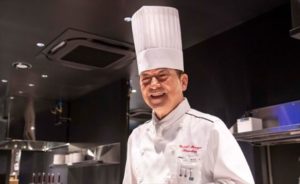 1971年ホテルオークラ入社。
グアム・ホテルオークラ総料理長、ウェスティンホテル東京宴会総料理長、パラオパシフィックリゾートホテルF&Bディレクター兼総料理長に就任し、現職。
公式ページhttps://www.smallworlds.jp/restaurant/より引用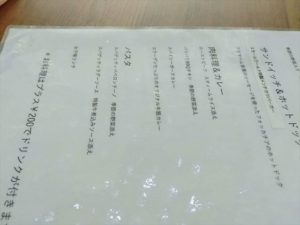 そして、この日なぜかAKBのりんりんこと岡部麟さんがいらっしゃいました。うちわを持っている応援の男性の方もいらっしゃいましたよ。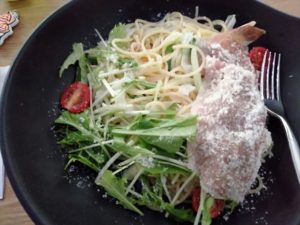 セーラームーンってまだまだ人気なんですね
Sailor Moon is still popular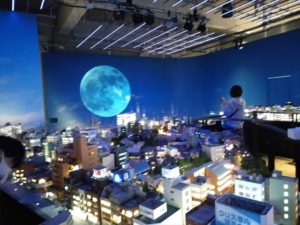 最後に見たのがセーラームーンのワールドです。ここでは、ミニチュアの屋根がパカッと開くところがあり、そこに主人公のうさぎちゃんが寝ていました。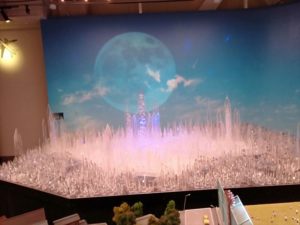 すると、はっちゃんはいろんなお客さんに「ここに、うさぎちゃんがいるよ!」と浴衣姿で自慢げに教えるのです。みなさん、「そうなの~、教えてくれてありがとうね~!」と優しく対応してくださり、はちこは大満足でした。本当にありがとうございした!!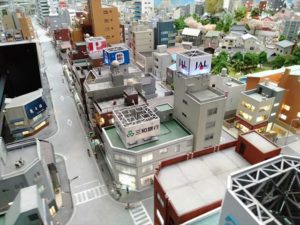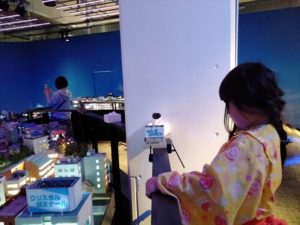 The last thing I saw was the world of Sailor Moon. Here, there was a place where the miniature roof popped open, and the main character, Rabbit, was sleeping there.
Then, Hatchan proudly teaches various customers, "There is a rabbit here!" In a yukata. Everyone kindly responded, "That's right, thank you for telling me!", And Hachiko was very satisfied. Thank you so much! !!


よろしければ、ポチ!っとお願いします。ブログランキングに参加しています。

にほんブログ村