Add to favorites
[Saitama City] Street performers line up! I watched Festival 2020 with my kids ♡ About the schedule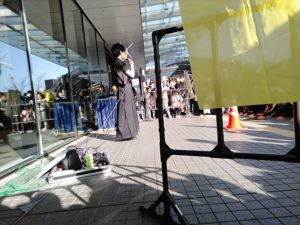 大道芸人さんへの興味は普通にありましたが、まさかTwitterでフォローをするほど興味が出るとは。
ええ、こどもと一緒におでかけするようになってからです、大道芸人さんが本格的にイイな~!と思いだしたのは。
I was usually interested in street performers, but I don't think I'm so interested in following them on Twitter. Yes, since I started going out with my children, street performers are really good! I remembered.
大道芸人さん、サイコーです♡器用だし、しゃべりはうまいし、あの芸一つで生きている感じがカッコよすぎます。ということで、今回の東京の小学生とおでかけ!のテーマは、大道芸人です。
大道芸フェスティバルとは?
What is a street performance festival?
①さいたま新副都心のは埼玉県とさいたまスーパーアリーナ主催
① Saitama New Subcenter is sponsored by Saitama Prefecture and Saitama Super Arena
大道芸フェスティバルとは、その名の通り、大道芸人さんがたくさん出演される夢のお祭りです♡今回私たちが訪れたのは「第17回さいたま新副都心・大道芸フェスティバル」です。
As the name suggests, the street performance festival is a dream festival in which many street performers appear ♡ This time we visited the "17th Saitama New Subcenter / Street Performance Festival".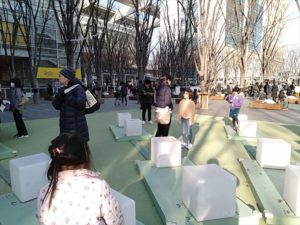 さいたま新副都心駅の大道芸フェスティバルは2020年で第17回ですって。結構、歴史がありますね。私たちが行ったのは2020年1月12日(日)。この時は、まさかこの後コロナが来るなんて思ってなかったから、みんな普通にマスクなしで大道芸人さんを見ていましたよ、、!
The street performance festival at Saitama Shin Fukutoshin Station will be the 17th in 2020. It has a long history. We went on Sunday, January 12, 2020. At this time, I didn't expect Corona to come after this, so everyone was watching street performers without a mask!
②他にも、全国各地で大道芸人フェスティヴァルはたくさんある
There are many other street performers festivals all over the country
東京都内だと、あと私が知っているのは上野公園と北区のココキタまつりでのジャグリング(森田 智博さん)です。森田さんのジャグリングはスゴすぎて、その後思わず経歴を調べてしまいました(⇒森田さん、気持ち悪いことしてすいませ~ん!)
In Tokyo, I also know about juggling at the Kokokita Festival in Ueno Park and Kita Ward (Mr. Tomohiro Morita). Mr. Morita's juggling was so amazing that I inadvertently looked up his career (⇒ Mr. Morita, I'm sorry for making you feel uncomfortable!)
私調べによると?、彼は群馬県のサーカス学校を出た方らしいです。すごい!だから、あのレベルの高さか!と納得です。
According to my research? , He seems to have graduated from the circus school in Gunma prefecture. Wow! That's why it's that high level! I am convinced.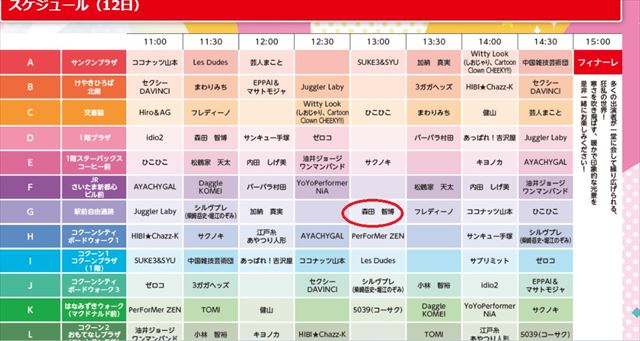 しかし、それ以外にも東京だと東京スカイツリーの「ソラマチ大道芸」が~ 2020年10月04日までやっています♡
However, in addition to that, in Tokyo, Tokyo Sky Tree's "Solamachi Street Performance" is being held until October 04, 2020 ♡
大道芸人さんのイベントについては、神サイトがあります。「ふみぃ」さんのブログです。
There is a god site for street performers' events. This is "Fumi"'s blog.
(以下、引用です。)
■東京
東京都ヘブンアーティスト
ソラマチ大道芸
東京タワー
デックス東京ビーチ
よみうりランド
亀戸大道芸
亀有パフォーマンスパーク2nd
引用:ふみぃ☆彡の大道芸情報
さすが、ふみぃさん!ブログ歴21年だけのことはある!(わたしゃ、まだ2ヶ月;)これからも、参考にさせていただきます~!!
ジャグリングと、筋肉ムキムキ兄ちゃんが椅子の上に乗るのを見たゾ!
I saw juggling and a muscular muscular brother riding on a chair!
大道芸人フェスティバルは何で知ったのか忘れてしまいましたが、家でグダグダしていたので、着いたのは11日の15:30過ぎくらいと非常にやる気ない時間でした。
I forgot why I learned about the street performer festival, but I was so sick at home that I arrived at the festival after 15:30 on the 11th, which was a very unmotivated time.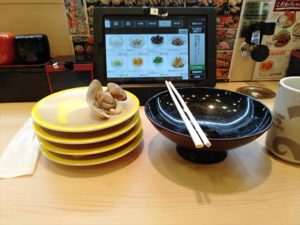 しかし、それでも楽しい大道芸フェスティバル♡さいたま新副都心の改札を出ると、
However, it is still a fun street performance festival ♡ When you exit the ticket gate of Saitama New Subcenter,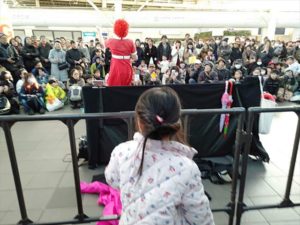 こんな感じでアニーの恰好をした男性が躍り狂っていまして。すごい人でした!そして、しばらく歩くとジャグリングの5039さんが登場です。
A man dressed as Annie was crazy like this. He was a great person! Then, after walking for a while, Mr. 5039 of juggling appears.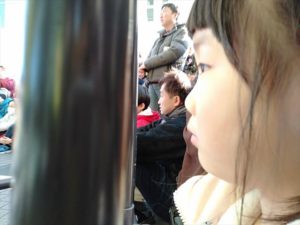 彼は東京都のヘブンズアーティストに最年少で合格したツワモノだそうです。でも、その演技を見ればすぐわかります。
He is the youngest tsuwamono to pass the Heaven's artist in Tokyo. But you can tell immediately by looking at the performance.
私はジャグリングを見ながら、「この人、この努力できる才能があればマイクロソフトは入れるな、いや、Googleかな、、」とか、彼が入れるであろう有名企業をずっと妄想していました。それぐらいすごかったです!
As I watched the juggling, I was always fantasizing about the famous companies he would be able to enter, such as "This person, if you have this talent to make an effort, Microsoft should not enter, no, Google." That was amazing!
他には、SUKE3&SYUさんの筋肉ムキムキアクロバット(椅子の上に乗るやつ)やidio2さんを見ました。はっちゃんはゲラゲラ笑っていました。
Besides, I saw SUKE3 & SYU's muscular muscle acrobatics (the one who rides on the chair) and idio2. Hatchan was laughing.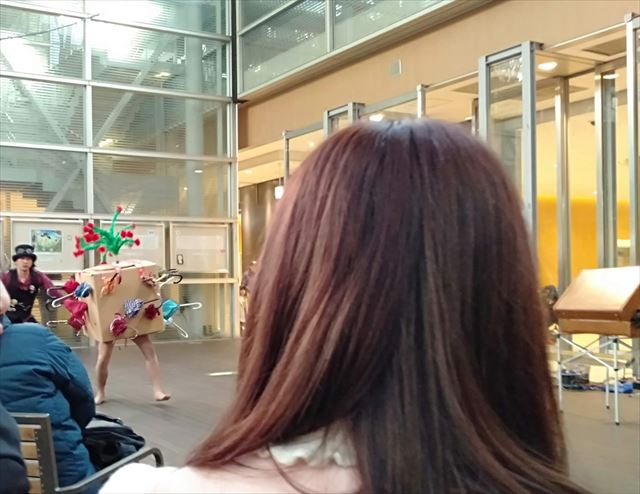 けやきひろばでご飯も食べられます!
You can also eat rice at Keyaki Hiroba!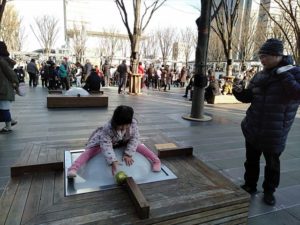 さいたま新副都心は飲食店が豊富で、この大道芸フェスティバルを開催している付近にもたくさんあります。
Saitama New Subcenter has abundant restaurants, and there are many in the vicinity where this street performance festival is held.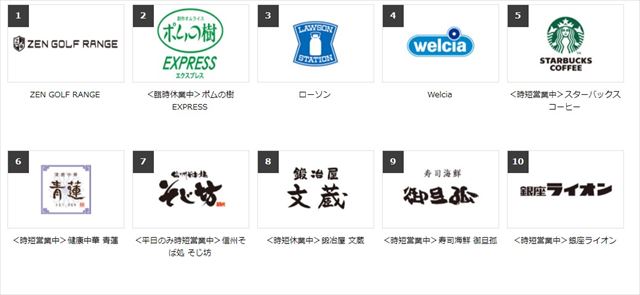 特に、上の画像のはっちゃんが棒をころころしているところらへんの地下には美味しそうなお店がたくさんあり、コンビニのローソンもあります。
In particular, there are many delicious shops in the basement where Hatchan in the image above is rolling a stick, and there is also Lawson at a convenience store.
大道芸人さん、ありがとう!コロナの時ほど、必要だよね!!
Thank you street performer! You need it as much as you did in Corona! !!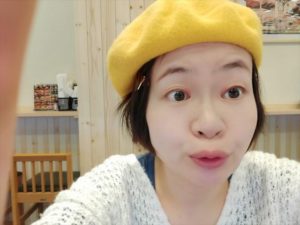 いや~!さいたま新副都心の大道芸人フェスティバル、また行きたいです!2021年はやるのかな?
Yes! I want to go to the street performer festival in Saitama new subcenter again! Will we do it in 2021?
ちなみに、愛知県の日本大道芸フェスティバルはクラウドファンディングでチケット制でやるそうです。
By the way, it seems that the Japan Street Performance Festival in Aichi Prefecture will be crowdfunded with a ticket system.
日本大道芸フェスティバル ⇒詳しくはこちらをどうぞ!
こんなに練習が必要な芸を見せてもらい、無料とか投げ銭っておかしいっすよね。(私はその日のお財布事情で、だいたい3000~500円くらいはっちゃんに払いに行かせます)だから、チケット制でも見に行きますよ~!
It's funny to have them show you the tricks that require practice like this, and to throw them away for free. (I'll let Hatchan pay about 3000-500 yen due to the wallet situation on that day.) So I'll go see it even with a ticket system!
よろしければ、ポチ!っとお願いします。ブログランキングに参加しています。

にほんブログ村