Add to favorites
[Toshima-ku] Impressions of going to the Ultraman Festival with friends and family
子供(はっちゃん)が通っていた幼稚園では、たまにデパートのミッフィー展の優待券などイベント系チケットを配布してくれました。今回のウルトラマンフェスティバルのチケットも「いりますか?」という感じで欲しい人は名簿に名前を書くのですが、私はトップバッターでした。
無事チケット4枚をGet!今回のこどもとおでかけ東京のテーマは、豊島区サンシャインシティで行われた「ウルトラマンフェスティバル2018」です。(少し古いネタで恐縮です!)
At the kindergarten where my child (Hatchan) attended, he occasionally distributed event tickets such as complimentary tickets for the Miffy exhibition at department stores. If you want a ticket for this Ultraman Festival, like "Do you want it?", Write your name on the list, but I was the top batter.
Get 4 tickets safely! The theme of this time's outing with children is "Ultraman Festival 2018" held in Sunshine City, Toshima-ku.
ウルトラマンフェスティバルとは?
What is the Ultraman Festival?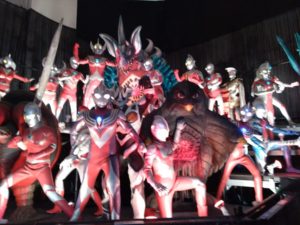 1976年生まれの私でもリアルタイムのテレビでは観ていないウルトラマン。おそらく、姉の世代は見ていたんではないかと思います。ウルトラマンへの興味は10段階で言うと2か3くらいでした。しかし、「無料チケット」という言葉にめっぽう弱いため、「なんか楽しそう」という、それだけでお友達家族をウルトラマンフェスティバルに誘ったのでした。
Born in 1976, Ultraman I haven't seen on real-time TV. Perhaps my sister's generation was watching. The interest in Ultraman was about 2 or 3 in 10 stages. However, I was so vulnerable to the word "free ticket" that I invited my friends and family to the Ultraman Festival just by saying "it looks like something fun".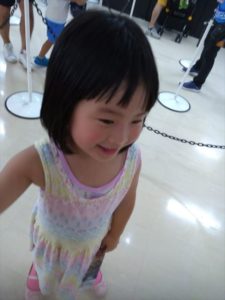 ウルトラマンフェスティバルの内容ですが、主な目玉は「ウルトラマンのライヴステージ」です。あとは、歴代のウルトラマンとその敵たちの壮大なジオラマ、グッズ販売、ぬりえコーナーなどなど。はっちゃんは当時4歳でプリキュアにどハマリしていましたが、ウルトラマン好きの男の子と一緒に行けることになって、嬉しそう♡キャー、初デートじゃない!良かったね!はちこ!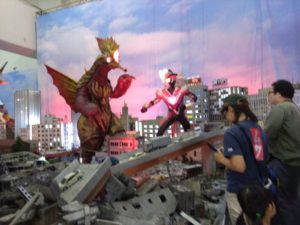 Regarding the contents of the Ultraman Festival, the main feature is "Ultraman's live stage". Also, there are spectacular dioramas of successive Ultraman and their enemies, goods sales, coloring corner, etc. Hatchan was addicted to Pretty Cure at the age of 4, but she looks happy to be able to go with a boy who likes Ultraman ♡ Kya, it's not her first date! It was good! Hachiko!
【チケット代金】
当日券 大人(中学生以上)
Same-day ticket for adults (junior high school students and above)
2,300円
こども(3歳~小学生)
Children (3 years old to elementary school students)
1,600円
ウルトラシート
Ultra sheet
プラス500円
このウルトラシートを買わなかったことで、あとで大変なことに!
I didn't buy this ultra sheet, so it will be a big deal later!
チケット代はこんな感じで、ウルトラマン好きな方なら全然安いと思うのですが、私はなぜか「ウルトラシート」というライブショーをまじかで並ばずにみられるチケットをけちって買いませんでした。ここでも、(ただで行けるから、そこまでいいや~)とウルトラマンに前向きではありませんでした、(ウルトラマンに前向きってなんだよ!)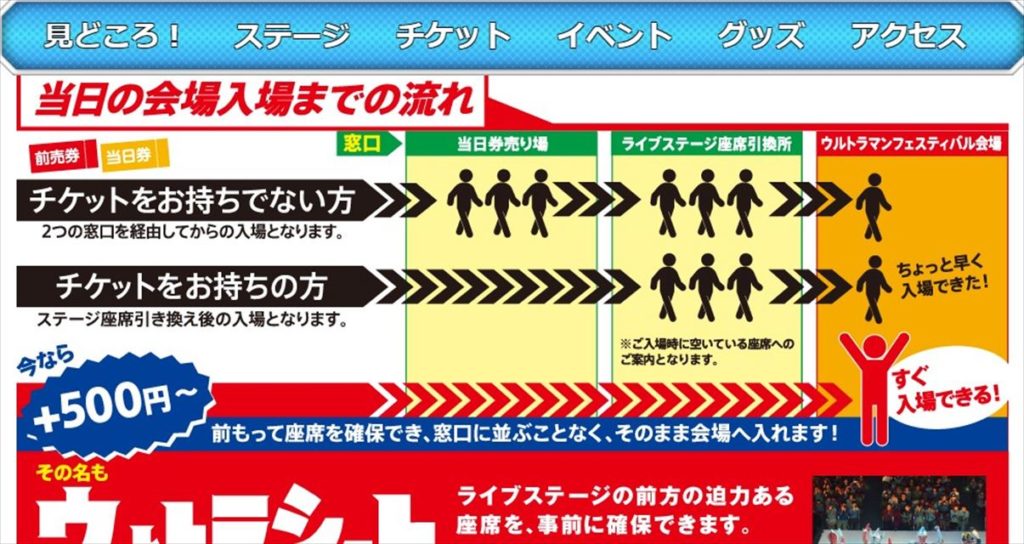 ちなみに、私たちが行ったウルトラマンフェスティバル2018は池袋サンシャインシティ文化会館4階で行われました。
ライブショーの立ち見で事件勃発!
An incident broke out while standing at a live show!
姉さん、事件です。(⇒誰のマネ?)ライブショーを私とママ友の二人は「立ち見でいっか」と判断してウルトラシートを購入しなかったのですが、ママ友の旦那様が実は今日のショーを息子を見られるのを非常に楽しみにしていて、「え?息子が立ち見なんてかわいそう」とご立腹されたのです。
「大丈夫、大丈夫。いつものことだから、気にしないで」とママ友さんは言ってくれましたが、この時ばかりは自分が仕切りながら「たぶん大丈夫」と相手の気持ちを確認しなかった怠惰な自分が反省すべきでした。はっちゃんと私はひとりっこなのでフットワーク軽くどこにでも行くため、1回の出費を倹約しています。しかし、そうでないご家庭もあるのだから、今回のことは自分でも(テキトーだったな)と思うのです。
Unnie, it's an incident. (⇒ Whose mane?) I and my mom friend decided that I should stand by and didn't buy the ultra sheet, but my mom friend's husband actually made today's show my son. I was very much looking forward to seeing him, and he was angry, saying, "What? I feel sorry for my son standing."
"It's okay, it's okay. It's the usual thing, so don't worry," said Mommy, but this time around, I was lazy and didn't confirm the feelings of the other person, saying "Maybe it's okay." I should have reflected on it. Hatchan and I are alone, so footwork is light and I go anywhere, so I save one expense. However, there are some households that do not, so I think this time was (it was a textbook).
はっちゃんは恒例のウルトラマンぬりえを堪能♡
Hatchan enjoys the customary Ultraman coloring ♡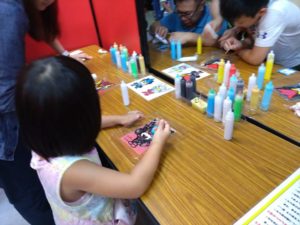 ショーの座席の件でしくじっちゃった私ですが、その他はとても楽しめました。ウルトラマンフェスティバルは結構混んでいました。本当のウルトラマンファンも結構いました。はっちゃんはウルトラマはなんだか分からず、いつもどおりのぺたぺた焼き(500円くらい?)を張り切ってやっておりました。また、うちの壁にぺたぺた焼きが増えます、、!
I messed up with the show seats, but I really enjoyed the rest. The Ultraman Festival was quite crowded. There were quite a few real Ultraman fans. Hatchan didn't know what Ultrama was, so he was enthusiastic about the usual petapeta-yaki (about 500 yen?). In addition, the number of sticky grills on the wall of depression will increase!
実は敵が楽しいのか?ウルトラマンの敵をしげしげと観察
Is the enemy really fun? Observe Ultraman's enemies
せっかく来たのだから、ウルトラマンの魅力を知って帰ろうとする43歳の私♡ガチでウルトラマンファンの人たちを観察していると、なんだかウルトラマンの敵の形状がヘン、、!というか、ふざけてる?ということに気づいたのです。(⇒遅い!)この敵とウルトラマンが戦ったら、そりゃ面白いよね、と納得。ライブショーももう1回見たいし、ウルトラマンもAmazonPrimeであるか探してみます♪
I'm 43 years old trying to get to know the charm of Ultraman because I came here ♡ When I was observing Ultraman fans, the shape of Ultraman's enemy was strange …! Or rather, are you fooling around? I noticed that. (⇒ Slow!) I'm convinced that it would be interesting if Ultraman fought against this enemy. I want to see the live show again, and I will try to find out if Ultraman is also Amazon Prime ♪
ウルトラマンフェスティバル2020は開催中止;熱すぎるファンのメッセージに感動;
Ultraman Festival 2020 has been canceled; impressed by the message of fans who are too hot;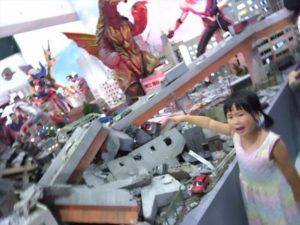 今年はもちろんコロナのせいでウルトラマンフェスティバルは中止となってしまいました。というか、ウルトラマンにコロナをやっつけてほしんですけどね。で、ウルトラマンフェスティバルの公式ページを見つけたのですが
「ウルトラマンフェスティバル2020」開催中止のお知らせ
今夏に開催を予定しておりました「ウルトラマンフェスティバル2020」につきまして、これまで開催に向けて準備・検討を続けてまいりましたが、新型コロナウイルスの感染拡大防止の為、このたび開催中止を決定致しました。
引用:https://www.ulfes.com/2019/
という訳で中止のようです。公式ホームページ(https://www.ulfes.com/2019/)を見ると、今年はウルトラマンフェスティバルは30周年だったらしく、みなさんの熱い気持ちや思いでが沢山書かれています。ウルトラマンフェスティバルは作る人ファンの間に大切なイベントなんだな~と思いました。
This year, of course, the Ultraman Festival has been canceled due to Corona. Or rather, I want Ultraman to beat Corona. So, I found the official page of the Ultraman Festival.
That's why it seems to be canceled. Looking at the official homepage (https://www.ulfes.com/2019/), it seems that this year is the 30th anniversary of Ultraman Festival, and a lot of everyone's passion and thoughts are written. I thought that the Ultraman Festival is an important event among fans of creators.
よろしければ、ポチ!っとお願いします。ブログランキングに参加しています。

にほんブログ村