Add to favorites
[Fujimi City] TeamLab Learn! Future amusement park LaLaport Fujimi store congestion, tickets, reservations, etc.
2018年くらいに一度、さいたま新副都心で行われたチームラボの企画展へ子供と行きました。
しかし、当時3歳の我が子は1つ1つの展示をろくすっぽ観ずに、バ~っと走り去ってしまったので(⇒当たり前!)、(連れてくるの早かったな)と後悔しました。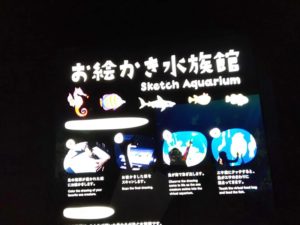 その後、お台場などにチームラボの常設展が続々と開設されましたね。元来デジタルアート好きの私は(ぜひ行きたい!)と思ってましたが、なんせ料金が高い;(⇒でた!中年の入場料金ディスリ大会;)
そして、(もう東京じゃなくてエエわ!何でもいいから、チームラボで行ける範囲で安いとこ、ないの?)と検索したら、埼玉のららぽーと富士見のチームラボがおかしいくらい安かったんです。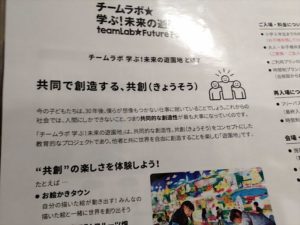 そんな訳で、今回の東京の小学生のとおでかけ!のテーマは「チームラボのららぽーと富士見店」です。
Once around 2018, I went to a special exhibition of TeamLab held in Saitama New Subcenter with my children.
However, my 3-year-old child at that time ran away without looking at each exhibition (⇒ natural!), ( I regretted that I brought it early).
After that, my child grew up and wanted to try again. When I searched for (Isn't it cheap as far as TeamLab can go because it doesn't matter anymore?), Saitama's LaLaport Fujimi's TeamLab was strangely cheap.
チームラボ富士見では何ができる?
What can TeamLab Fujimi do?
おえかきした絵をスキャナで取り込みプカプカさせる
Capture the drawn picture with a scanner and make it fluffy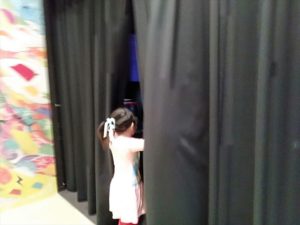 お台場の日本科学未来館のおやっこ広場に行ったことある方ならご存知だと思いますが、特殊な紙にクレヨンでおえかきした絵が壁にプカプカ浮きます。
それが楽しいのなんのって!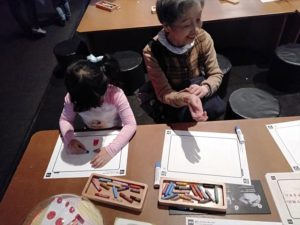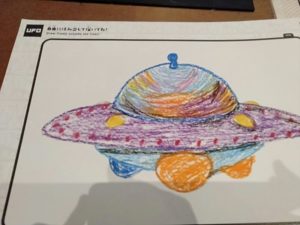 絵は枠内からはみ出すとスキャンできないので、枠の中のみを塗ります。壁の右側にいるスタッフの方にスキャンしてもらうと、すぐに壁にじぶんの描いた絵が他の人の書いた画と一緒に映し出されます。
Since the picture cannot be scanned if it extends beyond the frame, only the inside of the frame is painted. As soon as the staff on the right side of the wall scans it, the picture I drew on the wall will be projected along with the pictures drawn by others.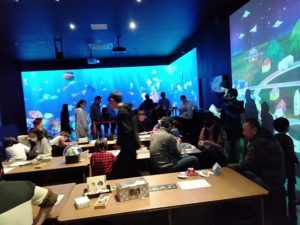 さらに、自分の書いた平面(2D)の絵を立体(3D)のペーパークラフトにしてくれるサービスもあります。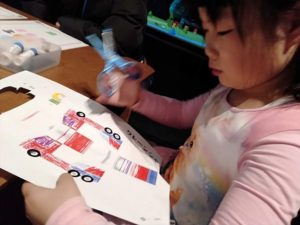 光る滑り台で遊べる
You can play on the glowing slide
あとは、滑り台が白いスクリーンになっていて、人が滑るとフルーツが育つというアトラクションがあります。楽しくて、みんなは何度も並びます。もちろん43歳、昭和生まれの私もですwちなみに、この滑り台のタイトルは(すべって育てる! フルーツ畑 )です。
After that, there is an attraction that the slide has a white screen and various images are projected on it. It's fun and everyone lines up many times. Of course, I was 44 years old and born in Showa;
光るバランスボールみたいので遊べる
It's like a glowing balance ball so you can play
幻想的なのが、この光るバランスボールみたいなもの。光のボールは動かすたびにボールごとに異なる音を出すので、まるでオーケストラのような演奏ができます。
ここでも、共創(きょうそう)のコンセプトが活かされています。
What is fantastic is something like this glowing balance ball. Each time you move the ball of light, each ball makes a different sound, so you can play like an orchestra.
検証!富士見のチームラボは東京のチームラボと料金はどのくらい違うのか?
Verification! How much is the price of Fujimi's teamlab different from that of Tokyo's teamlab?
チームラボボーダーレス(お台場)
チームラボプラネッツ(豊洲)
チームラボ 学ぶ!未来の遊園地 ららぽーと富士見店
・大人:3,200円
(高校生以上)
・子供:1,000円
(4歳~中学生以下)
・障碍者割引:
1,600円
・大人:3,200円
(18歳以上)
・大学生・専門学校生:
2,500円
・中学生・高校生:2,000円
・こども:
300円
(4歳~12歳)
・シニア:
2,400円
・障碍者割引:
1,600円

大人・子ども共通

(1)フリーパス
1,200円(営業時間中終日ご利用・出入り可能)
(2)時間制プラン
最初の30分500円 以降30分毎に500円(自動延長)
(3)平日一か月遊び放題!マンスリーパス
新規購入:2,000円(お一人様分)
→リピート割引:継続1ヶ月毎に100円OFF(最大300円OFFまで)
※リピ割はマンスリーパス記載の期間内での延長購入が対象です。
大人2名こども1名(6歳)の料金(割引なしだと)
⇒7,400円
大人2名こども1名(6歳の料金(割引なしだと)
⇒6,700円
大人2名こども1名(6歳の料金(割引なしだと)
⇒3,600円
チームラボ富士見はチームラボ東京の半額です、、!
TeamLab Fujimi is half the price of TeamLab Tokyo!
はい、チームラボ富士見へのおでかけをご検討中のみなさま、こちらの表をご覧ください。(こんな表作ってバカだな、って悪口はなしですよw)
見ての通り、入場料金だけを比較するとチームラボ東京と埼玉の差はおよそ2倍で、東京の入場料金のが高いのです。で、調べましたらあまりチームラボの入場料の割引ってないんです;
Yes, if you are considering going out to TeamLab Fujimi, please see this table. (I'm not saying that it's stupid to make such a table w)
As you can see, the difference between Team Lab Tokyo and Saitama is about double when comparing only the admission fee, and the admission fee in Tokyo is high. So, when I looked it up, there wasn't much discount on TeamLab's admission fee;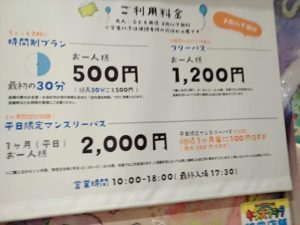 おそらく、チームラボ東京と埼玉の内容は違うんですよね。敷地面積や展示の数など。
でも、とりあえず8,000円払って子供が暗くて怖がったりして(来なきゃヨカッタ)って後悔はイヤなんで、とりあえず富士見のチームラボにばーば、はっちゃんと3人で行くことにしました。
Probably, the contents of Team Lab Tokyo and Saitama are different. Site area and number of exhibits.
But I don't want to regret that my child is dark and scared (I have to come) for the time being, paying 8,000 yen, so I went to Fujimi's teamlab for the time being. -Bah, I decided to go with Hatchan with three people.
コロナ前のチームラボ富士見は結構混んでいました。コロナで半分に!
TeamLab Fujimi in front of Corona was quite crowded. Cut in half with corona!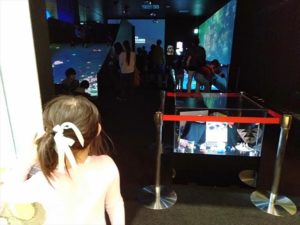 ①2020年1月の日曜日の混雑っぷり
Crowded on Sunday, January 2020
チームラボ富士見の混雑具合ですが、2020年1月の週末では結構混んでいました。10時半ぐらいに着きましたが、中に入るまでに15~20分ほど並びます。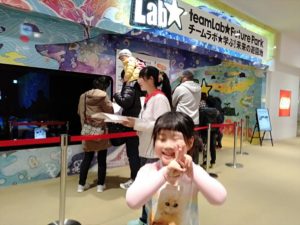 そして、なにより昼のランチで泣きたいほど並びます。再入場のスタンプを押してもらい(ブラックライト当てるやつです)外に出て、ららぽーと1階のフードコートに12時半くらいに行きましたが全く席はなし。
※途中退出のとき、ロッカーの中に入れているコートなどの荷物はいったん全てもって出ないといけません。結構ツライ規則ですね。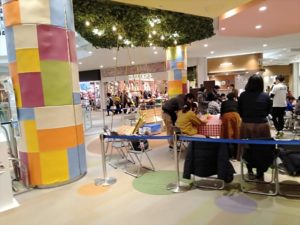 仕方なく、たまたま開いていたケンタッキーの席を鞄おいてゲットし、何とか高齢者と幼児にお昼を食べさせることができました。
TeamLab Fujimi is crowded, but it was quite crowded on the weekend of January 2020. I arrived at about 10:30, but it will take about 15 to 20 minutes to get inside. And above all, they line up so much that they want to cry at lunch. I got a stamp for re-entry (the one who hits the black light) and went outside and went to the food court on the first floor of LaLaport at about 12:30, but there were no seats at all. I had no choice but to get a seat in Kentucky that happened to be open, and managed to feed the elderly and toddlers for lunch.
* When you leave the room, you must take all the luggage such as coats in the locker. It's quite a rule.
②コロナで半分の人数制限中!
Half the number of people is limited in Corona!
チームラボ富士見はあまり広くありません。キドキドと同じくらいかな?ワンフロアしかないし。
なので、コロナ前と同じ感じで人数が入っていたら、もろに3密ですよね。それで、6月から新型コロナ対策を敷いて営業しています。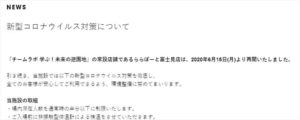 <チームラボ富士見のコロナ対策リスト>
・時間短縮(~18:00が~17:00に)
・場内人数を半分以下に制限
・入場時に検温
・手指の消毒の徹底 など
チームラボ富士見のチケットは生協で買うの一択がオススメ!
We recommend buying tickets for TeamLab Fujimi at the Co-op!

チームラボ富士見は東京と比べると十分安いのですが、生協を通してチケットを購入すると、もっと安くなります。いくらかというと、大人もこどもも一人100円です。(こーぷみらいの場合)
で、生協で買うと送料無料で3日後くらいにすぐに郵送されるし、代金も講座引き落としで払いにいかなくていいし、便利です。(クレジットカードのポイントはつかないですが)
TeamLab Fujimi is cheap enough compared to Tokyo, but if you buy a ticket through the co-op, it will be even cheaper. The price is 100 yen per person for both adults and children. (In the case of Kopumirai)
So, if you buy it at the co-op, it will be mailed immediately after about 3 days with free shipping, and you do not have to pay the price by deducting the course, which is convenient. (Although credit card points are not available)
チームラボ富士見の予約はどうすればいい?
How can I make a reservation for TeamLab Fujimi?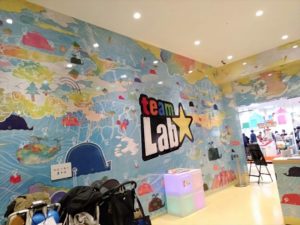 結論から言うと、コロナ禍でのチームラボ富士見には事前予約をせずに入場できます。チケットの販売種類も以前と変わらず、フリーパスがあります。
しかし、コロナ対策として人数制限をしていますので、以前より「あ!入れない!」ということが多いことが予想されます。フリーパスだと、みなさん中々外に出ないですからね、、。
In conclusion, you can enter TeamLab Fujimi at Corona Sorrow without making a reservation in advance. Ticket sales are the same as before, and there is a free pass.
However, as the number of people is limited as a measure against corona, it is expected that more people will say "Oh! I can't enter!" With a free pass, everyone can't go out.
チームラボ富士見の基本情報
Basic information on TeamLab Fujimi
最後に、基本情報載せておきます。ぜひお子様とチームラボ富士見をご堪能下さいませ♡
Finally, I will post basic information. Please enjoy TeamLab Fujimi with your children ♡
店名
Shop Name
チームラボ 学ぶ!未来の遊園地 ららぽーと富士見店
TeamLab Learn! Future amusement park LaLaport Fujimi store
種類
Kind
体験型デジタル教育施設
Experience-based digital education facility
公式URL
Web Site
https://futurepark.teamlab.art/places/lalaportfujimi/
電話番号
Phone Number
049-257-5662
住所
Address
埼玉県富士見市山室1丁目1313
正面入り口(バス停そば)から入り、2階の右奥に店舗がございます。
Enter from the front entrance (near the bus stop) and there is a store on the far right on the 2nd floor.
幼児喜び度(最高max★★★)
The degree of infant's pleasant
★★★
暗いから気を付けてね~!2歳くらいから楽しいと思います。
It's dark so be careful! I think it's fun from about 2 years old.
小学生低学年喜び度(最高max★★★)
The degree of primary school child's pleasant
★★★
みんな楽しいと思います!ぜひチームラボにみんなで行こう~!
I think everyone is having fun! Let's all go to TeamLab!
ママのお財布危険度
(最高max★★★)
The degree of dangerous of Mom's wallet
★★
チームラボ富士見なら、キドキドレベルの料金です♡
TeamLab Fujimi is a pounding level fee ♡
にほんブログ村ランキングに参加しています。よろしければ、ポチ!ッと押していただけると嬉しいです♡

にほんブログ村