Add to favorites
[Misato City] I went to Småland at ikea with my kids! How has it changed in Corona?
ikeaの家具は安っぽいし組み立てづらいけど(⇒お前が買う値段の商品はな!)、カラフルだし日本製品にはない遊び心があって昔から大好きです♡
ikeaには悪いけど、私はここは子供の遊び場だと思ってます♡そんな訳で、今回の東京の小学生とおでかけ!のテーマは「ikea スモーランド 新三郷」でございます~。
ikea furniture is cheap and difficult to assemble (⇒ What's the price you buy!), But it's <strong> colorful and playful that Japanese products don't have. I've always loved it ♡
It's bad for ikea, but I think this is a children's playground ♡ That's why I went out with an elementary school student in Tokyo this time! The theme is "ikea Småland Shin Misato" ~.
ikea新三郷店への行き方
How to get to the ikea Shin Misato store
イケア新三郷店はJR武蔵野線「新三郷(しんみさと)駅」から大人は7分、子連れで12分ほどの場所にあります。
The IKEA Shin Misato store is about 7 minutes for adults and 12 minutes for families with children from "Shin Misato Station" on the JR Musashino Line.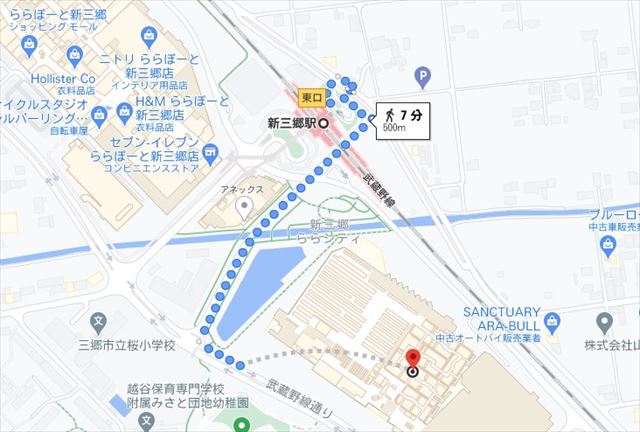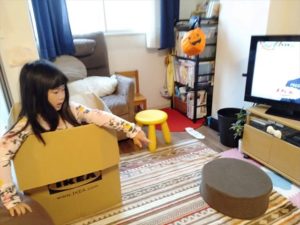 ちなみに、車で行く方は以下の通りです。
・首都高・常磐道三郷西出口から約3km
・外環自動車道三郷西出口から約3km
・外環自動車道三郷中央出口から約4.5km
※埼玉方面からは西出口を、千葉方面からは三郷中央出口をご利用ください。
引用:イケア新三郷店 公式ページより(https://www.ikea.com/jp/ja/stores/shinmisato/)
無料の屋外駐車場が2,500台分あるそうです。車ある方はイケア家具の送料かからないし、いいですよね~!!(⇒うちはないから電車です;)
If you have a car, you don't have to pay for IKEA furniture, which is nice! !! (⇒ It's a train because we don't have one;)
イケアのスモーランドに行くのが夢だった(⇒本当です)
My dream was to go to Småland, IKEA (⇒ true)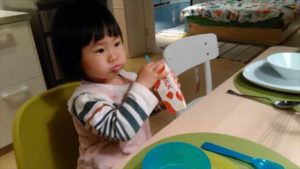 私がイケアのスモーランドのことを知ったのは、今(2020年)から2年ほど前です。おでかけブログ書いてるくせして、遅いですよね!
I first learned about Småland at IKEA about two years ago (2020). It's too late to write an outing blog!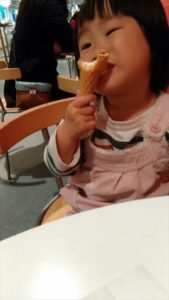 なぜスモーランドに憧れがあったかというと、うちは一人っ子でばーばやパパが平日はいない環境からか、本当に母子分離がなかなかできなかったのです。それで、イケアでも必ずはっちゃんを連れて歩きまわってましたが、(たまには、私ひとりでのんびり見たいな~!)と思い、親と離れて預けられるスモーランドにいつはっちゃんを預けられるのかしら、とずっと思っておりました。
The reason why I longed for Småland was that we couldn't really separate mother and child because we were an only child and there were no babies or dads on weekdays. So, I always walked around with Hatchan at IKEA, but I thought (sometimes I want to take a leisurely look by myself!), And I wondered when I could leave Hatchan in Småland, where I could leave it away from my parents. I've been thinking for a long time.
イケアのスモーランドは無料?利用方法について
Is IKEA Småland free? How to use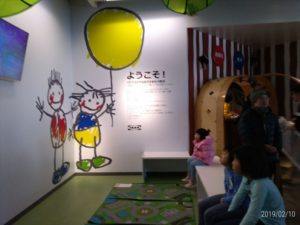 イケアのスモーランドとは、店内で買い物する親のためにイケアが無料でこどもさんを預かってくれるシステムです。すごくないですか?!さすが外資系!(Googleの社内でランチがただの時もかなり感動しましたよ!)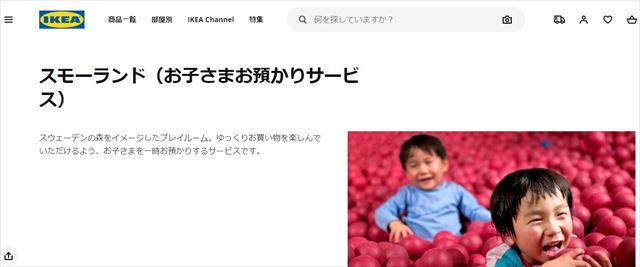 システムは以下の通りです。
The system is as follows.
・預かりは60分まで無料
Custody is free for up to 60 minutes
・預かり対象のこどもは4歳~10歳まで
Children from <strong> 4 to 10 years old
・自分でトイレに行けるおこさまのみ(4歳ならだいたいみんな平気!)
Only for those who can go to the bathroom by themselves
・みんなで仲良く安全に遊ぶための「Småland(スモーランド)のおやくそく」が守れること。
Being able to protect "Småland's Oyakusoku" for everyone to play with each other safely.
What's more, when you look inside Småland, it has a nice atmosphere like in the forest, and it's a level that you can pay for it.
これは是非、いつか利用してみたい!(鼻息フンフン)場所は、イケア新三郷店の入り口入って右手の一番奥にあります。
I definitely want to use this one day! (Breath hum)
The location is at the far end on the right side of the entrance to the IKEA Shin Misato store.
4歳11か月で、スモーランドを初めて利用できました!
I was able to use Småland for the first time at 4 years and 11 months!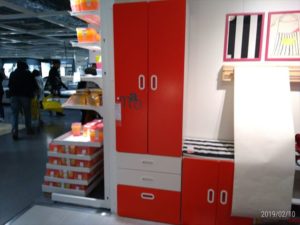 はっちゃんが5歳までは彼女の洋服をカラーボックスに突っ張り棒をつけてかけていました。しかし、段々カラダが大きくなるにつれ、その突っ張り棒がドン!と何度も落ちたため、(もうダメだ、イケアでナイスなタンスを買おう)と決意したわけです。
Until the age of five, Hatchan used to wear her clothes on a color box with a stick. However, as the body gets bigger and bigger, the sticks don! I fell down many times, so I decided (no more, buy a nice chest of drawers at IKEA).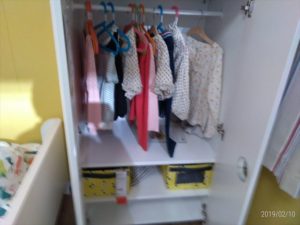 しかし、2019年の2月某日。私たちがイケア新三郷店に行った日は3月前だからかめっちゃくちゃ混んでました。笑っちゃうくらいです。
However, one day in February 2019. The day we went to the IKEA Shin Misato store was <strong> insanely </ strong> crowded, probably because it was three months ago. It makes me laugh.
わたし:ね~ね~、今日のイケア、混んでるよ。もう帰ろうよ~!。
旦那:そうだよ~!
はっちゃん:やだ!絶対スモーランド行く!行く!行く!
(※この会話×20回くらいを脳内でイメージしてください)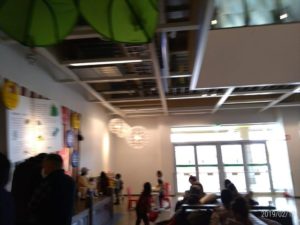 まあ、気持ちはわかるので、スモーランドのお姉さんに何人くらい待っているかを聞くと「だいたい1時間くらいですね!」と回答。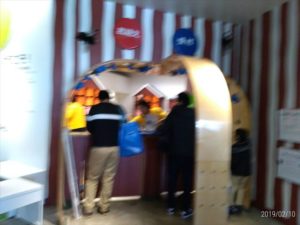 はっちゃんに1時間待つ?と聞くと「待つ!」と即答だったので、仕方なく待つことにしました。
Well, I understand my feelings, so when I asked Småland's older sister how many people were waiting, she answered, "It's about an hour!"
Wait an hour for Hatchan? I immediately answered "<strong> Wait! </ Strong>", so I had no choice but to wait.
お腹減った、、!でも、イケアで食品を買うのにまた並ばなきゃいけないという悪循環;
hungry,,! But the vicious cycle of having to line up again to buy food at IKEA;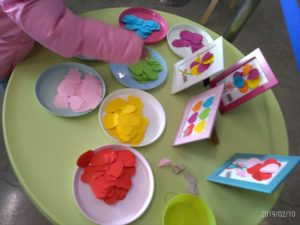 イケアのスモーランド狙いで1時間待つことになった私達ですが、昼前に到着してからは上記画像のバレンタインカードづくりもやらせてもらいました。
We had to wait an hour for IKEA's Småland, but after arriving before noon, we also made the Valentine's card in the image above.
イケアって家具のお店やさんなんですが、レストランもあるし、ヘタしたら丸一日いても楽しめる場所ですよね。(⇒イケア側は迷惑だと思いますが、、!)
IKEA is a furniture store, but it also has a restaurant, so if you get tired of it, you can enjoy it for a whole day. (⇒ I think the IKEA side is annoying, but …!)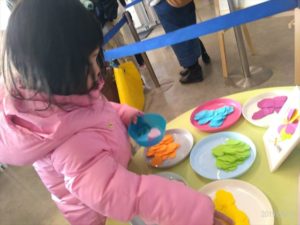 で、昼頃に行ってイケアのレストランが混雑しるぎて座れなかったので、一度新三郷の駅前で腹ごしらえして、はっちゃんはスモーランドにどうしても行きたいというので戻ってきたのです。
I went around noon and couldn't sit at the IKEA restaurant because it was so crowded that I had to get hungry in front of the Shinmisato station and Hatchan went to Småland. I came back because She really wanted to go.
しかし、待ちながら私はお腹が減ってしまいましたが、イケアのビスケットか何かを買おうと思っても、また並ばなくてはいけないのでずっと我慢でした;
But while I was waiting, I was hungry, and even if I wanted to buy an IKEA biscuit or something, I had to line up again, so I was patient;
幼稚園・保育園以外で初めて預かり成功!ありがとう!!スモーランド♡
Successful custody for the first time outside of kindergarten and nursery school! Thank you! !! Småland ♡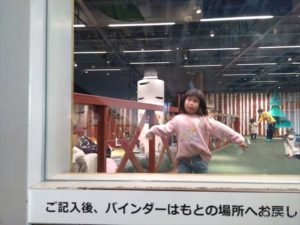 やっとのことで私達の番が来ました。中にはプレイリーダーがいて、いろいろな年齢の子供が自由に遊んでいます。超のつくほど人見知りのはっちゃんなので、私はじ~っと見ながら、泣きそうになったらすぐピックアップしよう、と思っておりました。
しかし、彼女はスモーランドの中で仲良しの同い年くらいの友達を見つけて「もっと遊ぶ!」と帰りたがらないほどでした。
Finally it's our turn. There is a play leader inside, and children of all ages are free to play. I'm so shy that I'm so shy, so I was looking at it and thinking about picking it up as soon as I was about to cry.
However, she didn't want to find a good friend of the same age in Småland and buy "play more!".
コロナ中のいま、スモーランドはどうなった?
What happened to Småland now in the corona?
親離れを経験させてもらったスモーランドですが、コロナ禍のいまは無期限で休止中となっています。まあ、学校ではない預かり施設だから、これは妥当と言えば妥当の決断です。
また、キッズシネマの上映も休止中です。
しかし、わたしたちはきっとこれからもイケアの家具を買うことがあると思います。またスモーランドが再開してくれることを夢見ています♡
Småland has experienced a separation from parents, but now the corona wreck has been suspended indefinitely. Well, because it's a custody facility that isn't a school, this is a reasonable decision when it comes to be reasonable. But I'm sure we will continue to buy IKEA furniture. I dream that Småland will resume.
よろしければ、ポチ!っとお願いします。ブログランキングに参加しています。

にほんブログ村