Add to favorites
[Misato City] What are Thomas Town's access, congestion, blogs, and goods?
ある日、私はふと年甲斐もなく「トーマスの実物、みたいな~!」と思いました。富士急?かなんかのトーマスの広告を見たのです。(⇒トーマスランドでした;)
One day, I suddenly not worth the year thought, "It's like the real thing of Thomas!" Fuji-Q? I saw some kind of Thomas advertisement.
しかし、家から富士急に行くのはいろいろホテル取ったりお金かかったり大変です。で、近場でトーマスがいる場所を探したら、さいたまの三郷にあるではありませんか。
However, going to Fuji-Q from home is difficult because it costs a lot of money and hotels. So, if you look for a place where Thomas is nearby, isn't it in Misato, Saitama?
と、いう訳で、今回の「東京の小学生とおでかけ!」のブログテーマは「三郷市のトーマスタウン」でお送りします♡
That's why the theme of this "Going out with elementary school students in Tokyo!" Will be sent at "Thomas Town in Misato City" ♡
トーマス・タウンへのアクセスは?
How to get to Thomas Town?
武蔵野線 / 新三郷駅 西口出口より徒歩約3分のららぽーと新三郷の2階にあります。南モールです。徒歩3分といいながら、実際は子連れで行けば駅の改札口から10分くらいはかかります。
It is located on the 2nd floor of LaLaport Shin Misato, about a 3-minute walk from the west exit of Musashino Line / Shin Misato Station.
South mall.Although it is said to be a 3-minute walk, it actually takes about 10 minutes from the ticket gate of the station if you go with your child.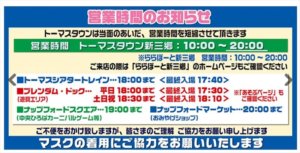 ららぽーとの中にこういう遊園地系って、いまではそんなに珍しくありません。が、このトーマスタウンができた2009年には画期的だったとか。モノからコトへ。ショッピングセンターが商品を売るだけでは顧客を呼べなくなったからの開業らしいです。
This kind of amusement park system in LaLaport is not so rare nowadays. However, it was epoch-making in 2009 when this Thomas Town was created. From things to things. It seems that the store opened because it was no longer possible to call customers just by selling products.
トーマスタウンの混雑度は?
How busy is Thomas Town?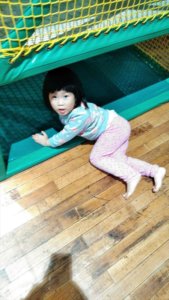 え~、私が行った時期は2017年の11月の平日(;)とだいぶ前なのですが、平日なので空いていました。並んでも、5~10分程度ですね。
Well, I went there a long time ago on weekdays (;) in November 2017, but it was a weekday so it was vacant. Even if you line up, it's about 5 to 10 minutes.
しかし、いろいろ調べると土日はかなりの混雑らしく、お昼時は外して夕方から出かけるなどの対策が必要だそうです。(子連れは大変だね、、)
However, according to various investigations, it seems to be quite crowded on Saturdays and Sundays, and it seems that measures such as taking off at noon and going out in the evening are necessary. (It's hard to bring children …)
トーマスタウン、正直どう?料金は高い?
How about Thomas Town, honestly? Is the price high?
トーマスタウンのステキなところ。それは入場料が0円なところですよね♪なので、ただ中に入ってぶらついたりお土産買うだけなら0円なんですよ。
A nice place in Thomas Town. That's where the admission fee is 0 yen ♪ So if you just go inside and hang out or buy souvenirs, it's 0 yen.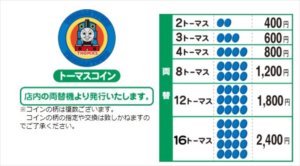 でも、やっぱりゲームやアトラクションをしたいですよね。その場合は●トーマスという通貨を現金で購入しなければいけません。
But after all I want to play games and attractions. In that case ● You have to buy the currency called Thomas in cash.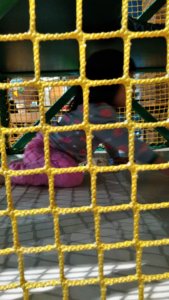 例えば、ボールプールやネットで作られたアスレチックみたいな「ブレンダムドッグ」で遊びたいとすると、4トーマスなので、200円×800円です。
For example, if you want to play with an athletic-like "Blendam dog" made in a ball pool or online, it costs 200 yen x 800 yen because it is 4 Thomas.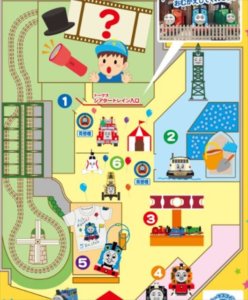 そこで、表を作るのが大好きな私が①~④の有料アトラクションORゲームで1回ずつこどもが遊ぶと、一体いくらかかるのか。計算してみましたw
So, how much does it cost for a child to play each of the paid attractions OR games (1) to (4), which I love to make tables? I calculated w
| | |
| --- | --- |
| ①トーマスシアタートレイン(4トーマス) | 800円 |
| ②ブレンダム・ドッグ※プレイエリア 4トーマス | 800円 |
| ③トーマスのくるくるカーニバル 3トーマス | 600円 |
| ④Go!OG!ソドーてつどう 3トーマス | 600円 |
| 合計 | 2,800円 |
合計は、2,800円でした。。う~ん、高い?安い?というと、私は1時間~1時間半しかもたないので、微妙に高い?と思います。でも、男の子なら迷わず行きますね~!
The total was 2,800 yen. .. Hmmm, is it expensive? cheap? Speaking of which, I only have an hour to an hour and a half, so is it slightly expensive? I think. But boys will go without hesitation!
トーマスタウンに行ったのに、ラウンドワンのゲームコーナーでも遊びました;
I went to Thomas Town, but I also played at the Round One game corner;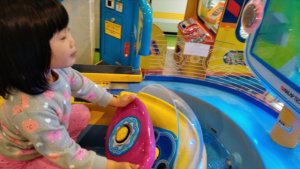 まあ、トーマスも(⇒外国人の友人ではないですw)入場料が0円だからお値打ち感はあるんですが、1回800円とか払っていくのは東京ドームシティ方式で何気に払っちゃう。
ので、私ははっちゃんに「くるくるカーニバル」と「ブレンダムドッグ」だけをやらせ、あとはラウンドワン(ららぽーと内スカイガーデン2~4階)のゲームコーナーで遊びました。
Well, Thomas (⇒ I'm not a foreign friend w) has an admission fee of 0 yen, so it's a good value, but I pay 800 yen at a time. What I'm going to do is the Tokyo Dome City method.
so I let Hatchan do only "Kurukuru Carnival" and "Brendam Dog", and the rest is a Round One (LaLaport Inner Sky Garden 2nd-4th floor) game. I played in the corner.
トーマスタウンでグッズだけ買うのは無料!どれが売れ筋?
It's free to buy only goods in Thomas Town! Which one is the best seller?
トーマスタウン内におみやげコーナーがあり、「ナップフォードマーケット」と言います。(⇒いちいちイギリス風や)おすすめはトーマスたちの顔型ポシェット(2,300円)です♡
10トーマス(=2,000円分)がついているので、ポシェット代は実質300円!!お買い得ですね♪
There is a souvenir corner in Thomas Town, which is called "Napford Market". ( ⇒ British style ) We recommend Thomas's face-shaped pochette (2,300 yen) ♡
10 Thomas (= 2,000 yen worth) is included, so the pochette fee is actually 300 yen! !! It's a bargain ♪
にほんブログ村ランキングに参加しています。よろしければ、ポチ!ッと押していただけると嬉しいです♡

にほんブログ村