Add to favorites
[Kita-ku] I went to Verdy's Home Town Day with an elementary school student and a mom friend ♡
Jリーグを近所で観られたら興奮しません?!電車に乗らず、自転車でJリーグ♡帰りが遅くても、自転車で帰れるJリーグ♡
Wouldn't it be exciting to see the J League in your neighborhood? !! J-League by bicycle without getting on the train ♡ J-League where you can return by bicycle even if you are late
私は中学生の時の陸上部で県大会に出るあたりから地獄の合宿でスポーツが苦手になってしまい、なかなかスポーツ観戦をしない人生でした。
When I was a junior high school student, I wasn't good at sports at the hell training camp when I was in the track and field club, so I didn't watch sports.
しかし、今観てきたサッカーはとても良かった♡サッカー選手、マジ尊敬♡(⇒魅力に気づくのが遅すぎ?!)
However, the soccer I just watched was very good ♡ Soccer player, seriously respected ♡ (⇒ Is it too late to notice the charm ?!)
そんな訳で、本日の「東京の小学生とおでかけ!」のテーマはサッカー・Jリーグのホームタウンデー(ヴェルディ編)です。
That's why today's theme of "Going out with elementary school students in Tokyo!" Is Soccer / J League Home Town Day (Verdy edition).
ある日、小学生の娘が北区ホームタウンデーのチラシを持ち帰った
One day, an elementary school daughter brought back a leaflet for Kita-ku Home Town Day.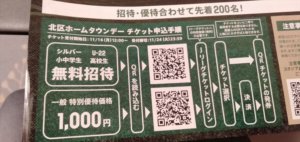 うちのはっちゃん(6)は現在、小学生です。毎日、小学校からいろんなお手紙を持ち帰ってきます。その中の1枚に、緑色のチラシがあり、読んでみると「東京ヴェルディ」の北区ホームタウンデーについてのチラシでした。
Our Hatchan (6) is currently in elementary school. I bring back various letters from elementary school every day. One of them was a green leaflet, and when I read it, it was a leaflet about Kita-ku Home Town Day in "Tokyo Verdy".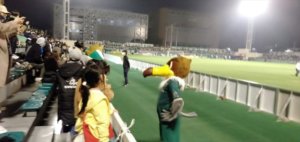 ホームタウンデーの日に北区在住の小学生・中学生・22歳までの高校生は先着200名までが無料招待。大人も自由席であれば1名1,000円と非常にオトクです。
Up to the first 200 elementary school students, junior high school students, and high school students up to the age of 22 who live in Kita Ward on Home Town Day are invited for free. If adults also have unreserved seats, it is very advantageous at 1,000 yen per person.
安いの大好き!安いとすぐに飛びつく貧乏人根性丸出しのワタシはすぐに飛びつきましたが、1回目は日程が合わず断念;
I love cheap! The poor man who jumps as soon as it is cheap I jumped immediately, but the first time I gave up because the schedule did not match;
2回目の11月25日(水)の平日なら行けるぞ!わ~い!でも、私とはっちゃんだけじゃツマラナイので、旦那も誘いました。
You can go on the second weekday of November 25th (Wednesday)! Wow! However, I and Hatchan were the only ones, so I invited my husband as well.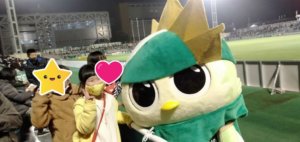 「え?18時にスタート?間に合わないなあ。」との返事。そりゃそうだ。そこで、幼稚園の時からのママ友2人にLINEして、「私がチケット取るよ!」と豪語しましたw
"Eh? Start at 18:00? I can't make it in time." That's no surprise. So, I LINEd to two mom friends from kindergarten and boasted, "I'll get a ticket!"
そもそも、Jリーグのホームタウンデーって何?
What is J League Home Town Day in the first place?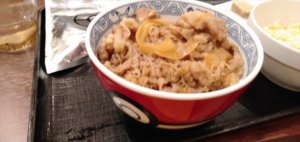 サッカーに詳しい方やJリーグのファンの方であればご存知かもしれませんが、私はホームタウンデーを知りませんでした。ものすごくスポーツに詳しくないくせに、異常におでかけ好きなおばちゃんです。
As you may know if you are familiar with soccer or a fan of the J League, I didn't know Home Town Day. Even though she is not very familiar with sports, she is an aunt who likes to go out abnormally.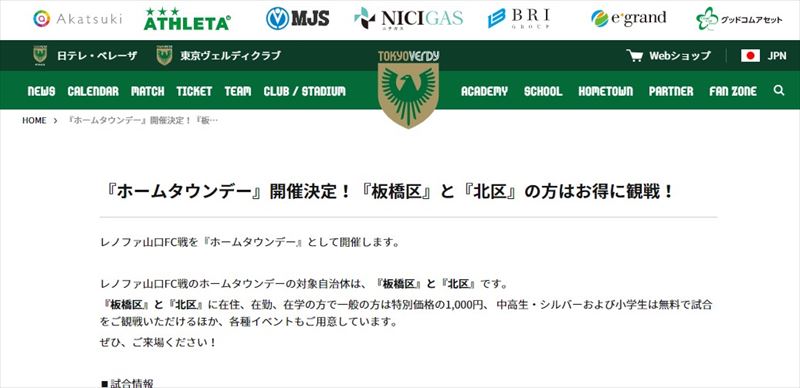 早速ネット検索してみると、ホームタウンデーについてドンピシャ書かれた記述は見つけられませんでした。(→それでライターかよ、、!)
When I searched the internet immediately, I couldn't find any description about Home Town Day written by Don Pisha. (→ That's a writer …!)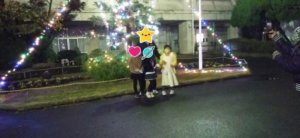 しかし、いくつかのサイトを見るとどうやらチームと自治体が協力して無料招待や優待(割引)をしているJリーグの取り組みのようですね。
However, looking at some sites, it seems that the team and the local government are working together to offer free invitations and special offers (discounts) to the J League.
まずはチラシのQRコードを読み込み、Jリーグサイトのアカウントをつくりました
First, I read the QR code of the leaflet and created an account for the J League site.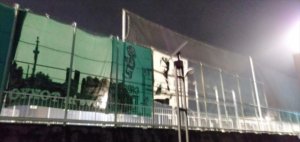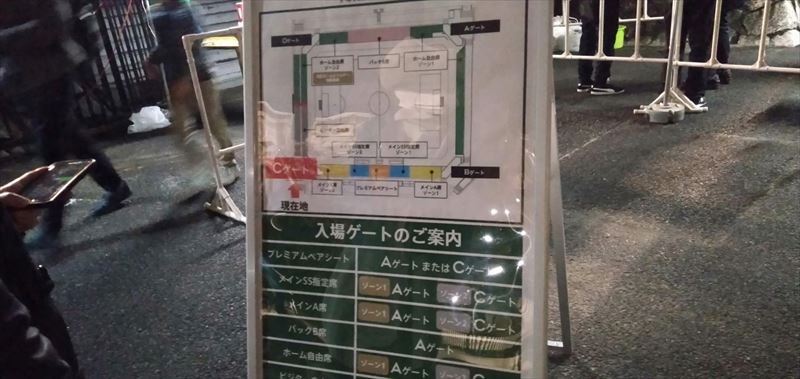 QRコードって、あると読み込みたくなる衝動にかられますよね。(⇒え?かられない?!)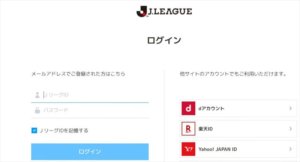 とりあえず、私はこの画面になったのでアカウントを作成しました。で、もう一度チケット購入画面に行こうとしたら「購入できるチケットはありません」というメッセージが表示されました。よくチラシを見てなかったのですが、発売日はまだでした、、!
For the time being, I got this screen, so I created an account. So, when I tried to go to the ticket purchase screen again, the message "There are no tickets to buy" was displayed. I didn't look at the leaflets often, but the release date wasn't there yet!
チケット購入時の注意点
Precautions when purchasing tickets
1つのアカウントで複数のチケット購入が可能です
You can purchase multiple tickets with one account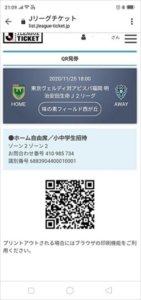 さて、6人分のチケットをどう取ろう。「私がチケット取るよ!」と豪語したはイイものの、一人につき1アカウント作成してくれ、とかのルールだったら面倒だぞ、と思いました。
なぜなら、私はママ友のほとんどの住所や電話番号を知らず、LINEのみで生きてます。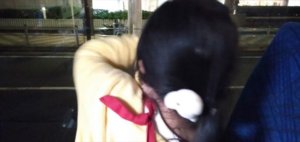 By the way, although it was good to say "I will get a ticket!", I thought that it would be troublesome if it was a rule such as creating one account for each person. Right now, I don't know most of my mom's friends' addresses and phone numbers, and I live only on LINE.
しかし、Google先生に聞くと「Jリーグのチケットは1アカウントで複数のチケット(1人5枚までの制限アリ)購入が可能」と教えて頂きましたので、私は「はっちゃん」(小学生)アカウントを作り、そこから2回に分けてチケットを計6枚Getしました。
However, when I asked Google Sensei, he told me that "J League tickets can be purchased with multiple tickets (up to 5 tickets per person)", so I have a "Hatchan" (elementary school student) account. I made a ticket and got a total of 6 tickets from there.
発売日の発売時間にアクセスしたら、余裕でゲットできました
When I accessed the release time on the release date, I was able to get it with a margin
ホームタウンデーの無料招待と優待は、多くのママさんが注目をしていました。しかし、先着200名ということで「無理でしょ」と諦めている方もいらっしゃいました。
Many moms were paying attention to the free invitations and special offers for Home Town Day. However, there were some who gave up saying "It's impossible" because of the first 200 people.
私の場合、土日ではなく平日の夜の部だからか、発売時間(12時)ジャスト前にスタンバイをして問題なく購入できました。しかし、数時間経過したあとに購入できなかった方もいると聞きました。
In my case, probably because it was a weekday night instead of Saturday and Sunday, I was able to purchase without any problems by standing by just before the release time (12:00). However, I heard that some people couldn't buy it after a few hours.
購入したチケットはLINEで友人に簡単に送れます
Purchased tickets can be easily sent to friends on LINE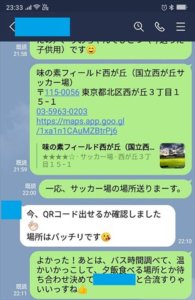 予約できたチケットはLINEで友人に送付しました。送付するとベルディのマイページのチケット画面からは表示できなくなります。
I sent the reserved ticket to my friend via LINE. Once sent, it will not be displayed on the ticket screen of Verdi's My Page.
しかし、万が一送った相手がサッカーに行けなくなった際は、マイページで操作すると再表示できるとヴェルディのチケットの公式ページの「よくある質問」に書かれていました。
However, in the unlikely event that the opponent who sent it could not go to soccer, it could be redisplayed by operating it on My Page, according to the "Frequently Asked Questions" on the official page of Verdy's ticket.
味の素フィールド西が丘(国立西が丘サッカー場)の場所とアクセス

Location and access to Ajinomoto Field Nishigaoka (National Nishigaoka Soccer Field)
味の素フィールド西が丘は赤羽駅から徒歩21分で、赤羽自然観察公園からバスで1つ先です。バス(赤51・池袋東口行き)に乗ると、乗車時間6分です。HPSC陸上門で降車してください。(南門でも北門でもOKです。複数の経路のバスが赤羽駅西口から出ています)
Ajinomoto Field Nishigaoka is a 21-minute walk from Akabane Station and one bus away from Akabane Nature Observatory Park. If you take the bus (Red 51, bound for Ikebukuro East Exit), the boarding time is 6 minutes. Get off at the HPSC Rikujyomon.(Both the south gate and the north gate are OK. Buses for multiple routes leave from the west exit of Akabane Station)
徒歩
On foot
赤羽駅西口から徒歩21分(タダ)
21 minutes walk from the west exit of Akabane station (free)
バス
Bus
国際航業バス 赤51で「HPSC北門」下車(乗車時間6分)
おとな:220円 こども:110円
Take the Kokusai Kogyo Bus Red 51 and get off at "HPSC Kitamon" (ride time 6 minutes) Adults: 220 yen Children: 110 yen
タクシー

taxi
赤羽駅西口から乗車時間6~9分(約410円)
Boarding time 6-9 minutes from the west exit of Akabane Station (about 410 yen)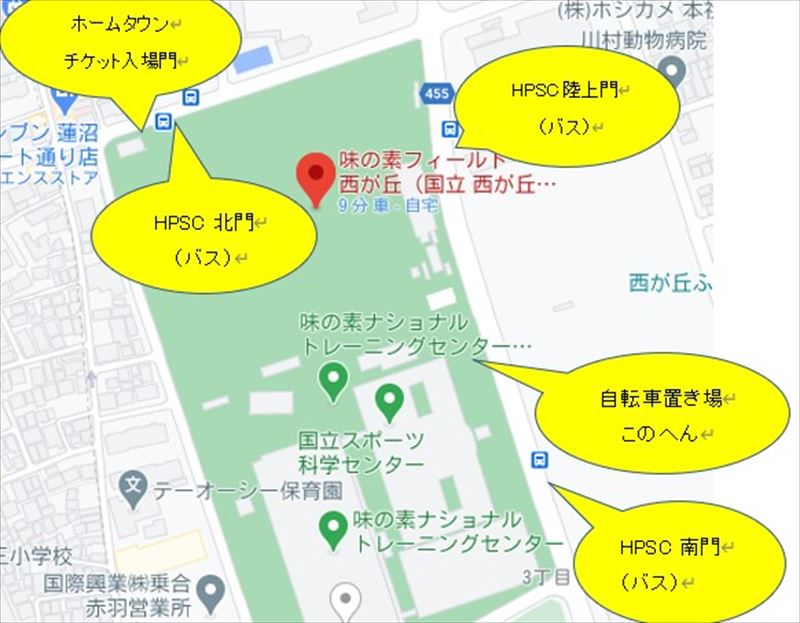 ホームチケットでバスから行く場合北門で降りるのが、HPSC北門から行くのが一番スマートかもしれません。北門付近にはセブンイレブン、HPSC陸上門から赤羽自然観察公園の方へまっすぐ歩くとファミリーマートがあります。(試合中のハーフタイムのコンビニは混むので、ご飯や飲み物は持参をオススメします!)
小学1年生、本物のサッカー選手を見てどうだった?
How was it when you saw a real soccer player in the first grade of elementary school?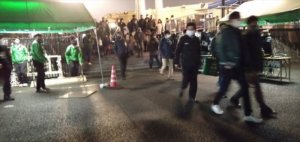 小学1年生って夜寝るのが、21時半くらいですかね。今回わたしたちは二組のお友達と一緒に観戦しましたが、試合終了の20時過ぎまで子供たちはとても楽しそうでした♡
It's about 21:30 when I'm in the first grade of elementary school and go to bed at night. This time we watched the game with two sets of friends, but the children seemed to have a lot of fun until after 20:00 at the end of the game ♡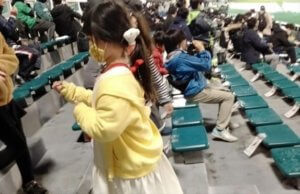 小学校じゃない場所で元・幼稚園のお友達と会えて、しかも夜で、サッカー場で♡というスペシャル条件付きなので、無理もないでしょう。
You can meet your ex-kindergarten friends in a place other than elementary school, and at night, at the soccer field ♡, so it's no wonder.
最初から最後までしっかりサッカーを観るのは、最初から小1には無理;でも、サッカー場で観るスポーツの楽しさは知れたし、サッカーを習っている男の子には最高の機会だよね。ヴェルディ、北区、どうもありがとう♡
It's impossible to watch soccer from the beginning to the end in elementary school; but the fun of watching sports on the soccer field is known, and it's a great opportunity for boys who are learning soccer. Verdy, Kita-ku, thank you very much ♡
ご覧いただきありがとうございました。よろしければ、ポチ!っとお願いします♪ブログランキングに参加しています。

にほんブログ村