Add to favorites
[Kita-ku] I experienced a guided tour of the Nature Fureai Information Center in Shimizuzaka Park with my children!
私の子供とおでかけネタは主に「北区ニュース」か「ローソンチケットのメルマガ」がソースとなっているのですが(⇒おでかけブログ書いてる割に情報源がすっごく貧弱、、;)、特に北区ニュースに出ている子供のイベントは無料や格安の場合がほとんどなので、いつも速攻で申し込んでます。
My children and outing stories are mainly sourced from "Kita Ward News" or "Lawson Ticket e-mail newsletter" (⇒ The information source is poor for the outing blog writing,;), but especially Kita Ward Most of the children's events in the news are free or cheap, so I always apply for it in haste.
しかし、とあるイベントだけはいつもどうしても当選せず。それは「清水坂公園(北区のじゃぶじゃぶ池で有名な公園)」の「自然ふれあい情報館」の虫探しやナイトツアーです。
However, I couldn't always win a certain event. It is a night tour and insect hunting at the "Nature Fureai Information Center" in "Shimizuzaka Park (a park famous for the Jabujabu Pond in Kita Ward)".
しかし、2020年2月。やっとのことで当選しましたので、その内容をお届けしたいと思います♡
However, this time I was finally elected, so I would like to deliver the contents ♡
北区・自然ふれあい情報館ってどこさ?
Where is the Kita Ward Nature Fureai Information Center?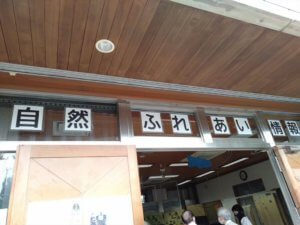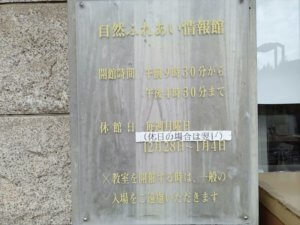 自然ふれあい情報館の場所は、北区清水坂公園の中にあります。ど~ん!と高台に構えているので、清水坂公園に着けば分かります。
The location of the Nature Fureai Information Center is in Shimizuzaka Park, Kita-ku. Don! Since it is set on a hill, you can see it when you arrive at Shimizuzaka Park.
清水坂公園は、駅で言うと、JR東十条駅と赤羽駅のちょうど中間地点くらい。最寄りのバス停は「中十条四丁目」(都営バス・王54・王78など)です。周辺の地元民はみんな自転車で行きます。
In terms of stations, it's about halfway between Higashi Jujo Station and Akabane Station. The nearest bus stop is "Nakajujo 4-chome" (Toei Bus, King 54, King 78, etc.).All the locals in the area go by bicycle.
自然ふれあい情報館の自然教室は倍率が高いらしい
The nature classroom at the Nature Fureai Information Center seems to have a high magnification

自然ふれあい情報館の自然教室では、清水坂公園にいる虫たちを観察したり、お兄さんたちにガイドしてもらったりできます。東京のおでかけ目線では、正直地味な部類に入るおでかけですが(⇒失礼な言い方ですいません!)、周辺住民からはとっても人気♡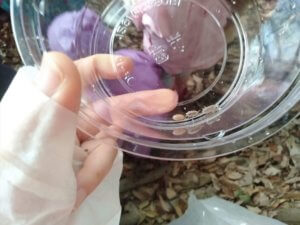 In the nature class of the Nature Fureai Information Center, you can observe the insects in Shimizuzaka Park and have your brothers guide you. From the perspective of going out in Tokyo, it's honestly a sober outing (⇒ I'm sorry to say it's rude!), But it's very popular with the local residents ♡
「うちも応募したけど、外れた~」というママ友さんの声を聞いたこともあります。こんなに地味(⇒しつこい!)けど、やはり①近所で②子供の学習に良さそうで③ママやパパ一人だとやりづらい、から、こういう企画は需要があるのかな~。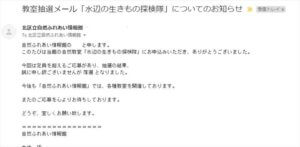 I've heard the voice of a mom friend who said, "I applied for it, but I missed it." It's so plain (⇒ persistent!), But after all, (1) in the neighborhood, (2) it seems to be good for children's learning, and (3) it's difficult for moms and dads to do it alone, so I wonder if there is demand for this kind of
「越冬する昆虫を探そう」の内容
Contents of "Let's find insects that overwinter"
①お兄さんの自己紹介のあと、外に出ます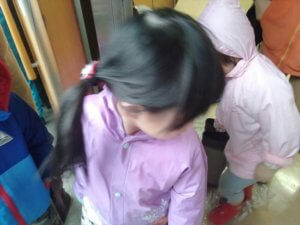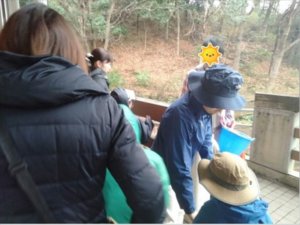 自然ふれあい情報館に着くとテーブルと椅子が並べられていて、「こちらに座ってくださ~い」と誘導していただきました。雨の中自転車で移動したので、(私って虫探しのために、エライな、、)と、かるく自己陶酔に入りましたw(⇒ウソです)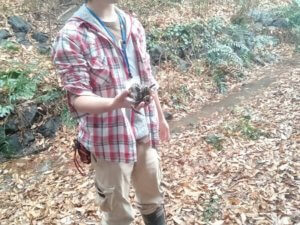 When I arrived at the Nature Fureai Information Center, the tables and chairs were lined up, and I was guided to "Please sit here." Since I moved by bicycle in the rain (I'm crazy to look for insects …), I got into a light self-euphoria w (⇒ I'm lying)
まず、観察するための冬の虫たちを採集するため、お兄さんが蓋つきの透明カップを渡してくれました。これに、自分たちで探して虫を入れるのです。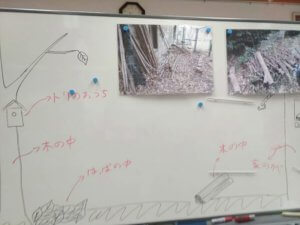 First of all, my brother gave me a transparent cup with a lid to collect winter insects for observation. We look for it ourselves and put insects in it.
②暗くてジメジメした場所をガサガサ動かし、虫を探します
Roughly move in a dark and damp place and look for insects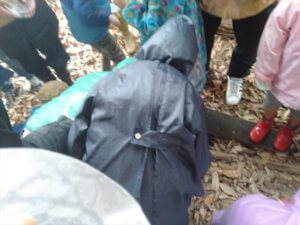 虫さんは賢いので風や雨をよけられ温かな場所にいるそうです。で、倒れた木の幹の下や落ち葉が固まっているところなどを掘り起こします。
Insects are smart enough to avoid the wind and rain and stay in a warm place. Then, dig up under the trunk of a fallen tree or where the fallen leaves are solidified.
ごめんよ、虫さん、、!(⇒香川照之さん風に!)
I'm sorry, Mushi-san …! (⇒ In the style of Teruyuki Kagawa!)
③持ち帰った虫さんを観察します
Observe the insects you brought back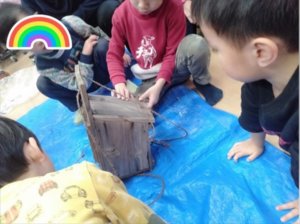 室内に広げたブルーシートの上に、持ち帰った巣箱など虫がいると思われる枯葉などをわさわさあ!と放ります。こりゃ、確かに家庭ではできない体験です;
On the blue sheet spread out indoors, let's rush the dead leaves that are thought to have insects such as the birdhouse that we brought back! I will throw it. This is certainly an experience you can't do at home;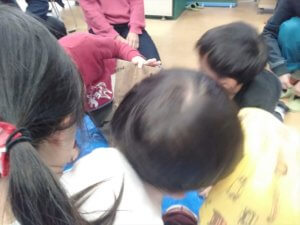 虫がいると、誰かが「虫いた~!」と大声をあげ、他の親子も「○○ちゃん、この辺にいないかな?」などとマジになって面白いです。
When there is an insect, someone yells "There was an insect!", And other parents and children also say "○○ -chan, aren't you around here?"
参加費は無料です。男の子なら喜ぶと思います
Participation fee is free. I think boys will be happy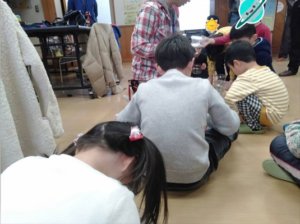 参加者は親子10組くらいで、うち7割程度は男の子でした。だよね!
Participants were about 10 pairs of parents and children, of which about 70% were boys. right!
いいんです。私のポリシーはミーハーだし、はっちゃんがどんな事に興味が出るかわからないから、いまは広く浅く。そして、普段は自然と無縁の自分が少し自然に触れられるので、またいきたいとおもいま~す! 
It's fine. My policy is Miha, and I don't know what Hatchan will be interested in, so it's wide and shallow now. And since I can touch nature a little, which is usually unrelated to nature, I want to go again!
にほんブログ村ランキングに参加しています。よろしければ、ポチ!ッと押していただけると嬉しいです♡

にほんブログ村