Add to favorites
[Urayasu City] What kind of room is "Danran" at Brighton Hotel?
新浦安駅から直結するホテルは2つあります。1つ目はオリエンタルホテル、2つ目はブライトンホテルです。舞浜のディズニーホテルもいいですが、ディズニー帰りになかなかバスが来なかったり車内が混んでてツラかったりします。
その点、舞浜駅の隣の新浦安駅直結ホテルなら電車でたった1駅。余計な待ち時間はゼロだし、突然の雨にも濡れません♪(⇒決して回し者ではありません;)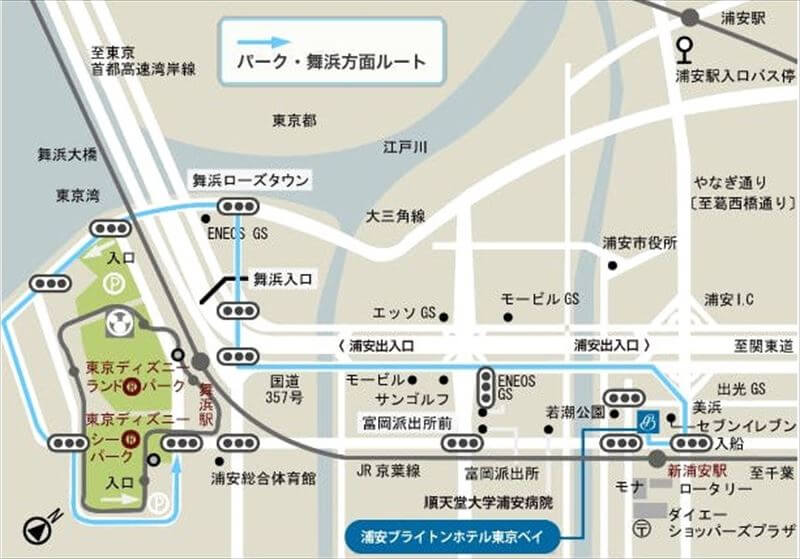 There are two hotels that are directly connected to Shin-Urayasu Station. The first is the Oriental Hotel and the second is the Brighton Hotel. The Disney Hotel in Maihama is good, but the bus doesn't come on the way back from Disney, and the inside of the car is crowded and it's chilly.
In that respect, the hotel directly connected to Shin-Urayasu Station next to Maihama Station is only one stop by train. There is no extra waiting time, and you won't get wet in sudden rain ♪ (⇒ I'm not a turner;)
ワタクシ、オリエンタルホテルは一度デイユースで利用したことがあるため、今度はブライトンホテルに是非泊まりたかったです。しかも、「だんらん」ルームに、、!
今回の「東京の小学生とおでかけ!」のテーマは新浦安駅のブライトンホテルのだんらんです♡
I have used the Oriental Hotel for day use once, so I definitely wanted to stay at the Brighton Hotel this time. Moreover, in the "Danran" room ,!
The theme of this "Going out with elementary school students in Tokyo!" Is the Danran of the Brighton Hotel at Shin-Urayasu Station ♡
新浦安ブライトンホテルへのアクセス
Access to Shin-Urayasu Brighton Hotel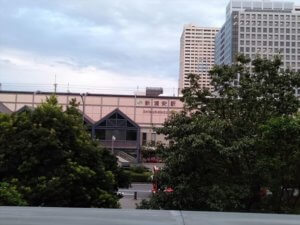 京葉線または武蔵野線で新浦安駅に行きましょう。改札は一つです。改札を降りたら左側(北口)に向かうと道路挟んだ向かいのオリエンタルホテルと直結している橋があります。
それを渡り、左手に進むと円柱型の新浦安ブライトンホテルがあります。駅からめちゃくちゃ近いので、初めて行く方や高齢者の方にもおすすめです。(オリエンタルホテルの1階にはローソンがあります)
Take the Keiyo Line or Musashino Line to Shin-Urayasu Station. There is only one ticket gate. When you get off the ticket gate and head to the left (north exit), there is a bridge directly connected to the Oriental Hotel across the road. Cross it and turn left to the cylindrical Shin-Urayasu Brighton Hotel. It's very close to the station, so it's recommended for first-time visitors and elderly people. (Lawson is on the 1st floor of the Oriental Hotel)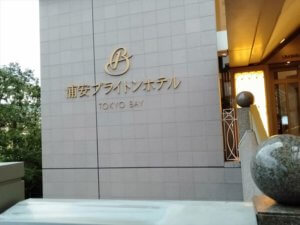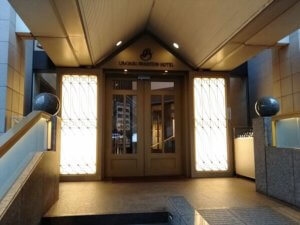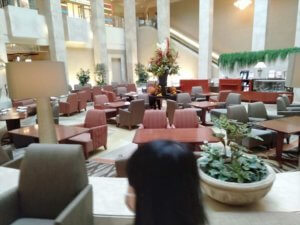 Danran(だんらん)の存在は一休.comで知りました
I learned about the existence of Danran at Ikyu.com.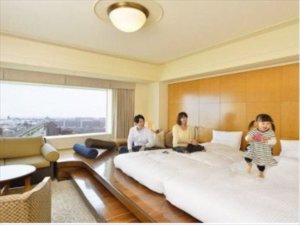 「だんらん」と言えば、お母さんとお父さんと子供たちが「ウフフ、、。アハハ!」と楽しく談笑する仲睦まじい風景を思いうかべることでしょう。新浦安ブライトンホテルのだんらんルームは家族3世帯の団らんをコンセプトに作られています。
Speaking of "danran," you can think of a friendly landscape where moms, dads, and children have fun chatting. The Danran Room at Shin-Urayasu Brighton Hotel is designed with the concept of a group of three families.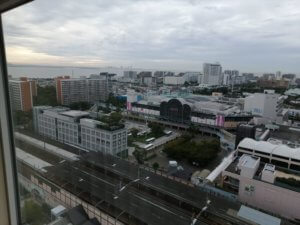 【Danranはココがすごい!!】
・ぶっちぎりの広さ!42㎡ 
The size of the room! 42㎡
・広いお風呂!洗い場と湯舟が別々です
A large bath! The washroom and bathtub are separate
・小上り付きのダブルベッドが面白い
Double bed with small climb is interesting
・高層階からの絶景を眺められる
You can see the superb view from the upper floors
この中で、私は3つ目の小上りに最も惹かれました。縁側や小上りなどが落ちつく、昭和世代のワタシ。我が家には縁側も小上りもないため、これは是非とも泊まってみたい、、!と思ったのです。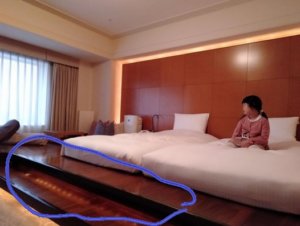 Of these, I was most attracted to the third small climb. I am the Showa generation, with the porch and small climbs calming down. There is no porch or small climb in my house, so I definitely want to stay here! that's what I thought.
普段は高めのだんらんルーム料金がGo Toで安くなりました
Usually expensive room rates are now cheaper with Go To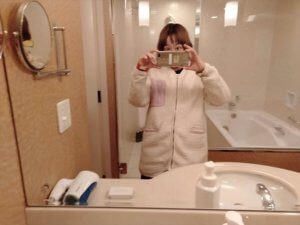 さて、気になるだんらんルームの料金ですが他の部屋より5,000円ほど高めな印象です。(⇒まあ、広いから当然だけどね!)2~3年前に一休で見たときは、食事をつけないで一泊2万以下くらいでした。結構高いな~!と思い、高値の花でした。
By the way, the price of the room I'm curious about is about 5,000 yen higher than other rooms. (⇒ Well, it's natural because it's large!) When I saw it a couple of years ago, it was less than 20,000 per night without meals. It's quite expensive! I thought it was a high priced flower.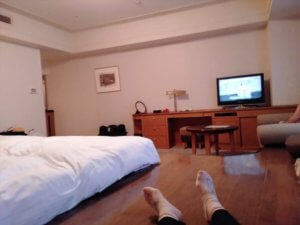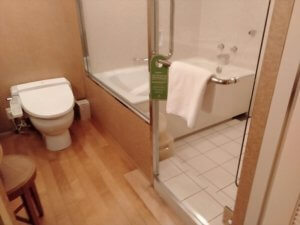 しかし、今回コロナでGo Toキャンペーンがあったことで(ん?こりゃ、だんらんルーム行けかも?)と一休.comを見ると、かなりお得な料金になっていました。
However, when I looked at Ikyu.com because there was a Go To campaign in Corona this time (maybe I should go to the Danran room?), It was a very good price.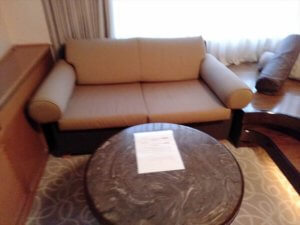 【2020年10月某日(日曜日)宿泊の場合】
[For accommodation on a certain day (Sunday) in October 2020]
※1泊大人1名子供1名朝食付
* 1 night 1 adult 1 child 1 breakfast included
17,660円
大人合計 8,830円 × 1人 = 8,830円
小学校低学年 8,830円 × 1人 = 8,830円
17,660 yen Adult total 8,830 yen x 1 person = 8,830 yen Elementary school lower grades 8,830 yen x 1 person = 8,830 yen
| | |
| --- | --- |
| 即時利用 | -440円 |
| 保有ポイント利用 | -385円 |
| お支払い金額 | 10,654円 |
これにプラスして、Go To Travel 地域共通クーポンの電子クーポン(3,000円分)が付きました。
In addition to this, an electronic coupon (3,000 yen worth) of Go To Travel regional common coupon was attached
元の料金(17,660円)から見ると、7,000円引きになります。しかも地域共通クーポンがつくのでそれも加えると、約1万円も割り引かれる計算です。生きててよかった♡コロナで最初で最後のGoTo Travelキャンペーンを利用しました。
If you look at the original price (17,660 yen), you will get a 7,000 yen discount. Moreover, since a regional common coupon is attached, if you add it, you will get a discount of about 10,000 yen. I'm glad I was alive ♡ I used the first and last Go To Travel campaign in Corona.
だんらん、だけに家族団らんを新浦安のイオンでしました♡
I made a family group with Aeon in Shin-Urayasu just for Danran ♡
だんらんルームには私とはっちゃんのみで泊まりました。おでかけもそうですが、いろんな人を誘うと結局「○○はダメなんだ」「○○なら大丈夫」など相手と予定がなかなか合いません。そして、結局その予定がなくなったことが数えきれないほどあるので、絶対に一緒に行きたい場所以外はフラッと親子で繰り出します。
I stayed in the Danran room only with me and Hatchan. It's the same with going out, but when you invite various people, it's hard to get along with the other person, such as "○○ is no good" or "○○ is okay". And, in the end, there are countless times when that schedule has disappeared, so I will go out with my parents and children except where I absolutely want to go together.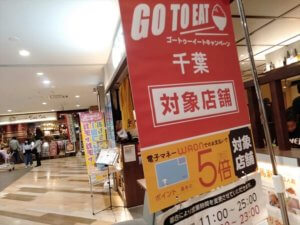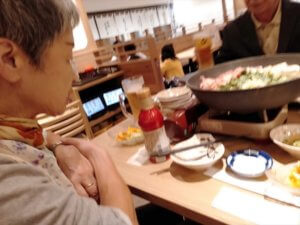 実家の父、母、姉と新浦安のイオンで待ち合わせて、飲みました。ホテルの夕飯は高いので節約です♡「元気だった~?」とか「はっちゃん、大きくなったね~」とかいろいろ話します。食後、イオンのゲーセンで遊ぶ私達。父たちは「また明日な」と早めに帰ります。いつまでも元気でいてほしいです、、!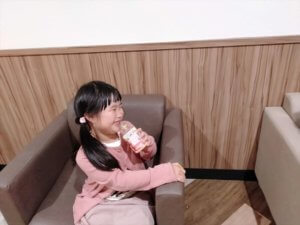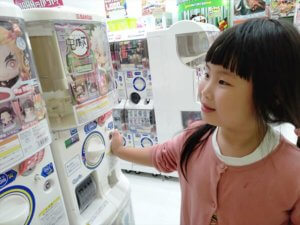 I met up with my father, mother, and sister at Shin-Urayasu's Aeon and drank. The hotel dinner is expensive, so it's a savings ♡ I talk about things like "How were you?" And "Hatchan, you've grown up." After eating, we play at Aeon arcades. The fathers return early, saying, "See you tomorrow." I want you to stay healthy forever!
朝起きたら、新浦安の目の前で娘が躍ってました♪
When I woke up in the morning, my daughter was jumping in front of Shin-Urayasu ♪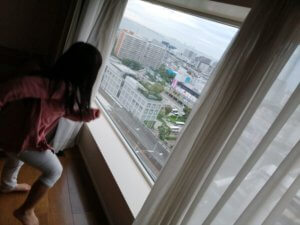 私は気分転換に綺麗なホテルに泊まるのが好きですが、娘は実家の方が好きみたいです;イオンでご飯を食べてからホテルに戻ろうとすると、「ばーばの家がいい」と言って悲しそうな顔をしました。そんな顔をさせてまで来てしまって、罪悪を感じました。(子育て中なのに、Ozマガジン世代みたいなことして、悪いママだよなあ)と。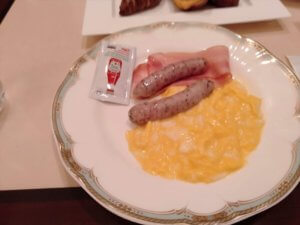 I like staying in a beautiful hotel for a change, but my daughter seems to prefer my parents' house; when I try to return to the hotel after eating at Aeon, I say "I like Barba's house" I had a sad face. I felt guilty when I came to see him like that. (Even though I'm raising a child, I'm a bad mom because I'm like the Oz magazine generation).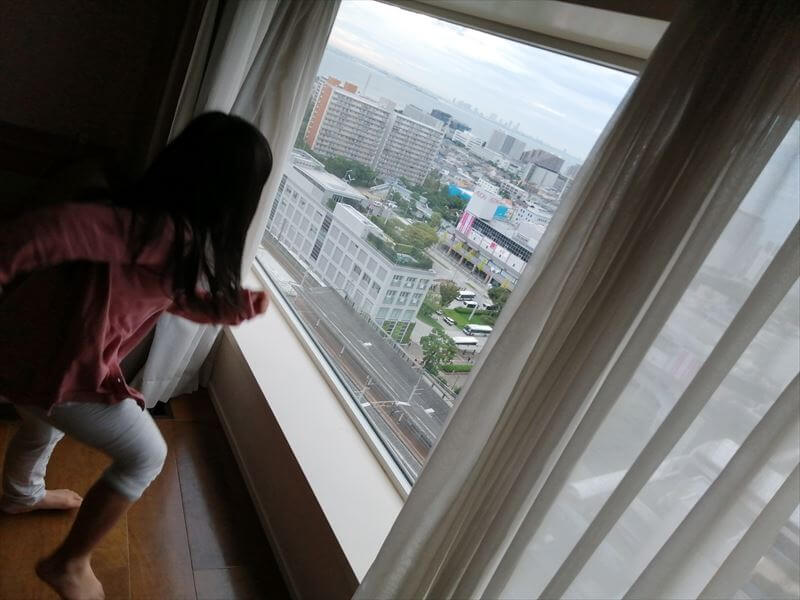 しかし、一晩たつと子供は順応したのか運動会のダンスの曲(つじあやのさんの「風になれ」)をYouTubeで流しながら全力で踊ってました。いや~、面白いな~子供は。
However, after one night, did the child adapt? I danced with all my might while playing the athletic meet dance song (Ayano Tsuji's "Become the Wind") on YouTube. No, it's funny-children.
いつもご覧いただきありがとうございます。よろしければ、ポチ!っとお願いします♪励みになります。

にほんブログ村