Add to favorites
[Koto Ward] Let's play with playground equipment and athletics in Kiba Park! Cafe is also recommended ♡
都立木場公園は東京都現代美術館(MOT)の隣にある広大な公園です。上空から見ると縦に長く、仙台堀川が中央を横切っています。横を大横河が横切っています。さすが「木場」。昔、材木を川で運んだのですよね。
Kiba Park is a vast park next to the Museum of Contemporary Art Tokyo (MOT). Seen from the sky, it is long vertically and the Sendaibori River crosses the center. The Oyoko River crosses the side. As expected, "Kiba". You used to carry timber by river, didn't you?
木場公園では子供がアスレチックで遊べます。近隣にはお洒落なカフェもあるので、お子様とのお散歩に最適♡本日の「東京の小学生とおでかけ!」のテーマは木場公園です。
Children can play athletics at Kiba Park. There is also a fashionable cafe nearby, so it's perfect for a walk with your children ♡ Today's theme of "Going out with elementary school students in Tokyo!" Is Kiba Park.
木場公園のアスレチックの場所はここです!
The athletic location in Kiba Park is here!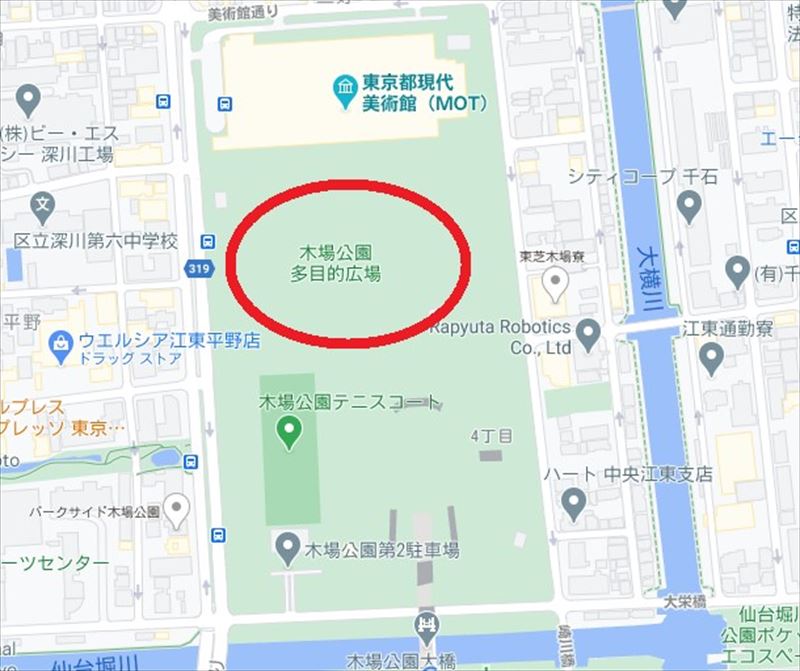 住所
Street address
東京都江東区木場4丁目1

4-1 Kiba, Koto-ku, Tokyo
交通
traffic
・東京メトロ東西線「木場駅」徒歩10分
・都営地下鉄大江戸線・東京メトロ半蔵門線「清澄白川駅」徒歩15分
・都営地下鉄新宿線「菊川」徒歩15分
・都営バス東京スカイツリー新橋(業10)「木場四丁目」または「東京都現代美術館」すぐ
・ 10 minutes walk from "Kiba Station" on the Tokyo Metro Tozai Line ・ A 15-minute walk from Kiyosumi Shirakawa Station on the Toei Subway Oedo Line and Tokyo Metro Hanzomon Line ・ A 15-minute walk from "Kikukawa" on the Toei Subway Shinjuku Line ・ Toei Bus Tokyo Sky Tree Shimbashi (Business 10) "Kiba 4-chome" or "Museum of Contemporary Art Tokyo"
超巨大な木場公園の面積は24.2ha(ヘクタール)です。東京ドームの面積が4.7ha(ヘクタール)なので東京ドームが約5個分の広さです。すごいですね!私が行った時(2019年、2021年)はアスレチックは上記の画像の赤い丸のところ辺りにありました。
The area of ​​the huge Kiba Park is 24.2ha (hectare). Since the area of ​​Tokyo Dome is 4.7ha (hectare), it is the size of about 5 Tokyo Domes. It's amazing! When I went (2019, 2021), the athletics were around the red circle in the image above.
木場公園のアスレチックは遊具が豪華♡
Playground equipment is gorgeous at the athletics in Kiba Park ♡
普通のマンションの下とかにある公園だと、滑り台と砂場とぶらんこがあれば十分ですよね。木場公園には屋根付きの滑り台や複合遊具があり、子供は飽きずに集中して遊ぶことができます。(⇒すいません、動画撮った時はブログするなんて思ってなくて。見づらいッスよね、、!)
追記('21 7/9(金))すいません、遊具があるのは正確には多目的広場の北にある「北の冒険広場」、そして逆サイドにある「南の冒険広場」の2箇所でした。知ったかぶりして申し訳ありませんでした、、!
Postscript ('21 7/9 (Friday)) I'm sorry, there are two places to play equipment, the "Northern Adventure Square" to the north of the Multipurpose Square and the "Southern Adventure Square" on the opposite side. .. I'm sorry to know that!
In a park under an ordinary condominium, a slide, a sandbox, and a swing are enough. Kiba Park has a covered slide and compound playground equipment, so children can concentrate and play without getting bored. (⇒ I'm sorry, I didn't think I would blog when I took the video. It's hard to see, isn't it!)
おい!そこは公園じゃなくて美術館ですヨ!
Hey! It's not a park, it's a museum!
木場公園の中には①テニスコート②イベント広場③(公園の南側と北側を結ぶ)木場公園大橋④噴水広場⑤ふれあい広場(ドッグラン)⑥駐車場(有料)などの施設があります。しかし、園内はかなり広いので最初にどこを中心にするか考えないと子供が疲れてしまいます。
In Kiba Park, there are facilities such as (1) tennis court, (2) event plaza, (3) Kiba Park Ohashi (connecting the south and north sides of the park), (4) fountain plaza, (5) contact plaza (dog run), and (6) parking lot (charged). However, the park is quite large, so if you don't think about where to focus first, your child will get tired.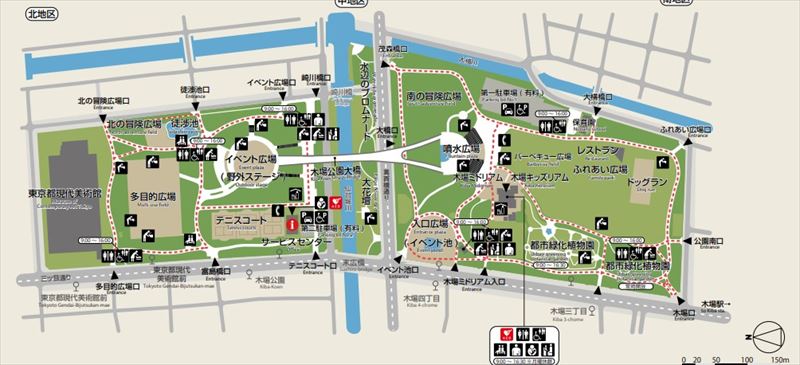 うちの場合、最初に東京都現代美術館に行きました。それで、東京都現代美術館のエントランスにある滝のような水が流れる場所で人がいなかったので少し遊ばせました。(⇒ある時から「なんでこんなに日本はダメなことが多すぎるの?」と思ったので、本当に大迷惑なこと以外は私の責任でやらせています。)
In my case, I first went to the Museum of Contemporary Art Tokyo. So, there were no people in the waterfall-like place at the entrance of the Museum of Contemporary Art Tokyo, so I let him play a little. (⇒ At one point, I was wondering, "Why is Japan so bad?", So I'm responsible for everything except the really annoying things.)
その延長線上で木場公園のアスレチックにも行きました。美術館のあと公園っていうのも静と動、みたいな感じで良いコースじゃん!と気に入りました。
I also went to Kiba Park athletics on the extension line. After the museum, the park is a good course that feels like static and dynamic! I like it.
木場って公園天国!木場親水公園にもアスレチック&じゃぶじゃぶ池はあります
Kiba is a park paradise! Kiba Water Park also has an athletic and jabujabu pond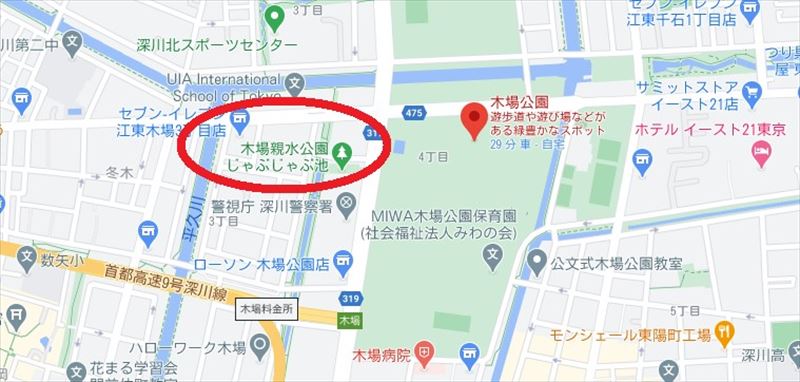 木場って深川ギャザリア(ショッピングモール)はあるし木場公園もあるし、そしてこの「木場親水公園」もあるし子供を育てやすい環境かもしれない!と書いていて思いました。東京メトロ東西線「木場駅」から木場公園までの道のりの途中(進行方向左側)に木場親水公園はあります。また、その近くに福富川公園という遊歩道みたいな公園もあります。
Kiba has Fukagawa Gatharia (shopping mall), Kiba Park, and this "Kiba Water Park", so it may be an environment where it is easy to raise children! I thought I was writing. Kiba Water Park is on the way from "Kiba Station" on the Tokyo Metro Tozai Line to Kiba Park (on the left side in the direction of travel). There is also a promenade-like park called Fukutomigawa Park nearby.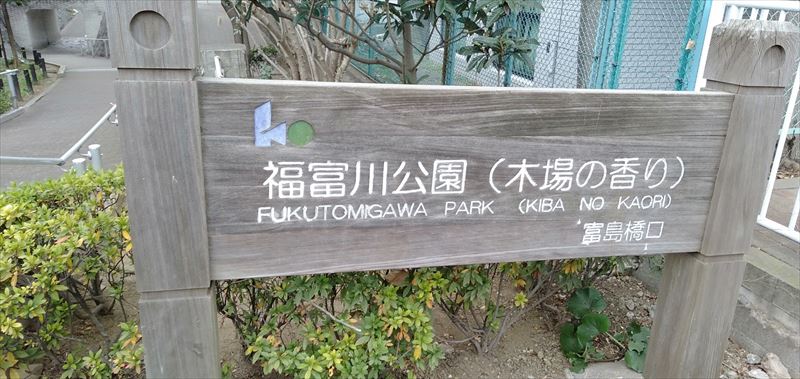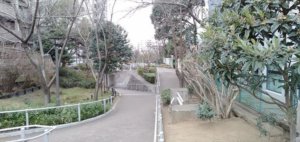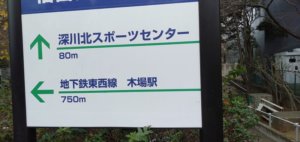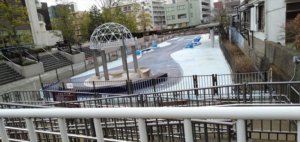 木場の気になるカフェ&レストラン
Cafes and restaurants in Kiba
木場公園のある三ツ目通り沿いには素敵なカフェやレストランがあります♡いつか子連れで行くぞ!と思いつつ、スマホでパシャパシャ写真を撮って記録しています。
There are nice cafes and restaurants along Mitsume-dori where Kiba Park is located ♡ I'll go with my children someday! While thinking, I take a photo of Pasha Pasha with my smartphone and record it.
1つ目は木場公園のアスレチックの場所から最も近い「mamma cafe 151A」というお店です。とっても可愛らしい外観で、カフェ好きなママさんは(きゃ~!!)とテンションが上がることでしょう。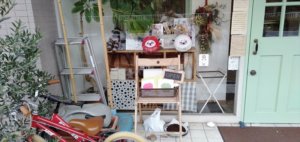 mammal cafe 151Aについて

About mammal cafe 151A
有機栽培野菜や平飼いの有精卵など、食の安全を考慮した食材を使用。日替わりの御膳やしょうが焼きなどの他、デザートも用意する。
We use ingredients that take food safety into consideration, such as organically grown vegetables and fertilized eggs that are kept flat. In addition to daily meals and ginger pork, desserts are also available.
住所&TEL
Address & TEL
東京都江東区平野3-4-6
3-4-6 Hirano, Koto-ku, Tokyo
03-6458-8715
食べログ情報では、赤ちゃんたちが沢山来るカフェのようです♡
In the tabelog information, many babies are coming to cafes ♡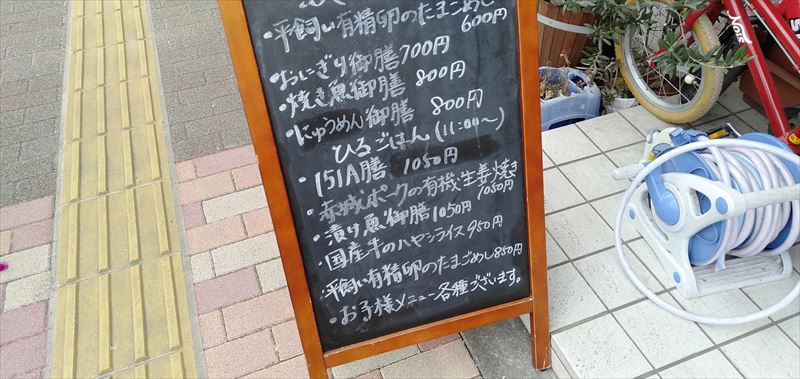 他には、木場駅から木場公園方面へ歩いて見つめ通り沿いに青い電車が見えます。なんと中はフレンチレストラン(ア タ ゴール)なのです。ランチは1800円と格安でしたので、いつか電車の中ではっちゃんとご飯を食べたいですね~♡
Alternatively, walk from Kiba Station toward Kiba Park and you will see a blue train along the staring street. What a French restaurant inside. Lunch was cheap at 1800 yen, so I'd like to eat rice on the train someday ~ ♡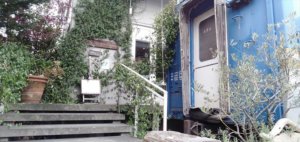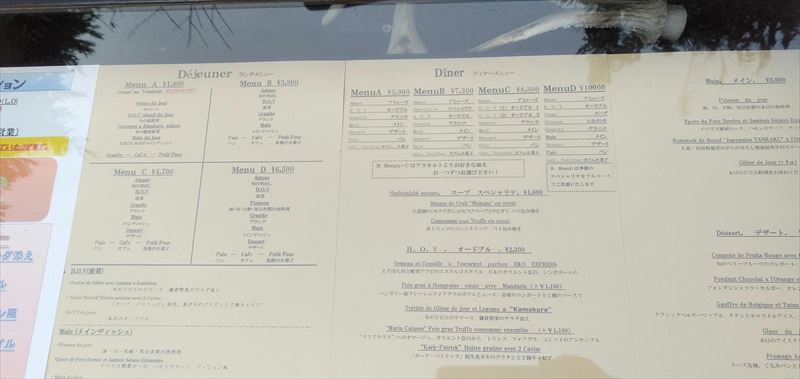 ご覧いただき有難うございました。早くコロナが落ち着くと良いですね。にほんブログ村ランキングに参加しています。よろしければ、ポチ!ッと押していただけると嬉しいです♡

にほんブログ村