Add to favorites
[Taito-ku] Lunch with children at Park Side Cafe ♡ What is the menu, price, and time?
上野公園のカフェといったらこのパークサイドカフェとお向かいのスタバです♪でもスタバは子連れで行ってもアレなんで、やっぱ子供と入るべきはパークサイドカフェでしょう♡
The cafe in Ueno Park is Starbucks opposite this Park Side Cafe ♪ But Starbucks is not a place to go with children, so it's probably the Park Side Cafe that you should enter with your children ♡
ず~っと前からできたのは知ってましたが、ず~っと混んでいる店だったので遠慮してました。でも、この冬(2021年1月)。なんか今なら空いてそうだと思ったので、国立博物館に行く前にランチで行ってみました。今回の「東京の小学生とおでかけ!」のテーマは上野公園にあるパークサイドカフェです。
I knew that it had been built for a long time, but I refrained from doing so because it was a crowded shop. But this winter (January 2021). I thought it would be vacant now, so I went for lunch before going to the National Museum. The theme of this "Going out with elementary school students in Tokyo!" Is the Park Side Cafe in Ueno Park.
The Park Side Cafe feels good even with children! The inside of the store is bright and the staff are also ◎
パークサイドカフェは上野駅公園改札が出口です
The exit of Park Side Cafe is the Ueno Station Park Gate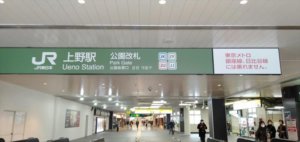 上野のパークサイドカフェ(⇒パークサイドカフェって名前のカフェは全国にたくさんあるみたいデス)の最寄り出口は公園改札です。駅から徒歩3分と駅チカのカフェなのが子連れに嬉しいですね♡
The nearest exit of Ueno's Park Side Cafe (⇒ Park Side Cafe seems to have many cafes all over the country) is the park ticket gate. It's a 3-minute walk from the station and the cafe at the station Chika is nice for families with children ♡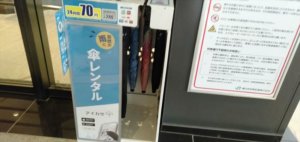 スイマセン、44歳ママよりどうでもいい情報なんすけど、上野駅公園改札にこんな「傘レンタル」を発見しました!なんでもアイカサ(https://www.i-kasa.com/)と言って傘のシェアリングサービスなんですって。自転車のシェアリングは知ってましたが、とうとう傘までか、、!オイオイ、ほんまに21世紀じゃけんな。
I don't care about information from Suimasen, 44-year-old mom, but I found such an "umbrella rental" at the Ueno Station Park Gate! Everything is called Aikasa (https://www.i-kasa.com/) and it's an umbrella sharing service. I knew about sharing bicycles, but at last I even got an umbrella! Ooi, it's really the 21st century.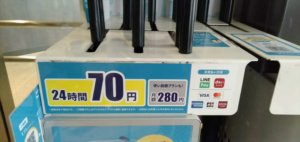 スイマセン、脱線しました;駅を降りたらひたすらまっすぐ歩きましょう。右手になんだか小じゃれたウッディなカフェが見えてきたら、それが「パークサイドカフェ」です。
Suimasen, derailed; walk straight when you get off the station. If you see a small woody cafe on your right, it's "Park Side Cafe".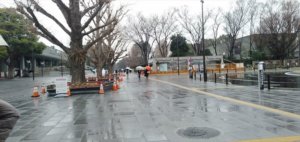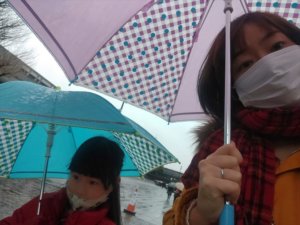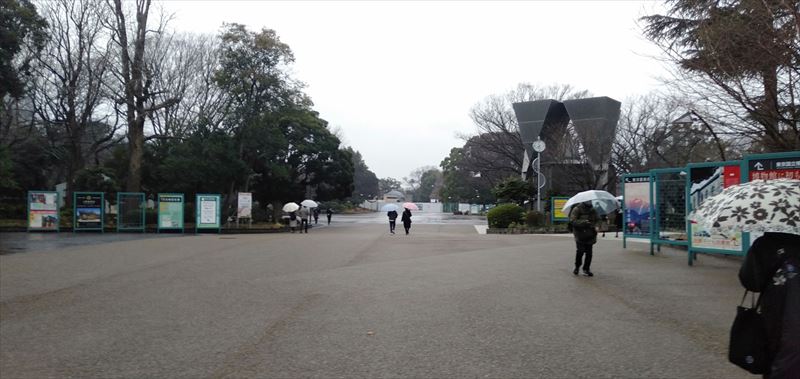 パークサイドカフェのメニュー~子供は何食べる?
Park Side Cafe Menu ~ What do kids eat?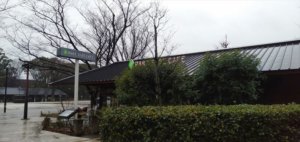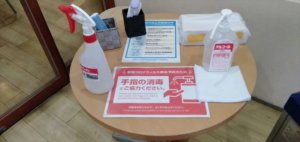 ハイ、着きました~♡ウキウキ。
Hi, We've arrived ~ ♡ I'm excited.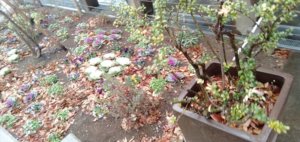 わたし「何食べようかね~!」
I "What should I eat!"
はっちゃん「はっちゃん、カルボナーラ」(⇒この子供は絶対にお子様ランチを食べませんw)
Hatchan "Hatchan, Carbonara" (⇒ This child never eats children's lunch w)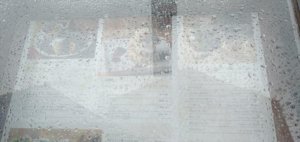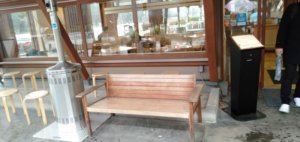 パークサイドカフェのメニューを見た第一印象は「野菜たっぷし」です。とにかくどのメニューにも、カイワレやサニーレタスなどのサラダや根菜などの野菜が溢れています。そして、値段の印象は「デニーズより1品につき100円くらい高い」です。(※ドリンク抜かして)もしくは、総額がサイゼリアより千円高いって感じの値段です。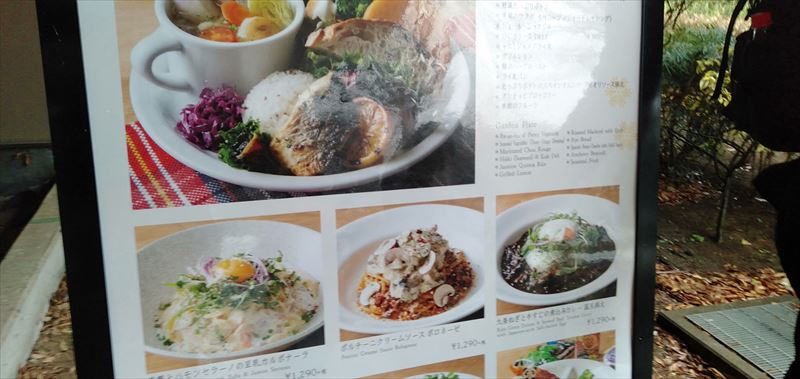 ボルチーニクリームソース ボロネーゼ
Boletus cream sauce Bolognese
1,290円 +tax
九条ねぎと牛すじの煮込みカレー 温玉添え
Stewed Kujo green onion and beef tendon with hot balls
1,290円 +tax
湯葉とハモンセラーノの豆乳カルボナーラ
Yuba and Jamon Serrano soy milk carbonara
1,290円 +tax
フレッシュハーブティー
Fresh herbal tea
750円 +tax
ブレンドコーヒー
Blended coffee
550円 +tax
【メニュー例】
[Menu example]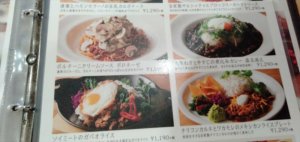 The first impression I had when I saw the menu at Park Side Cafe was "Vegetables". Anyway, every menu is full of salads such as radish sprouts and sunny lettuce, and vegetables such as root vegetables. And the impression of the price is "about 100 yen higher than Denny's". (* Without drinks) Or, the total price is 1,000 yen higher than Saizeriya.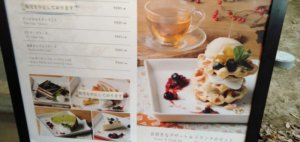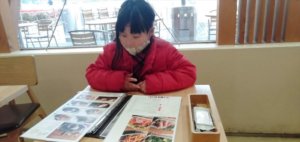 ダークカカオティラミス
Dark cacao tiramisu
890円 +tax
NYチーズケーキ
NY cheesecake
840円 +tax
抹茶のシフォンケーキ
Matcha chiffon cake
840円 +tax
べルギ―ワッフル バニラアイスのせ
Belgi-waffle with vanilla ice cream
940円 +tax
【メニュー例2】
[Menu example]
はっちゃんは湯葉となんちゃらのカルボナーラとポテト、私はボルチーニクリームソース ボロネーゼで計3品を注文しました。カフェのお姉さん、めちゃくちゃ感じよくて心の中で(また来たい!)とトキメイておりました。(⇒照れ屋なのでいつも顔には出さない44歳w)
Hatchan ordered Yuba, what kind of carbonara and potatoes, and I ordered a total of 3 items with boletus cream sauce Bolognese. My sister at the cafe felt so good that she said in her heart (I want to come again!). (⇒Because I'm a shy person, I don't always show my face 44 years old w)
パークサイドカフェは子連れでもイイ感じ!12時過ぎたら少し混んできました
The Park Side Cafe feels good even with children! It was a little crowded after 12 o'clock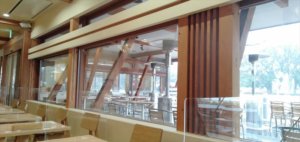 パークサイドカフェは絶対に子連れに良さそうだなあ、と思ってましたが、お子様メニュー(千円以下)もありましたし、子供椅子も完備だし、やはり子供と一緒でも楽しめる飲食店でした。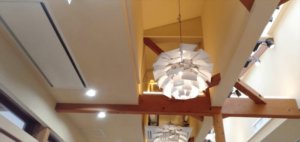 私たちは土曜日の11時半ごろに着きましたが、最初は手前の席は全部空いていて、奥に4組くらいのお客さんが座っていました。私のような子連れ(幼児)のパパさんとカップル、あとは一人客でした。12時過ぎるとさすがにコロナ禍でもちらほらお客さんが入ってきました。全体の7割は埋まってましたね。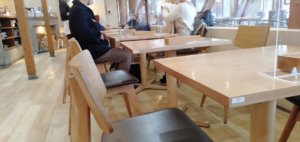 We arrived around 11:30 on Saturday, but at first all the seats in the foreground were vacant, and there were about four groups of customers sitting in the back. It was a couple with a dad with a child (toddler) like me, and a single guest. After 12 o'clock, there were some customers coming in due to the corona virus. 70% of the whole was filled.
生野菜がニガテなうちの子供!まさかの、ほぼ全残し;
A child whose raw vegetables are not good! No way, almost all left;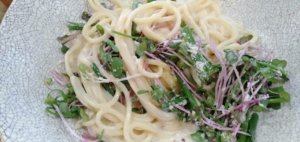 料理が到着しました。見た目も味もGoodです!しかし、うちのはっちゃんはポテトばかり食べて、カルボナーラは麺しか食べず;
The food has arrived. It looks and tastes good! However, my Hatchan eats only potatoes, and Carbonara eats only noodles;
わたし「野菜ダメ?取ろうか?」
I "No vegetables? Should I take it?"
はっちゃん「うん、、。」
Hatchan "Yeah …"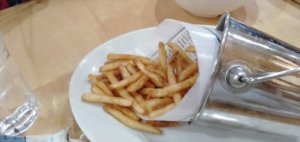 なんだよ!だから最初からお子様ランチにすればよかったじゃんよ~!!、と昔の私なら怒ってました。しかし、最近怒らないように本を読んだらなぜか怒るのが減ってきまして(⇒本読んだからだよ!)。だって別にカルボナーラ食べたかったんだし、少しは食べたし。残したことで(次回は違うのにしよう)とおもうかもしれないし、怒るほどの事じゃないよね!と思います。(本効果)
what is it! That's why I should have had a children's lunch from the beginning! !! I was angry when I used to be. However, when I read a book so as not to get angry recently, I'm less angry for some reason (⇒ because I read a book!). Because I wanted to eat carbonara separately, and I ate a little. You might think that you left it (let's do it different next time), and it's not angry! I think.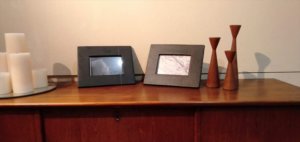 ご覧いただき有難うございました。早くコロナが落ち着いて、すべての方が子供とたくさんおでかけで笑顔になれる日常になるといいなあと思います。にほんブログ村ランキングに参加しています。よろしければ、ポチ!ッと押していただけると嬉しいです♡
Thank you for visiting. I hope that Corona will settle down quickly and that everyone will be able to go out with their children and smile. I participate in the Nihon Blog Village Ranking. If you don't mind, Pochi! I hope you can press it ♡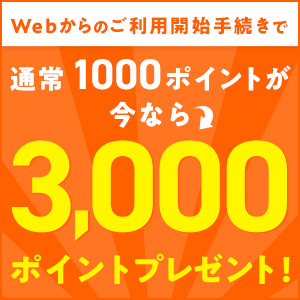 にほんブログ村