Add to favorites
[Shin-Urayasu] Recommended tasting place near Tokyo Bay Tokyu Hotel! Payaso is affordable and has a nice atmosphere ♡
私は子供が産まれる前からホテルに泊まるのが大好きです。子供(はっちゃん)が産まれてからも2歳くらいから一緒によく泊まりに行っています。
I love staying in hotels even before my child is born. Even after my child (Hatchan) was born, I often stay with him since I was about 2 years old.
今回は2018年創業のまだ新しい新浦安のホテル「東京ベイ東急ホテル」にお邪魔した。東京ベイ東急ホテルは東京オリンピックで外国人需要増えるかと思って作られたらしいです。(⇒まさか、こんな事になるとは思ってなかったよね!)ホテル内にもレストランはありますが、周辺にもステキな飲食店があります♡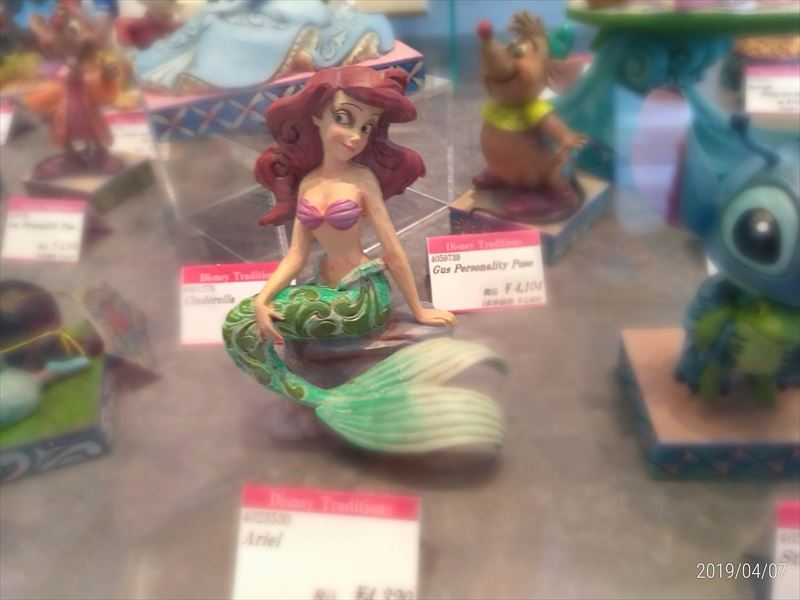 This time, I visited the new hotel "Tokyo Bay Tokyu Hotel" in Shin-Urayasu, which was founded in 2018. It seems that the Tokyo Bay Tokyu Hotel was built with the expectation that demand for foreigners would increase at the Tokyo Olympics. (⇒I didn't expect this to happen!) There are restaurants in the hotel, but there are also nice restaurants in the area ♡
せっかく東京ベイ東急ホテルに泊まるなら、海風を感じながらお散歩しませんか?今回の「東京の小学生とおでかけ!」のテーマは新浦安の東京ベイ東急ホテルです。
If you are staying at Tokyo Bay Tokyu Hotel, why not take a walk while feeling the sea breeze?The theme of this "Going out with elementary school students in Tokyo!" Is the Tokyo Bay Tokyu Hotel in Shin-Urayasu.
東京ベイ東急ホテルへのアクセス方法
How to access Tokyo Bay Tokyu Hotel
住所
Address
千葉県浦安市日の出7丁目2−3
電話番号
TEL
047-390-0109
東京ディズニーセレブレーションホテルと大江戸温泉物語 浦安万華鏡に近いですヨ。
It is close to the Tokyo Disney Celebration Hotel and Oedo Onsen Monogatari Urayasu Mangekyou.
東京ベイ東急ホテルはJR京葉線・武蔵野線「新浦安駅」より無料シャトルバスで約10分です。(⇒徒歩ではキツイです!)または東京ディズニーリゾートからも無料シャトルバス(乗車時間:約25分)が出ています。予約不要なので時刻表だけ調べればOKです。
Tokyo Bay Tokyu Hotel is about 10 minutes by free shuttle bus from "Shin-Urayasu Station" on the JR Keiyo Line and Musashino Line. (⇒ It's hard to walk!) Or there is a free shuttle bus (ride time: about 25 minutes) from Tokyo Disney Resort. No reservation is required, so you only need to check the timetable.
【新浦安駅の無料バス乗り場】
[Free bus stop at Shin-Urayasu Station]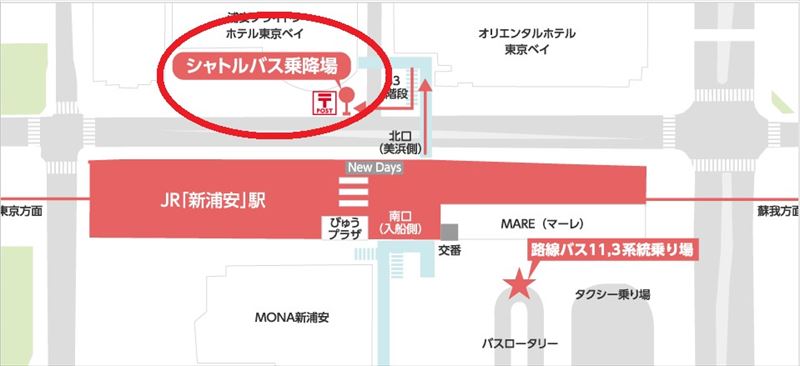 新浦安駅改札口を左に行くと橋があるのでまっすぐ進みます。突き当りのローソン(オリエンタルホテル内)まで来たら左折し、階段を降りるとポストがあります。その辺りが無料シャトル乗り場です。(停留所があるので行き先確認してください)
If you go to the left at the ticket gate of Shin-Urayasu Station, there is a bridge, so go straight. When you reach Lawson (inside the Oriental Hotel) at the end, turn left and go down the stairs to the mailbox. The area is a free shuttle stop. (There is a bus stop, so please check your destination)
【東京ディズニーリゾートの無料シャトル乗り場】
[Free shuttle platform at Tokyo Disney Resort]
東京ディズニーリゾートの場合、ランドとシーでそれぞれ無料シャトルバス乗り場があります。詳細はこちらのURL(東京ベイ東急ホテル|アクセス)よりご確認ください。
At Tokyo Disney Resort, there are free shuttle bus stops at Land and Sea respectively. Please check the URL below for details.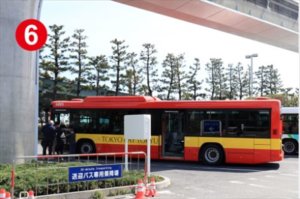 他施設の送迎バスも往来するスペースとなります。

ホテル専用のバス停は無く、指定の停車位置はございません。

東京ベイ東急ホテルのバスが「送迎バス専用乗降場」内に入りましたら、バス周辺にお集りください。

引用:東京ベイ東急ホテル|アクセス
東京ベイ東急ホテルは安くて広くて清潔なホテル♡
Tokyo Bay Tokyu Hotel is a cheap, spacious and clean hotel ♡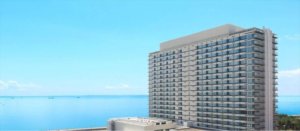 私はデブなためか狭いホテルがキライです。1万円も払って小狭い空間にいなきゃいけないなんて、出張くらいじゃないと我慢できません。常にじゃらん・一休・楽天トラベルなどのホテル情報を比較している私ですが(⇒イヤな母ちゃんだな、、!)、東京ベイ東急ホテルはこの広さでこの清潔度の割にはかなりリーズナブルな部類に入ると思います。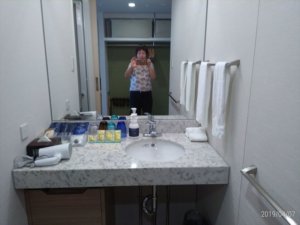 I don't like small hotels because I'm fat. I can't stand having to pay 10,000 yen to stay in a small space unless I'm on a business trip. I'm always comparing hotel information such as Jalan, Ikyu, Rakuten Travel (⇒ I don't like my mom …!), But Tokyo Bay Tokyu Hotel is quite reasonable for this cleanliness because of its size. I think it falls into the category.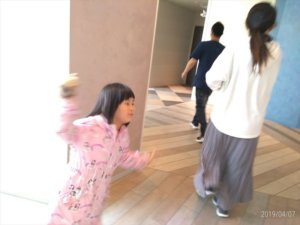 その証拠に、私がいくらでこのホテルに泊まったのかというと素泊まり・大人と幼児1名で5,600円でした。まあ、3,500円分のじゃらんポイントを使っているので正規の料金ではないですけどねw(⇒じゃらんって、しょっちゅうポイントくれますよね!)
As a proof of that, the price I stayed at this hotel was 5,600 yen for a room without meals, an adult and a toddler. Well, it's not a regular fee because I'm using Jalan points for 3,500 yen, but w (⇒ Jalan will give you points all the time!)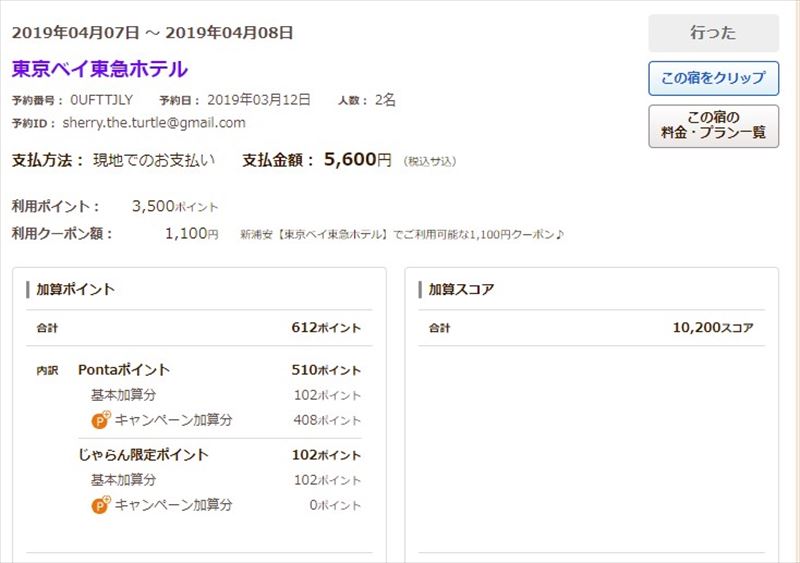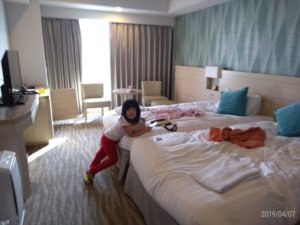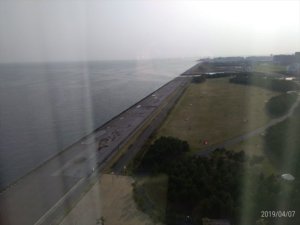 2018年にできたホテルに2019年に行ったので、当たり前ですが清潔感がありました。部屋からはもちろん海(って言っても東京湾だけど)が見えます。1階にはコンビニ「ローソン」があるのもポイント高い♪夕飯代や朝食を節約するディズニー・リゾートへ行く方は重宝しそうなホテルです。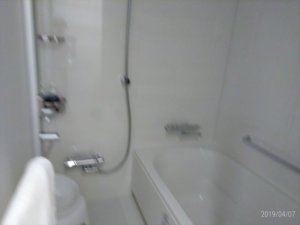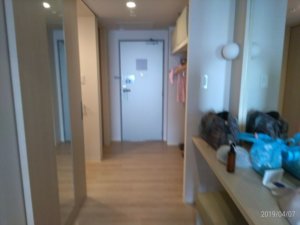 I went to the hotel that was built in 2018 in 2019, so it was natural but clean. Of course, you can see the sea (although it's Tokyo Bay) from the room. The convenience store "Lawson" on the 1st floor is also a high point ♪ It is a hotel that seems to be useful for those who go to Disney Resort to save dinner and breakfast.
東京ベイ東急ホテルの目の前は浦安市総合公園です
Urayasu City General Park is in front of Tokyo Bay Tokyu Hotel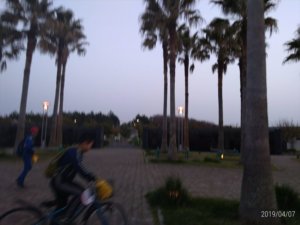 小さな子供と東京ベイ東急ホテルに泊まったら、是非下に降りて公園を散策してみましょう♪遊具があるところまで(浦安市総合公園内ニコニコ広場)は少し歩きますが、「東京ベイ」な気分を味わいながらお散歩できます。
If you stay at Tokyo Bay Tokyu Hotel with a small child, let's go down and take a walk in the park ♪ I will walk a little to the place where there are playground equipment (Niko Niko Square in Urayasu City General Park), but it is "Tokyo Bay" You can take a walk while feeling the mood.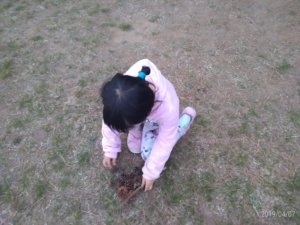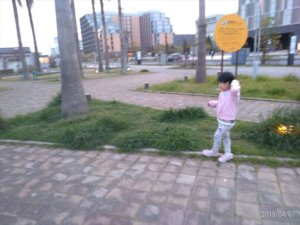 地中海料理パジャッソは東京から徒歩8分♡
Payaso is an 8-minute walk from Tokyo ♡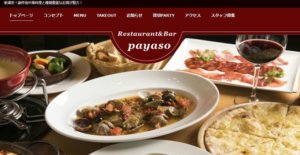 住所
Address
千葉県浦安市日の出5-6-1 Sea A
5-6-1 Hinode, Urayasu-shi, Chiba Sea A
電話番号
TEL
047-352-6103
※2021年1月、ランチ:11:30~15:00(LO14:00)ディナー:17:00~20時( LO 19:00)まで
* January 2021, Lunch: 11: 30-15: 00 (LO14: 00) Dinner: 17: 00-20: 00 (LO 19:00)
魚介のパエリア、石焼ペスカトーレなど美味しそうなメニューがたくさん♡
Lots of delicious menus such as seafood paella and stone-grilled pescatore ♡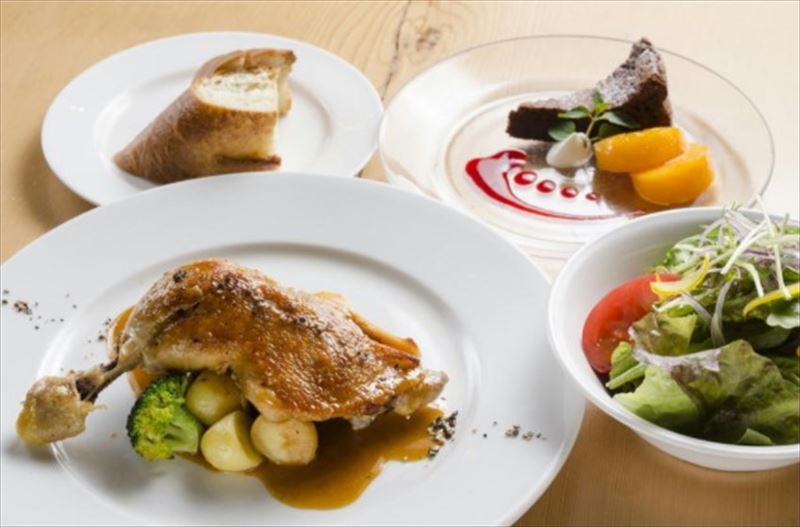 パジャッソは地元民に長年愛される、パエリヤやピザとお酒を楽しめる飲食店です。道はひたすら1本なので、めちゃくちゃ分かりやすいです。私は当時5歳になりたての子供を連れて行きましたが、カウンター席に案内してもらえました。
Payaso is a restaurant that has been loved by locals for many years, where you can enjoy paella, pizza and alcohol. There is only one road, so it's insanely easy to understand. I took a child who was just 5 years old at that time and was guided to the counter seat.
私、外食もホテルも大好きで(つまり旅行好き♡)すが、普段の外食はいつもなぜかサイゼリヤなんです。(⇒はっちゃんが大好きだから!)私はもちろんサイゼリヤも好きですが、旅先なのでちょっと気分を変えて初めての店にトライ!これが大当たりでした♡
I love eating out and hotels (that is, I like traveling ♡), but for some reason I always eat out in Saizeriya. (⇒Because I love Hatchan!) Of course I also like Saizeriya, but since I'm on a trip, I changed my mind and tried the first store! This was a big hit ♡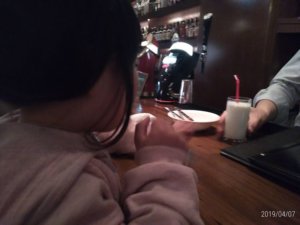 【ディナーメニュー】[Supper menu] ※抜粋 * Excerpt
濃厚おつまみ豆腐
Rich snack tofu
280円(税抜き)
海老のアヒージョ
Shrimp ajillo
980円(税抜き)
イベリコのチョリソーサラミ
Iberian Chorizo ​​Salami
720円(税抜き)
海老とアボカドのサラダ
Shrimp and avocado salad
1,080円(税抜き)
帆立とキノコのピッツァ
Scallop and mushroom pizza
1,400円[税抜]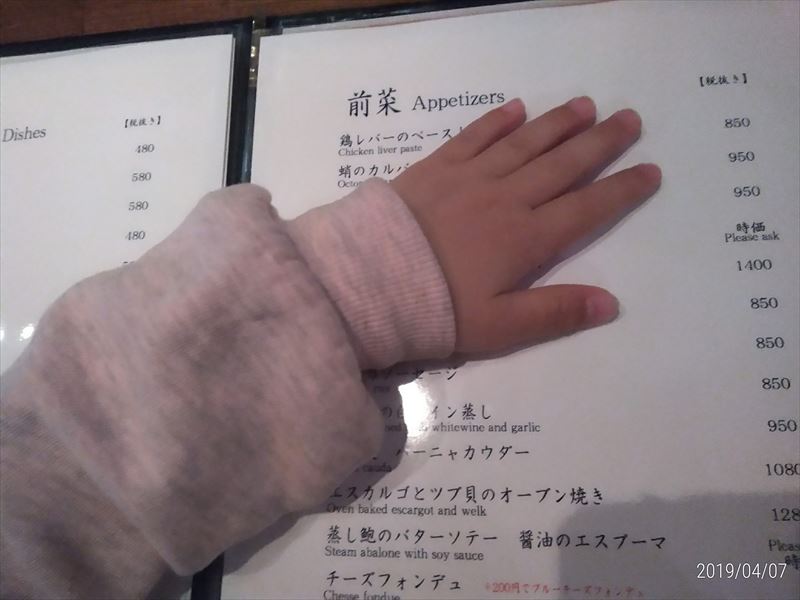 飲める店なので、メニューが沢山あってメニュー選びが楽しい♡価格も都内より少し安い(各100~200円ぐらい)気がします。
It's a drinkable restaurant, so it's fun to choose a menu because there are many menus ♡ I feel that the price is a little cheaper than in Tokyo (about 100 to 200 yen each).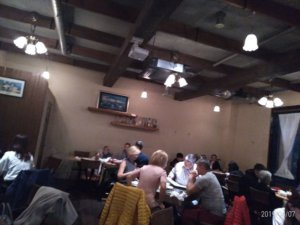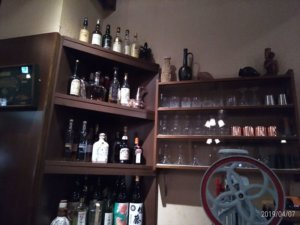 ほろ酔いでホテルに戻って子供と寝るのが至福です♡
It's bliss to go back to the hotel and sleep with your kids with tipsy ♡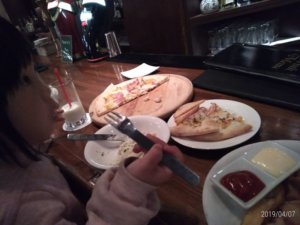 家だとママ(私)は家が職場です。家では完全に息抜きできないです。ちょっと休もうとすると(あ、これの補充しなきゃ)とか、やるべきこと(タスク)が見えてしまうから。でも、こんな風に外だと思い切っり息抜きできるのです♡(⇒まあ、お金はかかるけど~、、)だから、いつもよりイライラしていない私でいられます。このお店はまた家族で行きたいです。
At home, my mom (I) works at home. I can't take a break at home. When I try to take a break (oh, I have to replenish this), I can see what I should do (task). However, I can take a break like this when I'm outside ♡ (⇒ Well, it costs money, but …) So I can be less frustrated than usual. I want to go to this shop again with my family.

ご覧いただき有難うございました。早くコロナが落ち着いて、すべての方が子供とたくさんおでかけで笑顔になれる日常になるといいなあと思います。にほんブログ村ランキングに参加しています。よろしければ、ポチ!ッと押していただけると嬉しいです♡
Thank you for visiting. I hope that Corona will settle down quickly and that everyone will be able to go out with their children and smile. I participate in the Nihon Blog Village Ranking. If you don't mind, Pochi! I hope you can press it ♡

にほんブログ村