Add to favorites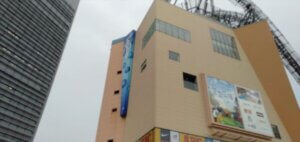 [Bunkyo Ward] I went to a hot spring in LaQua with my child ♡ There are precautions for those over 6 years old
私はよく子供が2~3歳の時に、後楽園のアソボーノ!に連れて行きました。ラクーアのスパも帰りに連れて行こうかな、と思ったら、「入館は小学生以上」と書かれていたのであきらめました;
I often use Asobono in Korakuen when my kids are 2-3 years old! I took him to. I thought I should take LaQua's spa on my way home, but I gave up because it said "Admission is for elementary school students and above";
しかし、うちの子も去年からようやく小学生なのでラクーアのスパ、解禁です!!♡どんどん、パフパフ♪そんなわけで、本日の「東京の小学生とおでかけ!」のテーマは後楽園のラクーア・スパです。
However, since my child is finally in elementary school since last year, the ban on LaQua's spa has been lifted! !! ♡ More and more, puff puff ♪ That's why today's theme of "Going out with elementary school students in Tokyo!" Is LaQua Spa in Korakuen.
スパラクーアはラクーア(ビル)の6階から入ります
Spa LaQua enters from the 6th floor of LaQua (building)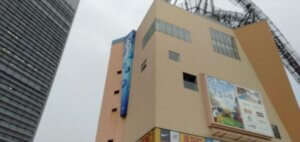 私、この歳(44っす)まで知らなかったんですが、ラクーア=スパって訳じゃないんですね。「ラクーア」って建物があって、その5~9階がスパラクーアなんすね。いずれにせよ、ラクーアの最寄り駅は「後楽園駅」です。
I didn't know until this age (44), but it's not LaQua-Spa. There is a building called "LaQua", and the 5th to 9th floors are Sparacua. In any case, the nearest station to LaQua is "Korakuen Station".
後楽園駅は
Korakuen Station
・東京メトロ・丸ノ内線後楽園駅( 徒歩約1分)
・ Tokyo Metro. Marunouchi Line Korakuen Station (1 minute walk)
・ 南北線・後楽園駅( 徒歩約1分)
・ Korakuen Station on the Namboku Line (about 1 minute on foot)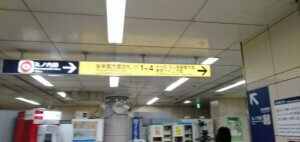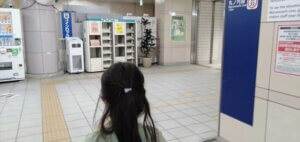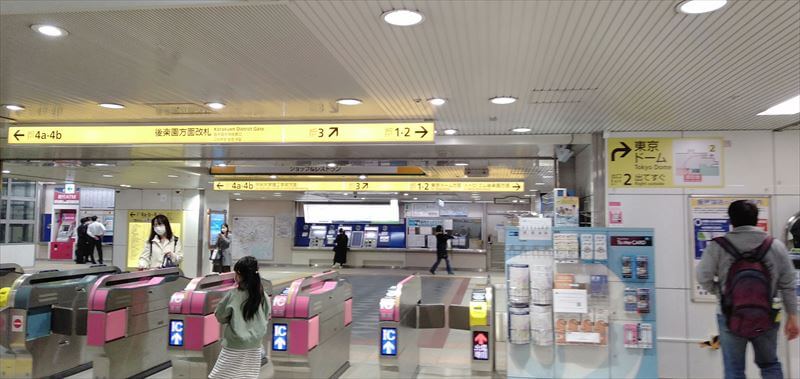 と2線があり、最も近い駅です。(今回、私は東京メトロ・南北線を利用しました。)後楽園駅から出たら2番出口から出て左折するとすぐ左手に見えてきます。
And the nearest station. (This time, I used the Tokyo Metro Namboku Line.) When you get out of Korakuen Station, take Exit 2 and turn left, you will see it on your left.
他には、
aside from that,
・都営地下鉄大江戸線・春日駅( 徒歩約2分)
・ Toei Subway. Kasuga Station on the Oedo Line (about 2 minutes on foot)
・都営三田線・水道橋駅( 徒歩約3分)
・ Mita Line Suidobashi Station (about 3 minutes on foot)
・ JR中央線・総武線. 水道橋駅( 徒歩約6分)
・ JR Chuo Line / Sobu Line. Suidobashi Station (about 6 minutes on foot)
と、ラクーア(ってか後楽園が)はアクセスがめちゃくちゃ良いんですね。どの方面からでも出やすい好立地な温泉です。
And, LaQua (or Korakuen) has very good access. It is a hot spring in a good location that is easy to get out of from any direction.
見るものが多い後楽園!スパに着く前に子供はキョロキョロ
Korakuen has a lot to see! Before arriving at the spa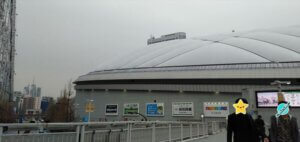 スパラクーアって、スパ(温泉)以外もついでに楽しめるのが子連れには助かります。右手には東京ドームがあるので、「ほら!あれが東京ドームだよ♡」って言えるし、しばらくして下を見るとメリーゴーランドやジェットコースターも見えてきます。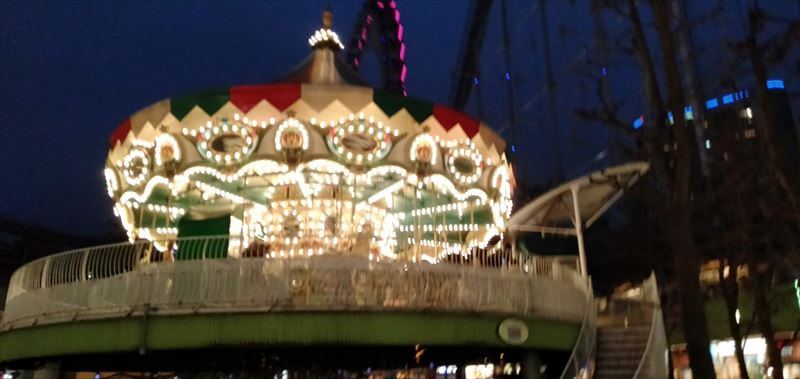 もちろん、ラクーア内にも「LOFT」(文具)とかユニクロとかあるので小学生と一緒にお買い物もできます(だがし屋はつぶれて残念ですね、、)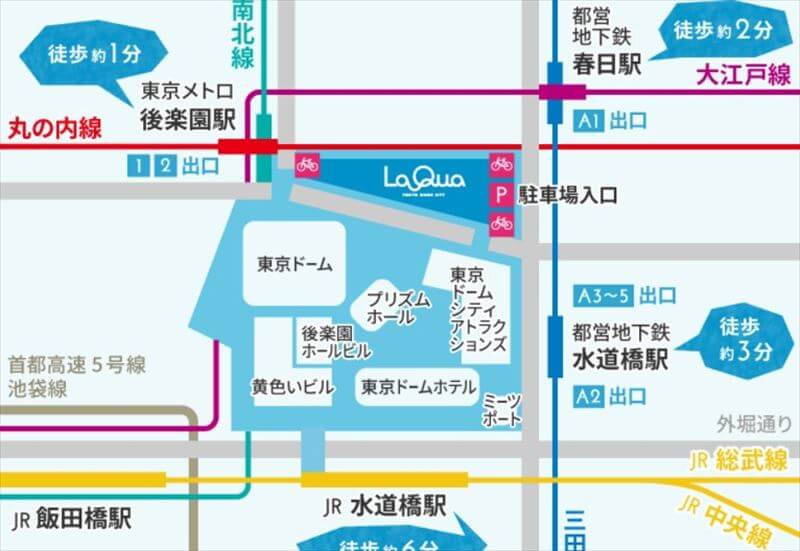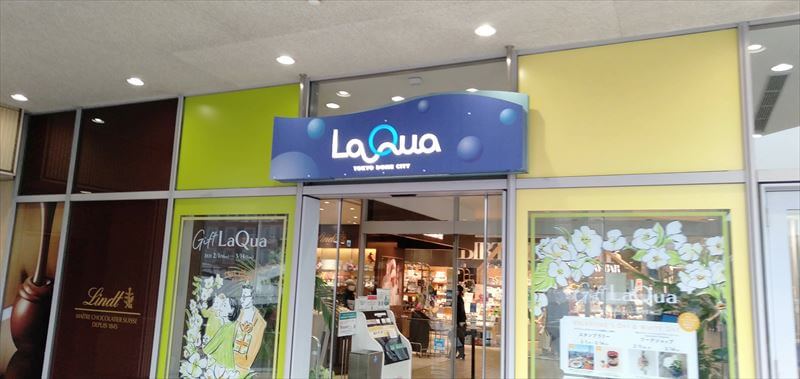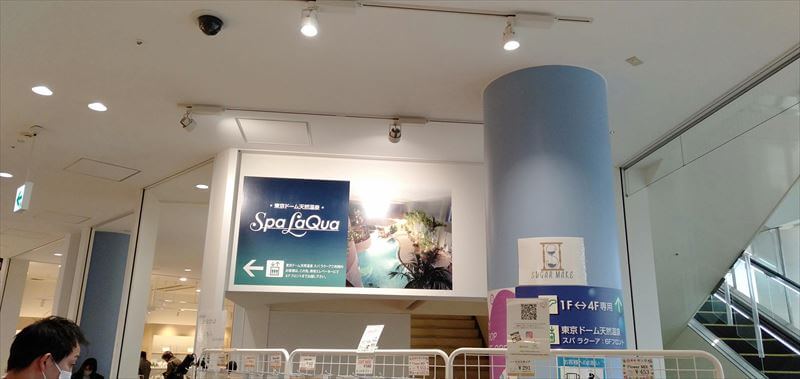 It is helpful for families with children to enjoy Spa LaQua in addition to the spa (hot spring). The Tokyo Dome is on your right, so you can say, "Look! That's the Tokyo Dome ♡", and after a while, you can see the merry-go-round and the roller coaster. Of course, there are "LOFT" (stationery) and UNIQLO in LaQua, so you can shop with elementary school students (but it's a pity that the shop is crushed, isn't it?)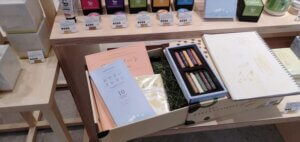 LAQUAの中をキョロキョロしながら直進すると、LAQUA2Fインフォメーション(2F中央エレベーターホール)に着きます。エレベーターは3機ありますが、スパ行きは一番右のエレベーターです。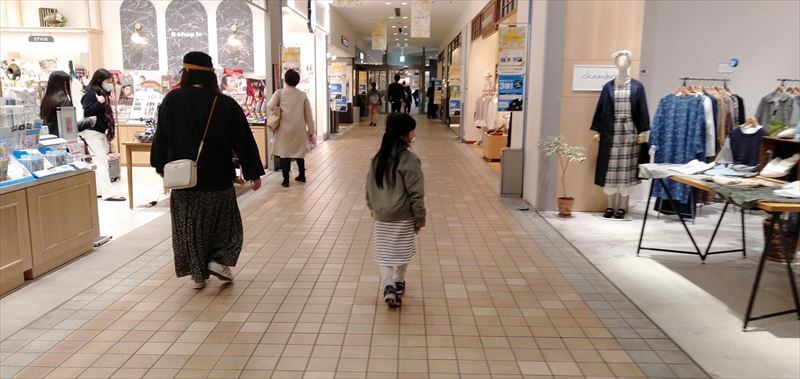 Go straight through LAQUA and you will reach LAQUA 2F Information (2F Central Elevator Hall). There are 3 elevators, but the one to the spa is the one on the far right.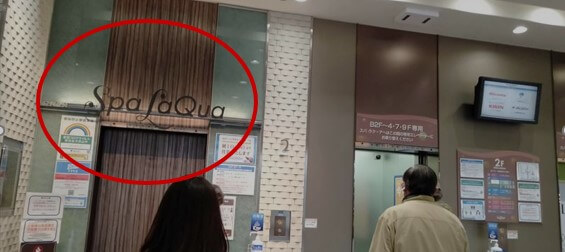 スパラクーアの大人料金と小学生料金
Adult and elementary school fees for Spa LaQua
スパラクーアは子供を産む前に2回ほど女友達と行きました。その時は「高い!」と特に思いませんでしたが、今回、こども(7歳)とじぶんで行く際は「高い!」と思ってしまいました;だって、うちの子はすぐに飽きるかもしれないから、どれぐらい居るかわからないのに総額5,000円か~、と、一瞬思いました。
Spa LaQua went with her girlfriend about twice before giving birth. I didn't particularly think it was "expensive!" At that time, but this time I thought it was "expensive!" When I went out with my child (7 years old); because my child may soon get bored. Then, I thought for a moment that the total amount was 5,000 yen even though I didn't know how long it was.
大人(18歳以上)
Adult (18 years old and over)
2,900円
こども(6~17歳)
Children (6 to 17 years old)
2,090円
高い!割引はないのか
Expensive! Is there a discount
それで、電車内で必死に割引を探しました。
【スパラクーアの主な割引】
[Main discounts on Spa LaQua]
・じゃらん遊び・体験(https://www.jalan.net/activity/)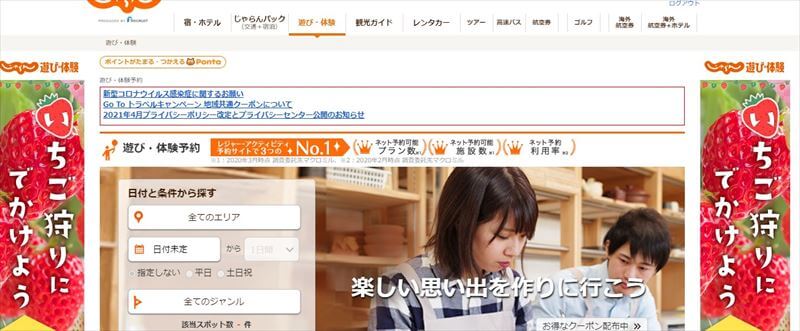 通常:大人 2,900円のところを<プランA>利用で予約すると230円割引⇒ 2,670円(税込)になります。
・水曜レディースデー入館
Wednesday Ladies Day admission
毎週水曜日、女性は300円割引の2,600円になります。火曜日からの泊りは除外、水曜が祝祭日の場合も除外です。
Every Wednesday, women get a 300 yen discount of 2,600 yen. Stays from Tuesdays are excluded, and Wednesdays are also excluded.
・TDポイント会員入館
東京ドームポイントの略がTDです。後楽園の施設でポイントが貯まるお得なカードをスパで提示すると、2,530円となります。
詳しくはコチラ ⇒ https://www.tokyo-dome.co.jp/td-point/
お会計ミス?子供の分が請求されなかった
Accounting mistake? I wasn't charged for my child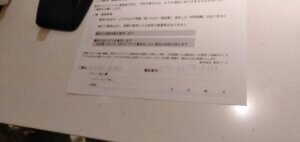 お会計のあとに気づきましたが、今回わたしたちは大人1名、小学生1名で入館したのに大人1名分しか支払っていませんでした。(あとからカード明細を見て気づきました)なぜでしょう?受付前に「じゃらん遊び体験で予約しました」とメールを見せたのですが、その際にこどもは1名カウントされていなかったのかもしれません。(じゃらんでは子供用のプランはないので、受付時に支払うものだと思っていました)
After the checkout, I noticed that this time we had one adult and one elementary school student, but we only paid for one adult. (I noticed later by looking at the card statement) Why? Before the reception, I sent an e-mail saying "I made a reservation for Jalan play experience", but at that time, one child may not have been counted. (Jalan doesn't have a plan for children, so I thought I would pay at the reception)
コロナ禍・金曜・夕方でもラクーア女性風呂はお客さんがいっぱい★
The LaQua women's bath is full of customers even on corona storms, Fridays, and evenings.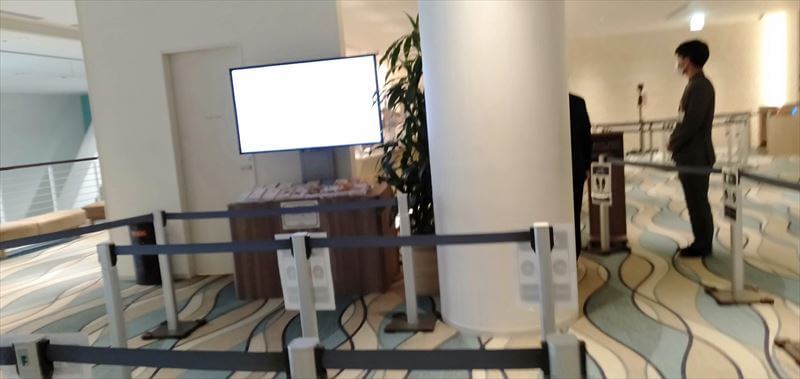 他の温泉と同じく、スパラクーアでも支払いはあと払いでリストバンドを渡されます。そのまま通路を通って、女性用の更衣室に行きました。女性用の更衣室の前には、館内着の見本が飾られていました。リゾートっぽくてイイね!!ここがまさか後楽園だとは思えないわ、、!
As with other hot springs, in Spa LaQua, you will be given a wristband after payment. I went straight through the aisle to the women's changing room. In front of the women's changing room, a sample of the clothes in the hall was displayed. It looks like a resort and is good! !! I don't think this is Korakuen …!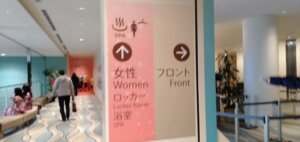 はっちゃん「ママ。はっちゃん、この赤いのがいい!」
わたし「ごめんね~!子供はこの黄色いのしか種類がないんだよ~!」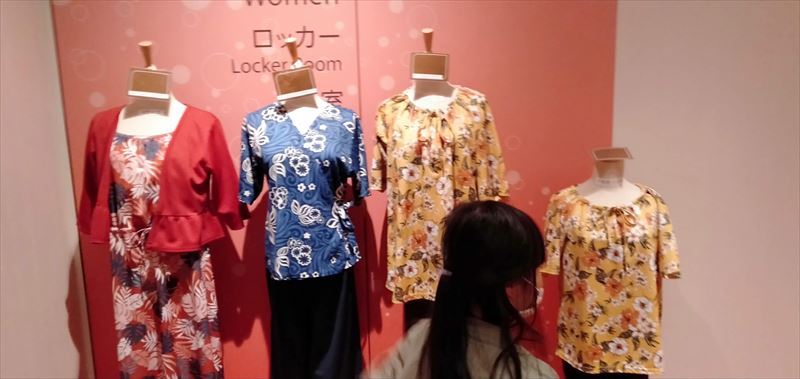 うちの子供は私に似て、主義主張をめちゃくちゃアピールします;しかし残念。ラクーアの館内着はまだ選べないのよ~!身長150cmになるまで待ちなはれ。(⇒こども用は130,140の2サイズでした。140のパンツがめちゃくちゃ大きくて交換してもらいました)
My kid, like me, insanely appeals to the principle; but unfortunately. You can't choose the clothes in LaQua yet! Wait until you're 150 cm tall. (⇒ There were two sizes, 130 and 140, for children. The 140 pants were so big that I had them replaced.)
着替えをして中に入ると、金曜の16時半過ぎでしたが女性の洗い場はほぼ満席。(おお~!花金だし、この辺でお勤めのOLさんが来ているのかな?)と思いました。中高年(⇒私もな!)も結構いました。銭湯とか温泉って大好きです♡特に他人と話すこともあまりありませんが、何かホッと(お湯だけに)します。
When I changed my clothes and went inside, it was past 16:30 on Friday, but the women's washroom was almost full. (Oh! It's Hanakin, is there an office lady who works around here?) There were quite a few middle-aged and older people (⇒ me too!). I love public baths and hot springs ♡ I don't often talk to other people, but I feel relieved (only for hot water).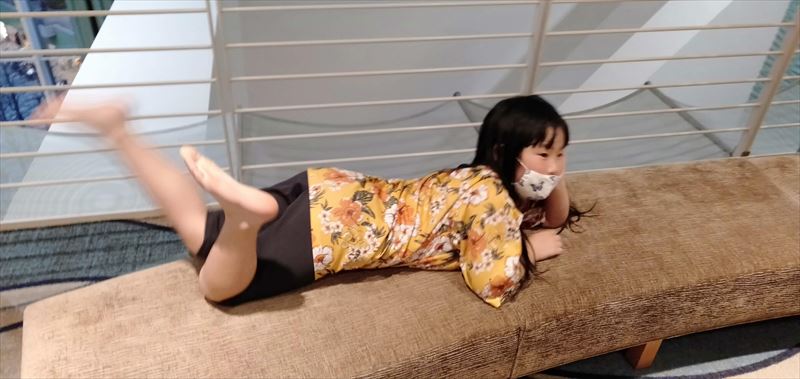 【注意!!】6~11歳以下のこどもは保護者同伴で18時までしかいられない
【caution! !! ] Children under 6-11 years old can only be accompanied by a guardian until 18:00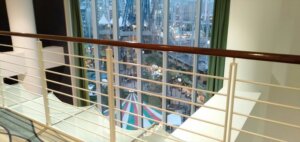 小学生とお母さん、お父さんがスパラクーアに来る際は、入館は15時まで、退館は18時までとなっています。私はこのルールをチェックしておらず、入館時に既に16時を回っていました。「今から18時までとなりますが、よろしいですか?」と受付の方に言われましたが、(18時までの方が帰って宿題できるし全然いい)と思って「わかりました」と言いました。次回はもっと早く家を出ます!!
When elementary school students, mothers, and fathers come to Spa LaQua, admission is until 15:00 and exits are until 18:00. I didn't check this rule and it was already around 16:00 when I entered. The receptionist said, "It's from now until 18:00, is that okay?", But I thought (it's better to go home by 18:00 and do my homework at all) and said, "I understand." Told. Next time I will leave home sooner! !!
ご覧いただき有難うございました。にほんブログ村ランキングに参加しています。よろしければ、ポチ!ッと押していただけると嬉しいです♡
Thank you for visiting. I'm participating in the Nihon Blog Village Ranking. If you don't mind, Pochi! I hope you can press it ♡

にほんブログ村