Add to favorites
[Kita-ku] Flea market in Akabane! !! Children and Akabane Park in March ♡
春ですね♡うちは、子供(はっちゃん7歳)が着ない服がたんまりあるので、2020年の9月に引き続き、赤羽公園でフリーマーケットをすることにしました。
It's spring ♡ We have a lot of clothes that children (Hatchan, 7 years old) can't wear, so we decided to open a flea market at Akabane Park following September 2020.
そんな訳で、本日の「東京の小学生とおでかけ!」のテーマは東京・北区の赤羽公園での子連れフリーマーケットです。
That's why today's theme of "Going out with elementary school students in Tokyo!" Is a flea market with children at Akabane Park in Kita-ku, Tokyo.
赤羽公園でのフリーマーケットの出店方法
How to open a flea market in Akabane Park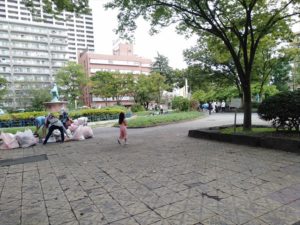 前回(2020年9月)は、Google先生に「赤羽 フリマ」というキーワードで質問をして、「スマイルっちゅー業者がいるよ~!」と教えてもらったので、スマイルさんにお電話(090-7177-8877)をして出店しました。フリマのサイトは昔ながらのものが多く、(どこを見たらいいんだ?!)とすごい頭を悩ませながら探したのが新鮮でした★(いまのWebサイトって考え抜かれてるのが多いから、、)
Last time (September 2020), I asked Google Sensei a question with the keyword "Akabane Flea Market" and told me "There is a Smile chu!", So I called Smile. Opened a store. Many of the flea market sites are old-fashioned, and it was refreshing to look for them while worrying about (where should I look ?!) ★ (Because many of the current websites are well thought out. ,,)
わたし「すいません、9月〇日に出店したいのですが」
I "Hi, I'd like to open a store on September 0"
スマイルさん「は~い、了解しました。では、当日出展料1,500円を持って来てくださいね。」
Mr. Smile "Yes, I understand. Then, please bring the exhibition fee of 1,500 yen on the day."
本当にこんな簡単な会話で、赤羽公園へのフリマ出店の手続きは終わりました。予想以上に楽ラク!そして、今回(2021年3月)の手続きは2月に配布された「北区ニュース」に募集があったので往復はがきで応募しました。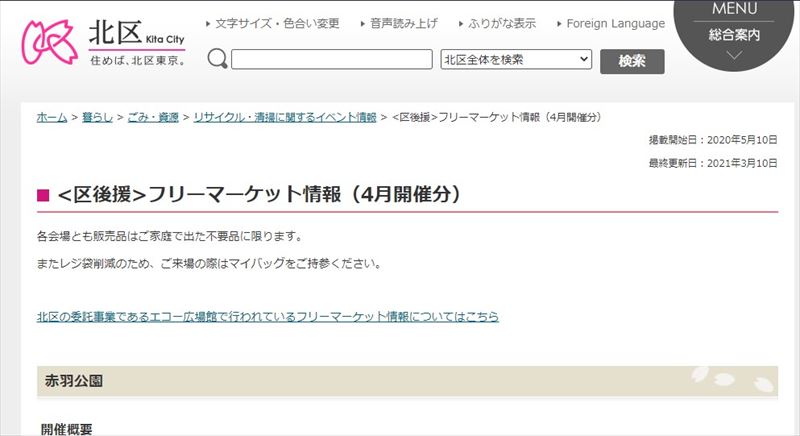 ハガキを出して3日後くらい。私のスマホが鳴ったので電話に出ると「赤羽公園でのフリーマーケットへのご応募ありがとうございます。あの、コロナで7日ではなく14日に延期になったのですが、大丈夫ですか?」と言われました。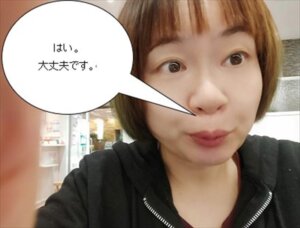 With such a simple conversation, the procedure for opening a flea market in Akabane Park was completed. Easier than expected! And this time (March 2021), I applied for a round-trip postcard because there was a call for "Kita-ku News" distributed in February. About 3 days after putting out the postcard. When my smartphone rang, I answered the phone and said, "Thank you for applying to the flea market at Akabane Park. Well, I postponed it to the 14th instead of the 7th in Corona. Is that okay?" They said.
「わかりました」と言われ、電話終了~。その後、「出典許可証」と印刷されたハガキを自宅まで送ってくださいました。ちゃんとしてますね。(⇒なのに、当日そのハガキを忘れたアタイ、、、!)スマイルさんの手続きはかんたんだから、大好きです!!
I was told "OK" and the call ended. After that, he sent me a postcard with the "Source Permit" printed on it. You're right. (⇒ But I forgot the postcard on the day …!) Smile-san's procedure is easy, so I love it! !!
赤羽公園のフリマの区画
Flea market section of Akabane Park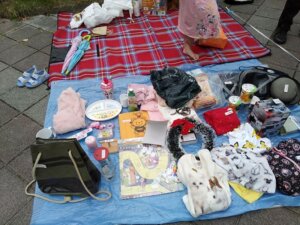 前回の9月に出したときは、わたしたちの到着は9時半を過ぎていまして。赤羽公園の時計台の斜め前あたりの日差しがキツイところが出店場所でした。今回は9時過ぎについたぞ!(えっへん)そして、赤羽公園の郵便局側の方のトイレ近くにある受付台で受付を済ませ、日陰に2M×3Mの区画をいただきました。スマイルの担当の方が黄色いガムテープで印をつけてくれ、「良かったら台車も使っていいよ!」と非常に親切です。こういうふれあいを感じるのが、フリマの良さですよね~♡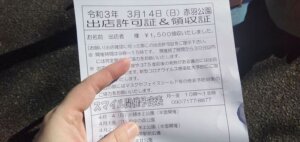 When we released it last September, our arrival was past 9:30. The place where the store was opened was where the sunlight around the clock tower in Akabane Park was harsh. This time I arrived after 9 o'clock! (Ehhen) Then, I finished the reception at the reception desk near the toilet on the post office side of Akabane Park, and received a 2M x 3M section in the shade. The person in charge of Smile marked it with yellow gum tape, and he was very kind, saying, "If you like, you can also use a dolly!" The good thing about flea markets is that you can feel this kind of contact.
赤羽公園のフリマで出品してはダメなもの、人
People who shouldn't sell at the flea market in Akabane Park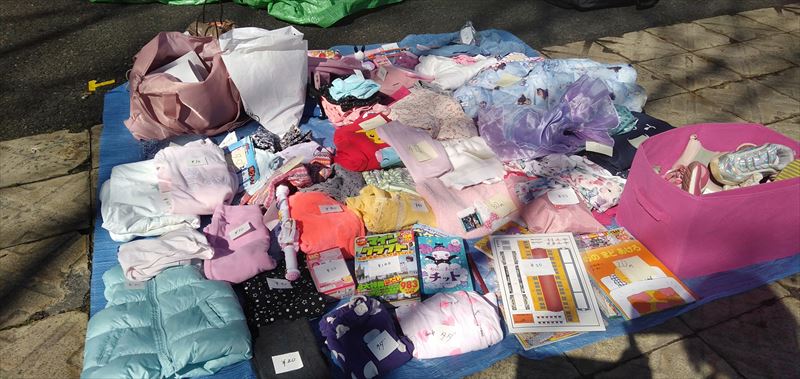 前回、私は家で買い過ぎた「ネスレドルチェグスト」のカプセルなどを販売しました。すると、警備員の方が来て「食料品販売はだめだよ~」と注意をされました。その教訓を生かし、今回はH&Mの120~130サイズの服とかいらない本とかばっかり、紙袋6袋分くらいで持参しました!!フリマ当日になると、「あ、つり銭作らなきゃ」とか「日焼け止め塗らなきゃ」とか、なんか急にやることがあってバタバタしました。(⇒ふつうは前日までに済ますんだけどね、、!)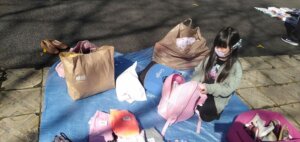 Last time, I sold overbought "Nestlé Dolce Gusto" capsules at home. Then, a security guard came and warned me that I couldn't sell groceries. Taking advantage of that lesson, this time I brought about 6 paper bags with only H & M's 120-130 size clothes and books that don't need to be used! !! On the day of the flea market, I suddenly had to do something like "Oh, I have to make change" or "I have to apply sunscreen" and I was fluttering. (⇒ Normally, it will be done by the day before, but …!)
それから、プロの業者さんもこのフリマには出店してはダメみたい。でも、なんかフリマ慣れしている人がたくさん出店してましたけどね。あれはプロではなく、アマチュアのすごい人なんでしょうね、、!
Also, it seems that professional vendors shouldn't open a store in this flea market. However, there were many people who were accustomed to flea markets. That's not a professional, but an amazing amateur, isn't it!
9:30スタート!最初の1時間はあまり人が来なかった
9:30 start! There weren't many people in the first hour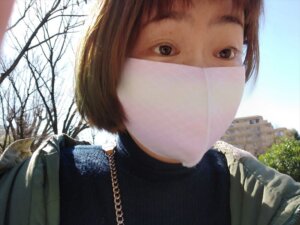 フリマ通の方って朝早くに来てめぼしいものは手早く買い占めていくんですよね。(前回、そうでした)でも、今回は私たちのお店にはなかなかそのようなフリマ痛の方はいらっしゃいませんでした。(戦略、ミスったな)と思いました。来場者は高齢者が中心なのに、売り物はほぼ5~6歳時のアパレル。失敗した~!もっと売り物に幅を持たせりゃよかったよ、と、ただの遊びなのに真剣になってしまう私ってばかですね。
Flea market enthusiasts come early in the morning and buy up the remarkable things quickly. (It was the case last time) But this time, there weren't many people with such flea market pain in our shop. I thought (strategy, I made a mistake). Most of the visitors are elderly people, but the items for sale are apparel when they are about 5 to 6 years old. I failed! I should have had more range for sale, and I'm an idiot who gets serious even though it's just a play.
10時台、11時台に2度、小ピークが訪れました♡
Small peaks came twice at 10 o'clock and 11 o'clock ♡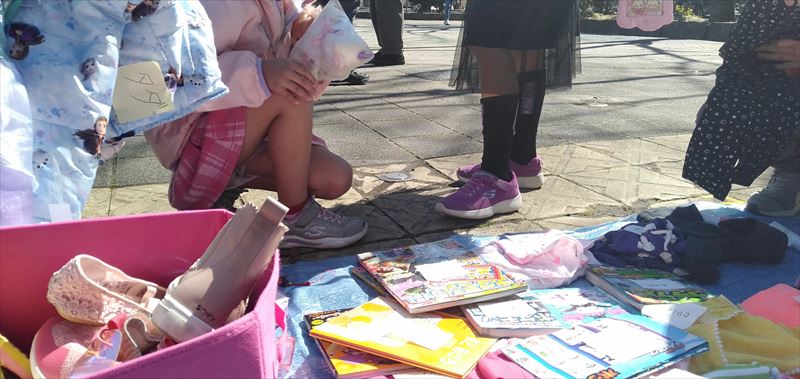 「はっちゃん、他のお店見てくるね~!」と、ほとんど店番をしてくれない我が子(7歳)。くそ~!私がこんなにいろいろ企画してるのは、キ三の体験を増やしたいからなのに。。(⇒私はフリマは学生時代に20回くらいしてるし、も~いーんだよ)と、突然「ねえ、すごい安くない?タダのもあるよ!!」と小学生や幼児連れのママさんグループが足を止めてくれました。「こんなに安くしていいんですか~?」と聞かれたので、「結構汚れてるし、もう着ない服だからいいんです♡」とキラキラしながら対応しました。フリマって、こういう人とのふれあいが楽しいんですよね、、!!
"Hatchan, I'm going to see other shops!", Said my child (7 years old), who rarely keeps track of the shops. Damn! I'm planning so many things because I want to increase Kizo's experience. .. (⇒ I used to play flea markets about 20 times when I was a student, and I don't know.) Suddenly, "Hey, isn't it really cheap? The group stopped. I was asked, "Is it okay to make it so cheap?" Flea market is fun to interact with people like this, isn't it ?! !!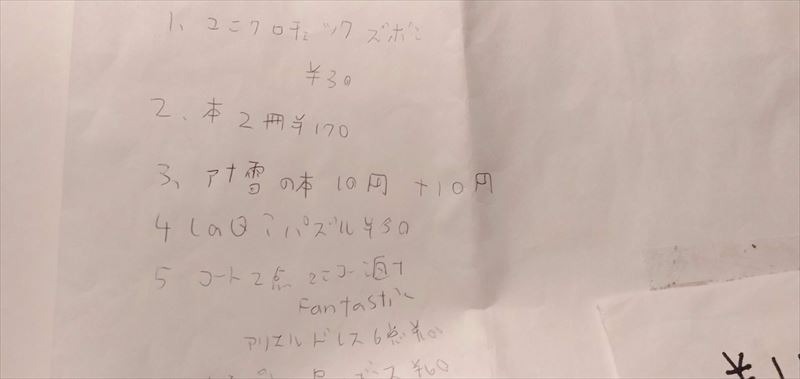 小ピークでは、わたし=接客とおつり渡し、旦那=袋詰め、はっちゃん=お金の受取り、という見事な連携プレーに成功♡このあと、11時半くらいまでお店をやりましたが、人通りがお昼で少なくなってきたので撤収しました。今日の売上は900円!!でも、おうちの中はすっきり!また新しい服が買えるのでオールOKです!!
At the small peak, I succeeded in a splendid cooperative play of handing over with customer service, husband = bagging, Hatchan = receiving money ♡ After that, I opened the shop until about 11:30, but the traffic was lunch I withdrew it because it was getting less. Today's sales are 900 yen! !! But the inside of my house is clean! You can buy new clothes again, so it's all OK! !!
ご覧いただき有難うございました。にほんブログ村ランキングに参加しています。よろしければ、ポチ!ッと押していただけると嬉しいです♡
Thank you for visiting. I'm participating in the Nihon Blog Village Ranking. If you don't mind, Pochi! I hope you can press it ♡

にほんブログ村