Add to favorites
[Kita-ku] Warmama tried and sank in the Akabane Marathon 5km without practice.
こんにちは。7歳の子供を持つワーキングマザーです。(⇒ワーママって一度言ってみたかっただけw)私は子供を産む前から「練習しないマラソン」に出ることを趣味にしておりまして、これまで10回弱ほどさまざまなマラソンに出ています。
Hello. A working mother with a 7 year old child. Before I gave birth to a child, my hobby was to participate in "non-practicing marathons," and I have participated in various marathons less than 10 times.
普段は子供とのおでかけブログを書いている私ですが、今回はママだけで走ってきたので、果たしてノー練習でどれぐらい苦しいのかを皆様にレポートしたいと思います!!(⇒特に需要ないとは思いますが、、!!)
I usually write an outing blog with my kids, but this time I ran only with my mom, so I would like to report to everyone how painful it is with no practice! !! (⇒ I don't think there is any particular demand, but …
そもそもなぜ私は練習しないのか
Why I don't practice in the first place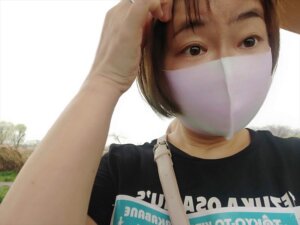 私は毎日コツコツ努力を重ねるのが昔から苦手です。そのため、中学生時代からテストは常に一夜漬け。進学も就職もそうやって乗り切ってきたので、その頃からの癖でランニングを習慣づけられないのです。
I've always been bad at working hard every day. Therefore, since I was in junior high school, the test has always been soaked overnight. I've survived both going on to school and getting a job, so I can't get into the habit of running because of my habits from that time.
しかし。そんな私でもお金を払ってマラソンに申し込むと2週間~1ヶ月ほどは毎日15~30分は走り続けられます。前回(2018年秋)はそれで赤羽マラソンで10km1時間ちょっとで完走できました。(全然自慢できるタイムじゃないんですけどね、、)あとは、中学時代に陸上部で走り込んでいた(県大会にも出た)ので、その頃の記憶を頼りにペース配分しています。
However. Even if I pay for it and apply for a marathon, I can continue to run for 15 to 30 minutes every day for 2 weeks to 1 month. Last time (Autumn 2018), I was able to complete the Akabane Marathon in just over 10km and 1 hour. (It's not a time I can be proud of at all, but …) After that, I ran in the track and field club when I was in junior high school (I also appeared in the prefectural tournament), so I rely on my memory at that time to allocate the pace.
これまで私がしてきた練習量とは
What is the amount of practice I have done so far?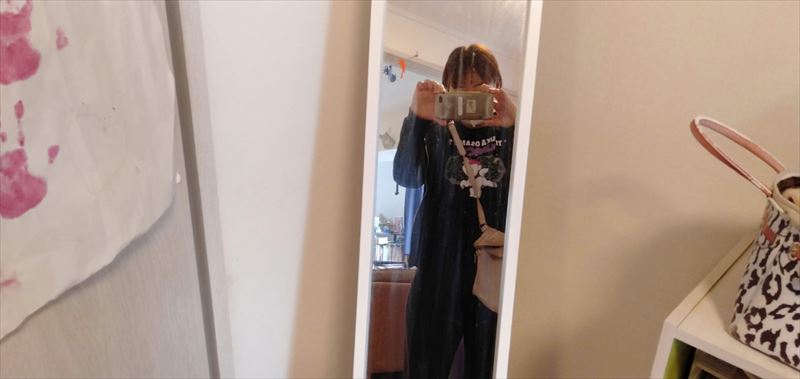 今年(2021年)の1月に赤羽マラソンにスポーツエントリーというサイト(https://www.sportsentry.ne.jp/)を通じて赤羽マラソンへエントリーをしてから早3ヶ月。

これまで私がしてきた練習と言えば、、
It has been three months since I entered the Akabane Marathon in January of this year (2021) through the site called Sports Entry (https://www.sportsentry.ne.jp/). Speaking of the practice I've done so far,
・自宅付近の公園を1週(1km)×2回
1 week (1km) x 2 times in the park near my home
・自宅付近の公園の周りを1週(1km)娘と×2回
Around the park near my home for a week (1km) with my daughter x 2 times
・任天堂wii(⇒まだうちでは現役だぜ!!)のフィットネスのジョギング(短い、長い、島1周)×40回くらい
Nintendo wii (⇒ I'm still active at home !!) Fitness jogging (short, long, one round of the island) x 40 times
、、、こうして書いていて気づきましたが、全部足しても5km走ってませんね!!;;(⇒今回は本当にひどい、、)
I noticed that I wrote it like this, but even if I added all of them, I didn't run 5km! !! ;; (⇒ This time is really terrible …)
2021年3月13日(土)。ついに赤羽マラソン本番です
Saturday, March 13, 2021. Finally the Akabane Marathon is in production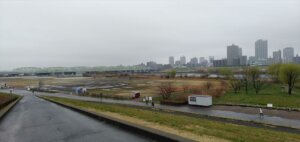 ハイ。赤羽岩渕経由で荒川の土手にチャリで着きました。雨の中おばちゃんが頑張って走るというのに、娘(はっちゃん・7歳)と旦那は家で私に命令されて明日のフリーマーケットの値札付けをしているので応援に来てくれませんでした。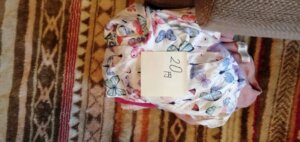 Yes. I arrived at the bank of Arakawa via Akabane Iwabuchi by bicycle. My daughter (Hatchan, 7 years old) and her husband were ordered by me at home to price the flea market tomorrow, so they didn't come to support me, even though my aunt was trying hard to run in the rain.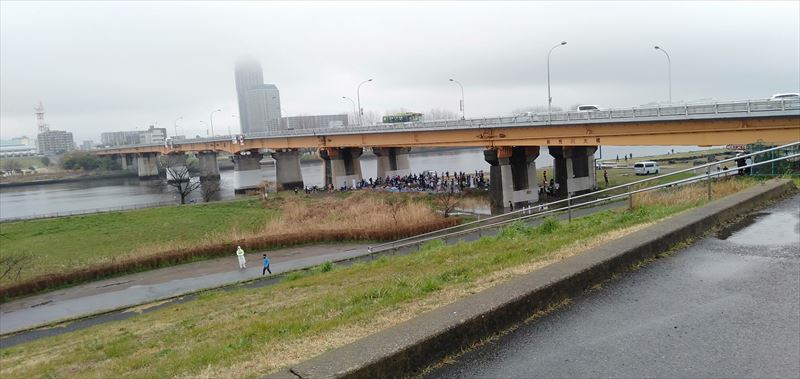 マラソン当日まで集合場所をチェックしてなかったので、集合場所がわからないので橋の上でスマホで検索しました。すると、メールに「赤羽新荒川大橋高架下」と記載が。後ろをみるとマラソン風の人が沢山いたので、(あそこだ~!!)と自転車をその辺においてダッシュしました。
I didn't check the meeting place until the day of the marathon, so I didn't know the meeting place, so I searched on my smartphone on the bridge. Then, the e-mail stated "Under the elevated Akabane Shin-Arakawa Bridge". Looking back, there were a lot of marathon-style people, so I dashed my bicycle around there.
高架下の受付でゼッケン番号を言ってゼッケンをもらいました
At the reception under the overpass, I said the number and got the number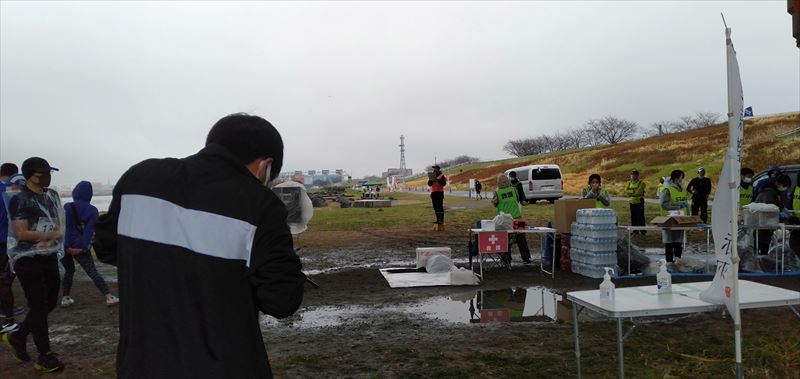 高架下に行くと、「受付はこちらで~す!」とスタッフの方が声をかけてくださり、私はスマホのエントリー画面を慌てて見せました。すると、GPSチップが付属のゼッケンと入金の領収証と記念タオルをいただきました。私は着替えも持っていかなかったので、そのまま雨をしばし眺めていました。
When I went under the overpass, the staff said, "The reception is here!" And I hurriedly showed the entry screen of my smartphone. Then, I received a bib with a GPS chip, a receipt for payment, and a commemorative towel. I didn't bring a change of clothes, so I just watched the rain for a while.
11時からはスリークォーター(31.64625km)だったのに間違って並びました
It was a three-quarter (31.64625km) from 11 o'clock, but I lined up incorrectly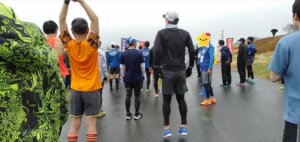 スポーツエントリーからのメールをさっき適当にしか見ていなかった私は、スタッフの方が「ではスリークォーターの方お並びください~!!」と呼んでくださっているのに、間違ってスタート地点に並んでしまいました。しかし、どう見ても(これ、5キロじゃないでしょ、、!)と空気を察しました。付近のスタッフの方に「あの、これ5kmですか?」と聞くと「いえ、スリークォーターです」との答えが。危なかった、、!5kmのスタートは10分後でした。
I had only read the email from the sports entry, but the staff said, "Well, please line up for the three-quarters !!", but I accidentally lined up at the starting point. I did. However, no matter how I looked at it (this isn't 5 kg …!), I saw the air. When I asked a nearby staff member, "Ah, is this 5km?", The answer was "No, it's a three-quarter." It was dangerous …! The start of 5km was 10 minutes later.
11:10 スタート!前も思ったけど、平坦で飽きちゃうコース
11:10 Start! I thought before, but the course is flat and boring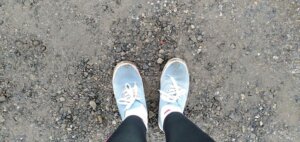 いよいよカウントダウンが始まりました。なぜか(女の人いるかな?)とキョロキョロしてしまいましたが、一人くらいしか見つけられず少し不安になりました。(⇒いまさら遅いよ!!)スタートです。スタート前に、超走れそうなおじさんが「まあ、気楽に行きましょうや」とか話してるのをみて、(あなたは絶対走れるでしょ!!)と心の中で言い返してしまいましたw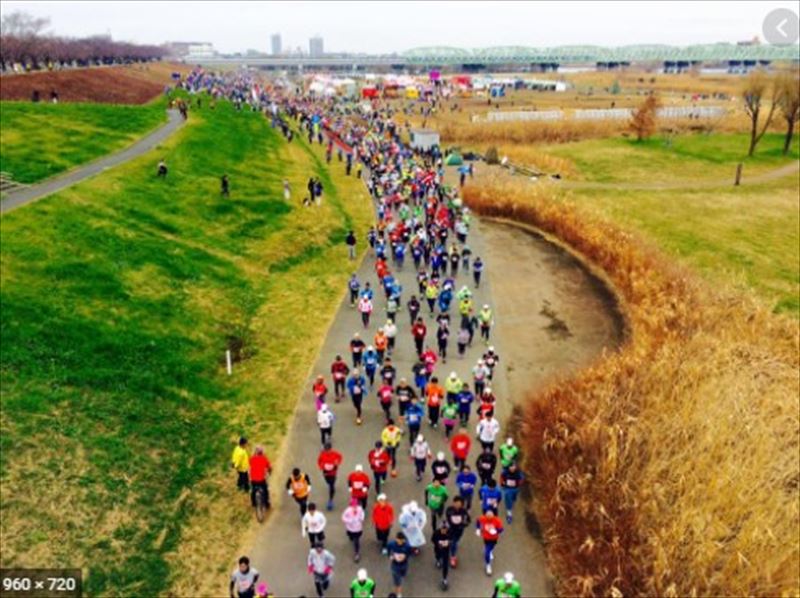 The countdown has finally begun. For some reason (Is it a woman?), I was wondering, but I was a little worried because I could only find one person. (⇒ It's too late !!) It's a start. Before the start, I saw an uncle who seemed to be able to run super-running saying, "Well, let's go comfortably" and said (You can definitely run !!) w
最初の1kmは楽しく走れました。しかし、1kmくらい走ると坂があり、この坂で結構地味に体力が持っていかれました。坂を上がると赤い水門を目指すのですが、(そこまで行って、その先あとどれぐらい走るのかな)とか、あと何キロ走ればいいのかなど頭で計算してばっか。全然無心になれませんでした;
I enjoyed running the first 1km. However, when I ran about 1km, there was a slope, and this slope gave me a lot of physical strength. When I go up the hill, I aim for the red lock, but I just have to calculate with my head (how long will I go there and how long I will run after that) and how many kilometers I should run. I couldn't be indifferent at all;
2kmくらいを走り終えると、もう先頭のグループが折り返してきます。「頑張っていこうね~!」とペースメーカーの方に声をかけられ、(うそ!!わたし、びり?)と何気にショックを受けます。心では頑張りたいのですが、心臓あたりがひりひりして、全然スピードを出せません。とにかく呼吸を整えようと、息を出すのを長くすることに注力しました。(情けない、、!)
After running about 2km, the first group will come back. When the pacemaker called me, "Let's do our best!", I was shocked (lie! I, Biri?). I want to do my best in my heart, but my heart is tingling and I can't speed up at all. Anyway, I focused on lengthening my breathing to get my breathing in order. (Sorry …!)
折り返し地点までも本当に長く、(とにかく頭の中で歌を歌って気を紛らわせるんだ、、!)と、今度は歌作戦を結構しました。ゴールまでずっと頭で歌っていたのは、最近仕事中に毎日聴いている清竜人さんです。
The turning point was really long (just sing a song in my head to distract me!), So this time I decided to do a good song operation. Ryujin Kiyoshi, who I listen to every day during work, was singing with my head all the way to the goal.
やっとゴールできた♡40代女性は私ひとりの参加でした
I finally got the goal ♡ The woman in her 40s was the only one who participated

3回くらい歩いちゃおうかと思いましたが、後半はとにかく前にいる若い女性にくっついていって、何とか粘ってゴールできました。私がこんなに体力なくなっているなんで、びっくりです。そして、5kmに出た人(12人)の中ではびりなのに、40代女性では1位(ってか私しかいないから、、)となったので、賞状は「入賞」となりまして。「入賞されましたので、次回のエントリーに招待します」なんてメールも赤羽マラソン事務局から送られてきました。
I thought I'd walk about three times, but in the second half I just stuck to the young woman in front of me and managed to reach the goal. I'm surprised that I'm so weak. And, although I was a little out of the 5km people (12 people), I was ranked first among women in their 40s (because I am the only one), so the certificate was a "winning prize". The Akabane Marathon Secretariat also sent me an email saying, "I have won a prize, so I will invite you to the next entry."
つらかったけど、出て良かったです!次回はもうちょっと練習します!
It was hard, but I'm glad I got out! Next time I will practice a little more!
ご覧いただき有難うございました。にほんブログ村ランキングに参加しています。よろしければ、ポチ!ッと押していただけると嬉しいです♡
Thank you for visiting. I'm participating in the Nihon Blog Village Ranking. If you don't mind, Pochi! I hope you can press it ♡

にほんブログ村