Add to favorites
[Tachikawa City] Fairy tale (sandwich) menu, place and time. Eat in and get a bonus ♡
立川のPLAYに行くついでに、お昼を立川駅で食べることにしました。(⇒だって、PLAYのカフェは高いんだもん、、!)サンドイッチ・チェーン店の「メルヘン」は、これまで確か大宮駅で見かけた気がするのですが、買ったことはありませんでした。
While I was going to Tachikawa PLAY, I decided to have lunch at Tachikawa station. (⇒Because the PLAY cafe is expensive …!) I think I've seen the sandwich chain store "Fairy Tale" at Omiya station, but I've never bought it.
本日の「東京の小学生とおでかけ!」のテーマは、立川のメルヘンです。
Today's theme of "Going out with elementary school students in Tokyo!" Is Tachikawa's fairy tale.
立川のメルヘンの場所
Tachikawa Fairytale Location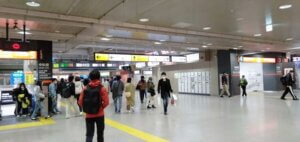 立川のメルヘンは駅ビル「エキュート立川」の2階にあります。立川駅北口に向かって東改札を出たら、一番近くにあったのがメルヘンさんでした。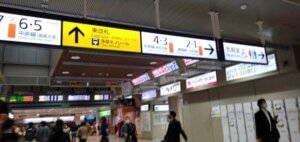 Tachikawa's fairy tale is on the second floor of the station building "Ecute Tachikawa". When I got out of the east ticket gate toward the north exit of Tachikawa station, the closest person was Mr. Fairytale.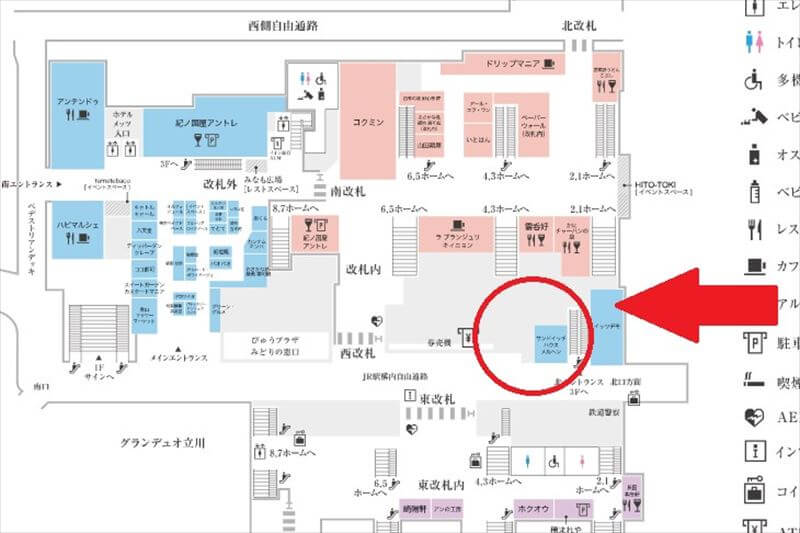 ちなみに、ネット情報だと立川ってサンドイッチの街なんですって。「はら時計」てお店も、サンドイッチで有名なお店みたいですよ~!
By the way, according to online information, Tachikawa is a sandwich town. The shop at "Hara Clock" seems to be famous for sandwiches!
最初、うちの子供(はっちゃん)はなぜかスタバに行きたがりました。(スターバックスはエキュートの3階にあります)でも、スタバは店内が満席で(お昼の12時くらい)、すごすご私たちはエスカレーターで下りながら右下のメルヘンさんにイートインがあるのに気づきました。「ねえ!はっちゃん。メルヘンでいいじゃん。お腹減ったよ。」(⇒失礼、、!)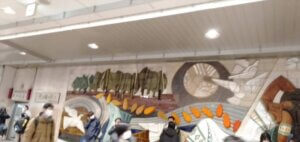 At first, my child (Hatchan) wanted to go to Starbucks for some reason. (Starbucks is on the 3rd floor of Ecute) But Starbucks is full (around 12:00 noon), and we went down the escalator and noticed that there was an eat-in at the lower right fairy tale. "Hey! Hatchan. Fairy tales are fine. I'm hungry." (⇒ Excuse me …!)
メルヘンのメニューはどんな感じ?
What does the fairy tale menu look like?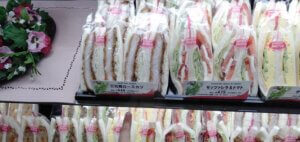 メルヘンは1983年に創業だそうです。メニューって、王道のサンドイッチだけじゃなくて攻めてる感じのものもあるんですね。2月に行ったこの日、店頭で推されているのは「びわ生クリーム」(432円)。おみやげに旦那に買って帰りましたが、「おかしいくらい美味しい」というコメントを頂きましたww(⇒おかしいくらいってwww)
Fairy tale is said to have been founded in 1983. Fairy tale menus aren't just royal sandwiches, they're also aggressive. On this day in February, the loquat cream (432 yen) is recommended at the store. I bought it as a souvenir from my husband and went home, but I got a comment that it was "funnyly delicious" ww (⇒ funny enough www)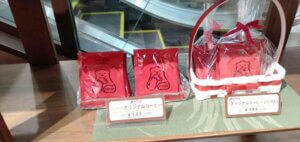 <メルヘンのサンドイッチのメニュー> ※税込みです
Fairy tale sandwich menu  ※Tax included
・ショコラバナナ生クリーム 410円
Chocolat banana cream
・カスタードマニアのいちごバナナサンド 583円
Custard Mania Strawberry Banana Sand
・ブランのアーモンド生クリーム 432円
Bran almond cream
・おすすめパック(4点入り)712円
Recommended pack (4 points)
・チーズエッグ 410円
Cheese egg
・モッツアレラトマト 475円
Mozzarella tomato
・温州みかん苺生クリーム 496円
Citrus unshiu strawberry cream
・エビカツサンド 518円
Shrimp cutlet sandwich
メルヘンのサンドイッチは、銀座コージーコーナーでケーキを選ぶより迷いますね。だって、ケーキだったら「全部甘い」系ですが、サンドイッチはご飯系も入ってくるじゃないですか。で、1個にするか2個にするか、、という個数問題も迷います。(ケーキはだいたい私は1回に1個です♡)とりあえず、私は大葉チキンとコーヒーにしました。(本当は2個にしたかったんですが、最近体重がマズイので、、!)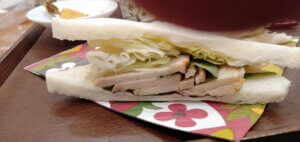 Fairy tale sandwiches are more confusing than choosing a cake at the Ginza Cozy Corner. Because if it's a cake, it's all sweet, but if it's a sandwich, rice is also included. So, I am at a loss as to whether to make one or two. (I usually have one cake at a time ♡) For the time being, I made perilla chicken and coffee. (I really wanted to have two, but I've been sick recently, so!)
サンドイッチのメルヘンの営業時間
Sandwich fairy tale business hours
美味しいメルヘンの立川のお店は朝7時~夜10時まで営業しています。(月~土)日・祝 は朝7:00~夜9:00までと1時間早くクローズします。あ、でも今は緊急事態宣言中なので夜は8時までなのかな。ネットでは一部店舗は時間短縮している、と書いてあったので、緊急事態宣言中の夜に行く場合は問い合わせた方がいいかもしれません。
The delicious fairy tale Tachikawa shop is open from 7 am to 10 pm. (Monday-Saturday) Sundays and public holidays close one hour early from 7:00 am to 9:00 pm. Ah, but now that an emergency is being declared, I wonder if it will be until 8 o'clock at night. It was written on the internet that some stores are shortening the time, so if you go to the night during the state of emergency, you may want to contact us.
イートインではワンドリンクを注文の決まり。チョコとお花のオマケ付き
At eat-in, it is decided to order one drink. With chocolate and flower bonus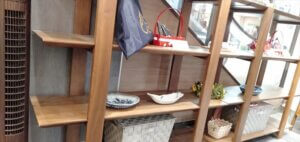 私たちは北区から来て腹ペコだったので、コーヒーとアイスミルクを注文して、イートインでサンドイッチを食べました。お店の人がめちゃくちゃ感じよくてびっくりしました。(レジの人じゃやなく、奥から出てきたサンドイッチを作っているお姉さんです)サンドイッチは店内で手作りしているんですよね。なんか、そういうの良いですね。
We were hungry from Kita Ward, so we ordered coffee and ice milk and ate sandwiches at eat-in. I was surprised that the shop staff was insanely comfortable. (I'm not a cashier, but an older sister who makes sandwiches that come out from the back) Sandwiches are handmade in the store, aren't they? Somehow, that's good.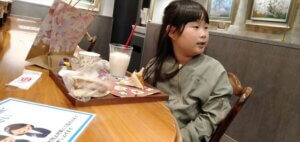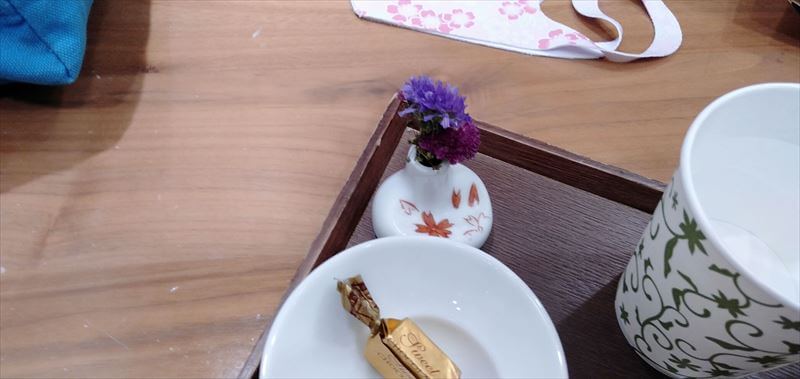 Please see! When I ate in, chocolate and flowers came. It looks like Nagoya and is wonderful!
なんか、メルヘンでもっといろいろなサンドイッチを食べたいな~。あ、そうだ。桜が咲いたら、メルヘンのサンドイッチを持って、お花見しよう♡
I want to eat more sandwiches at fairy tales. Oh, that's right. When the cherry blossoms bloom, take a fairy tale sandwich and see the cherry blossoms ♡
ご覧いただき有難うございました。最近、あまりおでかけしなくなってしまって、ネタ切れです;にほんブログ村ランキングに参加しています。よろしければ、ポチ!ッと押していただけると嬉しいです♡
Thank you for visiting. Recently, I haven't been out so much and I'm out of material; I'm participating in the Nihon Blog Village Ranking. If you don't mind, Pochi! I hope you can press it ♡

にほんブログ村