Add to favorites
Adashi-ku Super fishing Adachi
ここに行った日のこと。梅雨の時期なのに潮干狩りのラストチャンスとばかりにレンタカー予約をしたのですが、あいにく終日雨でした。レンタカーキャンセルするとキャンセル料を取られるプランだったため、なぜか千葉県のお墓参りへ。
そのあとに、たまたま見つけたのがこのスーパーフィッシング足立です。予想以上に楽しかったので、ご紹介します!
The day I went here. I made a car rental reservation just because it was the last chance to hunt for shellfish, even during the rainy season, but unfortunately it rained all day. Because it was a plan to get a cancellation fee if you cancel the rental car, somehow I visited the grave in Chiba prefecture. After that, I happened to find this Super Fishing Adachi. It was more fun than I had expected, so I will introduce it!
「東京の釣り堀って市ヶ谷しか知らなかった」って方、必見!
Must-see for those who knew Ichigaya was the only fishing pond in Tokyo!
東京の釣り堀って言ったら市ヶ谷フィッシュセンターですよね。私、大学が法政だったんでもちろんフィッシュセンターも行きました。あそこは電車内から見える立地がすべてですよね。
楽しさで行ったら、この足立区のスーパーフィッシングの方が1,000倍勝ってますよ。断言できます!
If you say fishing fishing in Tokyo Ichigaya It's a fish center. I went to the fish center of course because the university was Hosei. That's all the locations you can see from inside the train.
If you go with fun, the Super Fishing in Adachi Ward will win 1,000 times. I can affirm!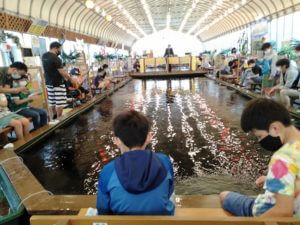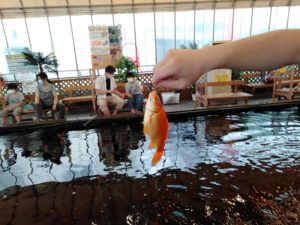 家族連れ、夫婦、子供とお父さん、カップルなど様々な属性のお客様がいますよ
There are customers with various attributes such as families, couples, children and fathers, couples etc.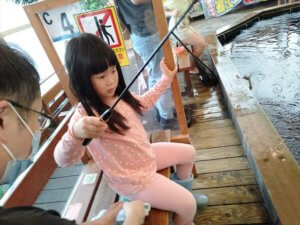 この釣り堀は超初心者のわたしなんかのレベルでも釣れますので、本当に釣りが好きな方や通の方は来ないかもしれません。しかし、それ以外の気軽に釣りを楽しみたい方や釣り堀が好きな方や単に遊びたい方はたくさん来ています。
当日、20分くらい待たされましたが、電話で呼び出してくれます。敷地内の中にゲーセンや宝探しゲームなど数百円払えば遊べるものがたくさんあるので、待ち時間も飽きません。
Because I am a super beginner, I can catch this fishing pond, so people who really like fishing or people who do not come may not come. However, there are many other people who want to enjoy fishing casually, like fishing ponds, or just want to play.
I waited about 20 minutes on the day, but he will call me by phone. There are many arcade games and treasure hunting games on site that you can play for hundreds of yen, so you won't get tired of waiting.
釣った魚は自己申告で何匹、何センチくらいのを釣ったのかレジの人に言います。
Tell the cashier how many fish you caught and how many centimeters you caught.
受付の時に、釣った魚が何センチだと何ポイントです、という換算表みたいなシートを貸してくれます。(結構適当)釣っている間に、だいたい自分で何センチくらうの魚を何匹釣ったかを覚えておきます。魚の数・大きさにより、帰る時に申告すると駄菓子がもらえるくびじきができる回数が告げられます。
At the time of reception, we will lend you a sheet like a conversion table that tells you how many centimeters the fish you caught is how many points. (Comparably appropriate) Remember how many centimeters of fish you caught while fishing. Depending on the number and size of the fish, you will be told how many times you will be able to get candy when you return when you return.
店名
Shop Name
スーパーフィッシング 足立
Super fishing Adachi
種類
Kind
fishing place
公式URL
Web Site
https://adachi.mypl.net/shop/00000047197/
電話番号
Phone Number
03-3882-2770
住所
Address
足立区千住関屋町19-1
幼児喜び度(最高max★★★)
The degree of infant's pleasant
★★★
パパの釣り見てるだけでも楽しめる♪
小学生低学年喜び度(最高max★★★)
The degree of primary school child's pleasant
★★★
特に足立区の男の子にとっては聖地かも★

Especially for boys in Adachi City, it may be a sacred place★
駐車場
Parking Lot
アメージングスクエア駐車場 8時〜20時=1時間200円 20時〜8時=2時間100円
Amazing Square Parking Lot 8:00 to 20:00 = 200 yen for 1 hour 20:00 to 8:00 = 100 yen for 2 hours
営業時間
business hours
12:00~23:00 平日
10:00~23:00 土・日曜、祝日
無休(⇒最強、、、!)
12: 00-23: 00 Weekdays 10: 00-23: 00 Saturdays, Sundays, and holidays Open daily (⇒ strongest …!)
ママのお財布危険度
(最高max★★★)
The degree of dangerous of Mom's wallet
★★
そんなにかかりません。カラオケ行くより安い?良心的です。
It doesn't cost that much. Is it cheaper than going to karaoke? I am conscientious.
<料金>
●すわり池
1時間・・・1100円
2時間・・・1650円
フリータイム(平日)・・・2200円

●ミニ池
60分・・・1100円

It doesn't cost that much. Is it cheaper than going to karaoke? I am conscientious. <Fee> ● Sitting pond 1 hour・・・1100 yen 2 hours…¥1650 Free time (weekdays)…¥2200 ● Mini pond 60 minutes…¥1100
場内には金魚釣りもあり、そちらはあまり待ちません
There is also goldfish fishing in the venue, so there is no waiting.
スーパーフィッシング足立の魚は人間に慣れているきがします。なかなか私が釣れないと、「おい、こっちだよ~!」みたいにわざと(?)ぴょんをはねて見せたり(⇒気のせいだよ!)。
受付の奥には金魚釣りスペースもありますが、それはかなり小さい幼児さん向け。小学生になったら、やっぱりみんな釣り堀で遊んでいます。なんだか変わった魚も泳いでますよ。え?この魚が釣り堀に?っていう。名前は忘れてしまいましたが。
Superfishing Adachi seems to be used to humans. If I couldn't catch it, I purposely bounced (?) Pyon like "Hey, this is it!"
There is a goldfish fishing space at the back of the reception, but it is for young children. After elementary school, everyone is playing in the fishing pond. Somehow strange fish are swimming too. e? Is this fish in a fishing pond? I say. I forgot the name.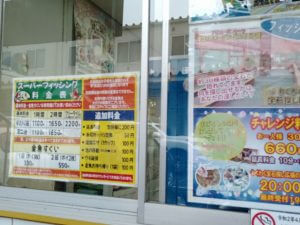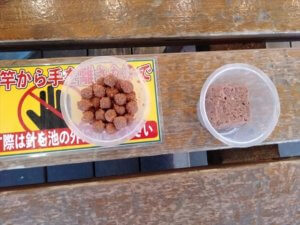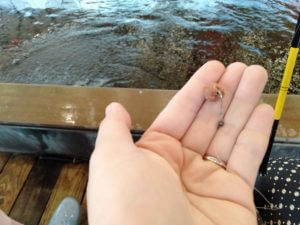 魚の口に刺さった針を怖くて取れませんでした;
I couldn't get rid of the needle stuck in the mouth of the fish;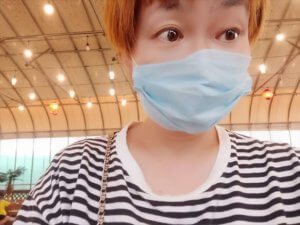 はっちゃんとパパばかり魚を釣りまくり、負けてきた私はジェラシー。「おおりゃ!」と本気で釣り上げたも、バタバタ動きまくる魚にはビビッてしまい、お魚は針が刺さったまま池にドボン。ごめんね~!要領悪くて!
I'm Jealous, who has been catching fish and dads, and losing. I caught "Oya!" seriously, but I was surprised by the fish that fluttered around, and the fish stuck in the pond with the needle stuck. I'm sorry!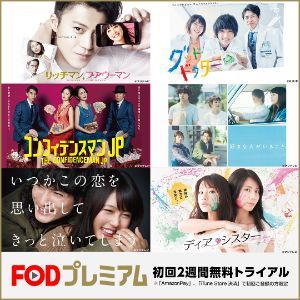 にほんブログ村ランキングに参加しています。よろしければ、ポチ!ッと押していただけると嬉しいです♡

にほんブログ村