Add to favorites
[Kita-ku] What are the locations, tickets, reservations, congestion, and differences of the Taiga Drama Hall?
2024年前半に、日本のお札の肖像がすべて一新されるそうです。一万円札には新たに渋沢栄一がエントリーされています。(私の親戚は元・五千円札でした♡それなのに、全然「武士道」な性格ではありません)渋沢栄一さんは埼玉県・深谷市出身の方ですが、東京都・北区にもゆかりが深い方です。(そのため、北区では渋沢栄一のキャンペーンに3,381万円、23区発となる「大河ドラマ館」には4億3,505万円という巨額の予算を計上してきました。)
東京北区渋沢栄一プロジェクト(←北区と渋沢栄一の関係についてはこちらをご参照ください。住んでいたそうです。)
Tokyo Kita-ku Shibusawa Eiichi Project (← Please see here for the relationship between Kita-ku and Shibusawa Eiichi. He lived there.)
In the first half of 2024, all the portraits of Japanese bills will be renewed. Eiichi Shibusawa is newly entered on the 10,000 yen note. (My relative was a former 5000-yen note ♡ But it's not a "bushido" personality at all) Eiichi Shibusawa is from Fukaya City, Saitama Prefecture, but has a deep connection to Kita Ward, Tokyo. It is one. Therefore, in Kita Ward, we have budgeted a huge budget of 33.81 million yen for the campaign of Eiichi Shibusawa and 435.05 million yen for the "Taiga Drama Hall" departing from the 23 wards.
これは北区民として、チェックしない訳にはいきません、、!というわけで、本日の「東京の小学生とおでかけ!」のテーマは、東京都北区の大河ドラマ館です。
As a resident of Kita Ward, I can't help but check this! So, today's theme of "Going out with elementary school students in Tokyo!" Is the Taiga Drama Hall in Kita-ku, Tokyo.
東京都北区の大河ドラマ館の場所は?
Where is the Taiga Drama Hall in Kita-ku, Tokyo?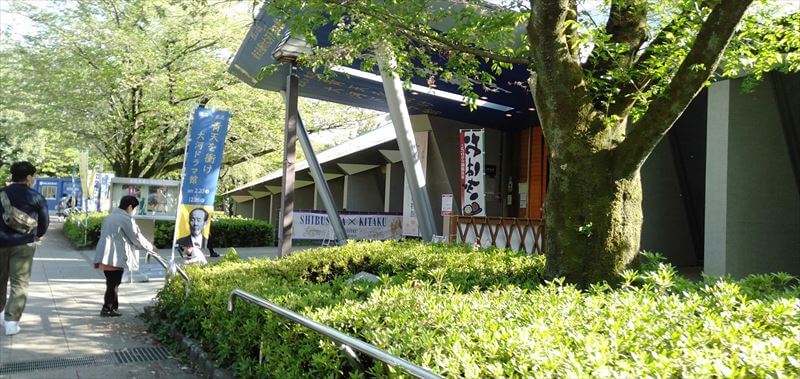 東京都北区の大河ドラマ館は令和3年(2021年)2月20日(土曜日)にオープンしました。最寄り駅はJR京浜東北線または東京メトロ南北線の「王子駅」です。飛鳥山公園の敷地内に面しているので、駅を降りたら飛鳥山公園の中にとりあえず入りましょう。JR京浜東北線の王子駅の場合は、中央口を出るとすぐ「アスカルゴ」という無料のモノレールがあるので便利です。(中のナレーションは女優の倍賞千恵子さん担当です♡)
The Taiga Drama Hall in Kita-ku, Tokyo opened on Saturday, February 20, 2021. The nearest station is "Oji Station" on the JR Keihin Tohoku Line or Tokyo Metro Namboku Line. It faces the grounds of Asukayama Park, so when you get off the station, let's enter Asukayama Park for the time being. At Oji Station on the JR Keihin Tohoku Line, there is a free monorail called "Asukarugo" as soon as you exit the central exit, which is convenient. (The narration inside is in charge of actress Chieko Baisho ♡)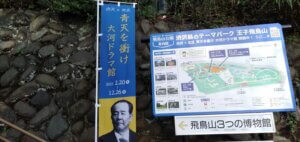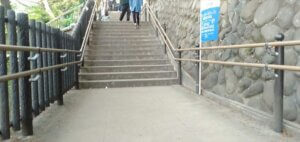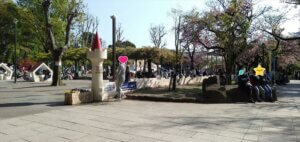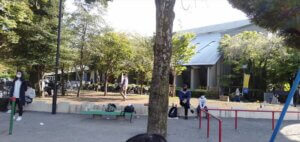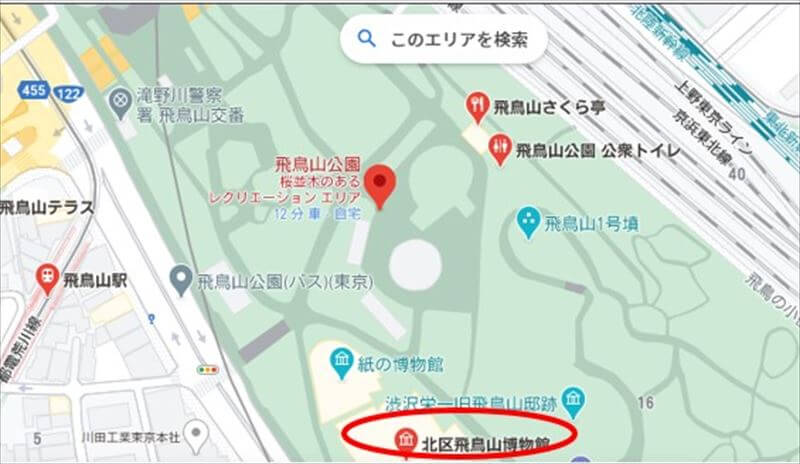 北区大河ドラマ館の場所は、飛鳥山公園の遊具である「鉄棒」の後ろあたりにあります。飛鳥山公園には黒い大きなSLが模型として展示されていますが、その斜めうしろあたりです。私は行ったので分かったのですが、北区大河ドラマ館は新しい博物館をゼロから作ったのではなく、もともとある「飛鳥山博物館」に新しい看板・チケット売り場・ブースを設置して作った「期間限定のミュージアム」なんですね。知らなかった!新しい建物が飛鳥山のどこかにできたのかと思ってました。
The location of the Kita-ku Taiga Drama Hall is behind the "horizontal bar," which is a playset in Asukayama Park. A large black steam locomotive is displayed as a model in Asukayama Park, but it is diagonally behind it. As I went, I found out that the Kita-ku Taiga Drama Museum did not build a new museum from scratch, but instead built a new signboard, ticket office, and booth at the original Asukayama Museum. It's a museum for a limited time. " I did not know! I was wondering if a new building was built somewhere in Asukayama.
チケットは当日でもOK!北区民割引あり♡
Tickets are OK even on the day! Kita ward inhabitant discount available ♡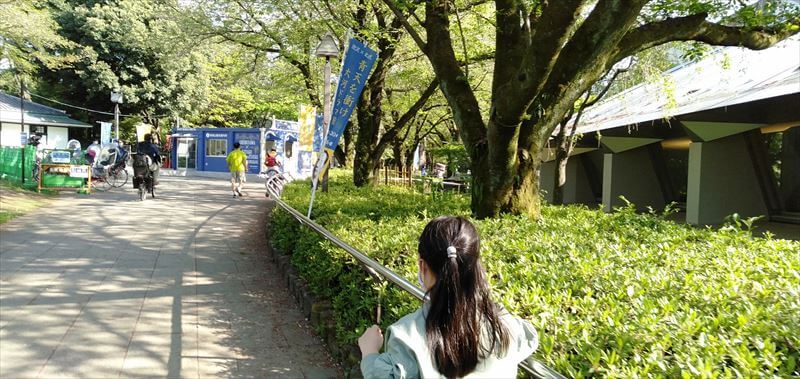 北区大河ドラマ館は新型コロナウイルスのため、人数制限をしています。そのため、確実に入場するのであればWebからチケット予約をした方が間違いありません。通常、Webでチケット予約するとその場でクレジットカード情報を入力して決済することが多いのですが、北区大河ドラマ館では「日時予約だけ」を0円で行えます♪これは子連れには優しいですよね。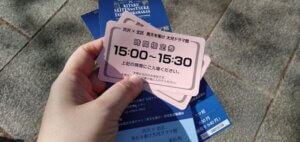 The number of people in the Kita-ku Taiga Drama Hall is limited due to the new coronavirus. Therefore, there is no doubt that you should make a ticket reservation from the Web if you want to be sure to enter. Normally, when you make a ticket reservation on the Web, you often enter your credit card information on the spot and make a payment, but at the Kita-ku Taiga Drama Hall, you can make a "date and time reservation only" for 0 yen ♪ This is kind to families with children That's right.
Kita-ku Taiga Drama Hall Ticket Reservation Official Page
私はチケット予約をしなかったので、北区大河ドラマ館に入った途端、スタッフの方から「すみませんが、入り口出て右側のチケット売り場でチケットをお求めください」と言われました。飛鳥山博物館は中でチケットが買えますが、北区大河ドラマ館は外のチケット売り場でチケットを買うのですね。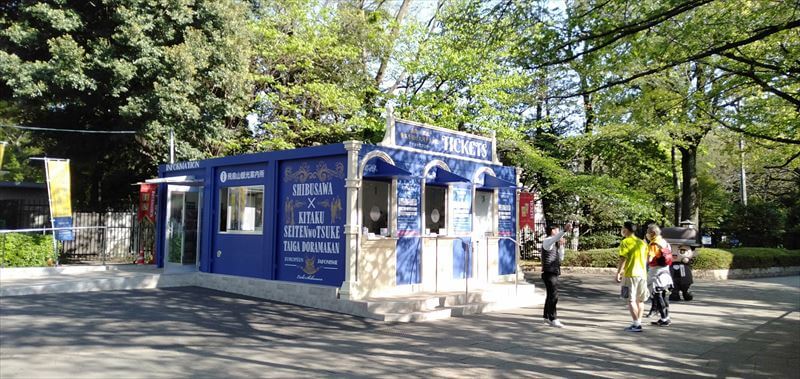 I didn't make a ticket reservation, so as soon as I entered the Kita-ku Taiga Drama Hall, the staff said, "I'm sorry, but please go out the entrance and buy a ticket at the ticket office on the right side." You can buy tickets inside the Asukayama Museum, but you can buy tickets at the outside ticket office at the Taiga Drama Museum in Kita-ku.
チケットの料金ですが、大人(18歳以上)は800円、こども(小中高生)は400円、未就学児は無料、となっています。北区の方は健康保険証などの身分証明書を持参すると2割引になります。(⇒私は忘れましたけど、、!)このチケット代金、払う時は別に高くない!と思ってましたが、中でほとんど展示を見られなかった(うちの子供が興味なくて、、)ので、正直(高い、、)と思ってしまいました。でも、常設展も見られるので(通常:300円)別に高いとは思いません。妥当だと思います。
The ticket price is 800 yen for adults (18 years old and over), 400 yen for children (elementary, junior high and high school students), and free for preschoolers. If you are in Kita Ward, you can get a 20% discount if you bring your ID such as a health insurance card. (⇒ I forgot, but!) This ticket price is not expensive when paying! I thought, but I could hardly see the exhibition inside (my child wasn't interested …), so I thought it was honest (high …). However, I don't think it's expensive because you can see the permanent exhibition (usually 300 yen). I think it's rea
土曜日の15時に行きましたが、そんなに混雑していません
I went on Saturday at 15:00 and it's not so crowded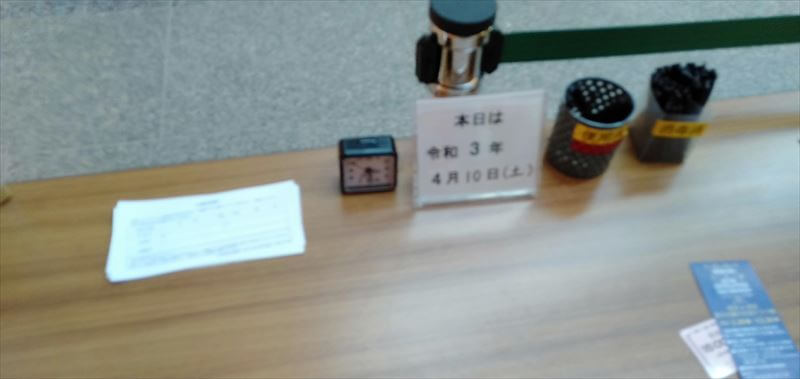 私は2021年4月10日の土曜日の午後3時くらいに行きました。チケットブースには私たち以外に一組、中には私たち以外に5組くらいはお客さんを見かけました。小さな子連れはいなくて(そりゃそーだ!)、歴史好きそうなおじさんや夫婦、あとはもう少し大きな子ども(5年生くらい?)とお母さん、お父さんがいらっしゃいました。新しい施設なので、若いスタッフの方はたくさんいましたね~。
I went on Saturday, April 10, 2021 at about 3 pm. At the ticket booth, I saw one group other than us, and about five groups other than us. I didn't have any small children (that's right!), And there were uncles and couples who seemed to like history, and a little bigger children (about 5th grade?), Mothers, and fathers. It's a new facility, so there were a lot of young staff.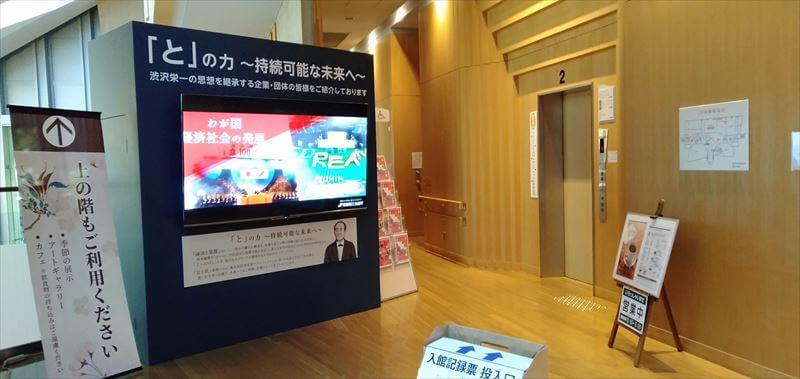 ここからは一切撮影が禁止なので画像は載せられないのですが、青天を衝けに出てくる竹中直人さんや吉沢亮さんなどの衣装が展示してあったり、時代年表があったり、出演俳優さん・女優さんのサイン色紙なんかが飾られてありました。わたし、このドラマ見てないんですよ、、!(じゃあ、なんで来た!)ただ、今回は近いので来てみたんですが、展示を見ていたらドラマも見たくなりました♡
Since shooting is prohibited from here at all, images can not be posted, but costumes such as Naoto Takenaka and Ryo Yoshizawa who appear in the blue sky are on display, there is a chronological table, and appearances Signed colored paper of actors and actresses was displayed. I haven't seen this drama …! (Then, why did you come!) However, this time it was close, so I tried to come, but when I was watching the exhibition, I wanted to see the drama too ♡
あなたも一万円札の「顔」になれる!
You can be the "face" of a 10,000 yen note!
北区大河ドラマ館の目玉(?)の展示は、フォト・コーナーで撮影をして一万円札の顔になれる、というものです。追加料金はかからず、撮影後に出てくるQRコードを読み込めばお持ちのスマホに一万円札の顔になった写真データをダウンロードできます。その場でプリントアウトしたい場合は、いったん外に出ておみやげコーナーに行くとできるそうです。
We has just arrived Shibusawa Taiiga drama museum @Asukayana.
北区王子の渋沢栄一大河ドラマ館に来ました。通常の飛鳥山博物館内に渋沢ブースができた、って感じ😊

小2は興味ないから、一万円札撮影だけして速攻退散😁#ouji #北区 #飛鳥山 pic.twitter.com/VFNeDEFMej

— I love Bjork and outing and my daughter😃 (@sherry_turtle) April 10, 2021
この一万円札の顔になれるプリクラは楽しくて、ママ、はっちゃん、ママとはっちゃん、と3バージョンも撮影してしまいましたw
The highlight (?) Exhibition of the Kita-ku Taiga Drama Museum is that you can take a picture at the photo corner and become the face of a 10,000-yen note. There is no additional charge, and you can download the photo data that looks like a 10,000-yen note to your smartphone by scanning the QR code that appears after shooting. If you want to print out on the spot, you can go outside and go to the souvenir corner. The photo booth that can be the face of this 10,000 yen bill was fun, and I shot 3 versions of Mama, Hatchan, Mom and Hatchan.
深谷の大河ドラマ館とはどう違うの?
How is it different from the Taiga Drama Hall in Fukaya?

北区の大河ドラマ館は衣装や説明、スクリーンでの名場面などの展示はあったのですが、江戸時代の建物(舞台装置)のようなものはなかったんですね。深谷の大河ドラマ館には行っていませんが、ホームページを見ると江戸時代の家などの画像があったので、そのあたりが違うのかな~と、予測しています。ちなみに、北区と深谷市の両方の大河ドラマ館に行くと割引があります。(大人は400円、小人は200円割引のセット券がある)
At the Taiga Drama Hall in Kita Ward, there were exhibits such as costumes, explanations, and famous scenes on the screen, but there was no such thing as a building (stage set) in the Edo period. I haven't been to the Taiga Drama Hall in Fukaya, but when I looked at the homepage, I saw images of houses from the Edo period, so I'm guessing that the area is different. By the way, there is a discount if you go to the Taiga Drama Hall in both Kita Ward and Fukaya City. (There is a set ticket with a discount of 400 yen for adults and 200 yen for children)
渋沢栄一の人生がスゴすぎる!昔の人ってすごいな、、
Eiichi Shibusawa's life is too amazing! Old people are amazing …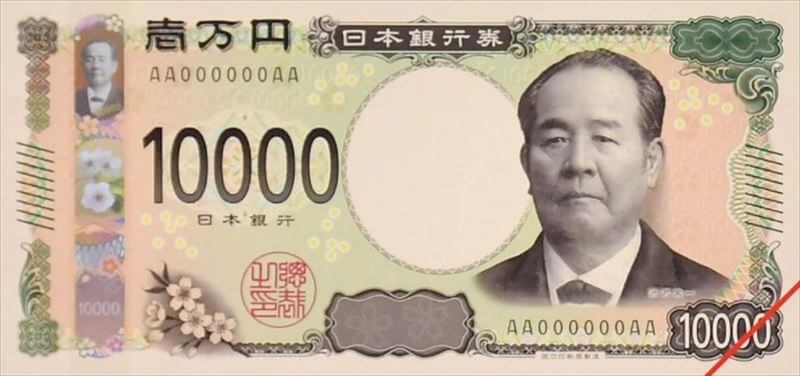 渋沢栄一さんの人生の年表を拝見しましたが、ひとりで10人分の人生を生きたんではないか、と思うくらい中身の濃い人生なのです。近代日本の金融・財政・事業の礎を築いたといっても過言ではないくらい。帝国ホテル、日本郵船、日本商工会などなど。いまあるもので渋沢さんが関わったものが、大量にあるのです。これはお札になるわ。大河ドラマも見たいし、伝記も読みたい。読もう。
I saw the chronology of Mr. Eiichi Shibusawa's life, and it is a life that is so rich that I think I lived the life of 10 people alone. It is no exaggeration to say that it laid the foundation for modern Japan's finance, finance, and business. Imperial Hotel, NYK Line, Japan Chamber of Commerce, etc. There are a lot of existing things that Mr. Shibusawa was involved in. This will be a bill. I want to see a taiga drama and read a biography. let's read.
ご覧いただき有難うございました。最近はどんなおでかけをしましたか?にほんブログ村ランキングに参加しています。よろしければ、ポチ!ッと押していただけると嬉しいです♡
Thank you for visiting. What kind of outing did you do recently? I participate in the Nihon Blog Village Ranking. If you don't mind, Pochi! I hope you can press it ♡

にほんブログ村