Add to favorites
[Koto-ku] TGG (Tokyo Global Gateway) GW event, treasure hunt! What is the nearest station and how much does it cost?
私は「子供に英語教育」は早期から必要だと思っていますが、「週1の習い事はコスパが悪い」「今は良い無料教材がたくさんあるから、インプットだけなら家でも可能」と思ってるタイプです。(あくまで一個人の感想です、、)
I think that "English education for children" is necessary from an early stage, but I think that "the lessons once a week are bad for cospa" and "there are many good free teaching materials now, so if you just input, you can do it at home". The type. (It's just an individual impression …)
そのため、TGGは普段の自宅学習のマンネリ化を防ぐためのイベント、または「英語話したい!」と思わせるための刺激物、と思っています。そんな訳で、ゴールデン・ウィークもまたまたお台場のTGG(東京英語村)へ行ってまいりました♡
Therefore, I think TGG is an event to prevent the usual home study from becoming a rut, or a stimulus to make people think "I want to speak English!". That's why Golden Week also went to TGG (Tokyo English Village) in Odaiba ♡
TGGの最寄り駅は?
What is the nearest station to TGG?
TGGの最寄り駅は、ゆりかもめの「テレコムセンター駅」です。TGGの公式ページに行き方が写真付きで載っていますが、それを見ながら行くととても分かりやすいです♡ 非常に大雑把な言い方をすると、TGGは大江戸温泉物語のはす向かいにあります。テレコムセンターの駅からも大江戸温泉物語は見えますので、(ああ、あっちの方か)と目印にしながら歩くと迷いません。
The nearest station to TGG is Yurikamome's "Telecom Center Station". The official page of TGG has a photo of how to get there, but it's very easy to understand if you go while looking at it ♡ To put it very roughly, TGG is just across the street from the Oedo Onsen Monogatari. You can see the story of Oedo Onsen from the Telecom Center station, so you can walk while using (Oh, that one) as a landmark.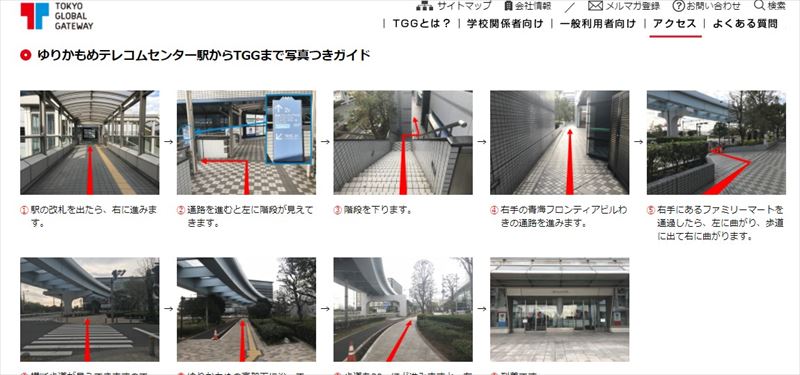 ①改札を出たら右へ行きます。
① After exiting the ticket gate, go to the right.
②左手の階段を下ります。
② Go down the stairs on your left.
③右手の青梅フロンティアビルの脇の通路を進みます。
③ Follow the passage beside the Oume Frontier Building on your right.
④右手にあるファミリーマートを過ぎたら、左手の歩道に出てまっすぐ歩きます。
④ After passing FamilyMart on your right, go out on the sidewalk on your left and walk straight.
⑤横断歩道をまっすぐ歩きます。
⑤ Walk straight on the pedestrian crossing.
⑥道なりにまっすぐ進み、高架下を右に曲がります。
⑥ Go straight along the road and turn right under the overpass.
⑦右手にガラス張りの建物が見えてきたら、それがTGGです。受付は1階にあります。
⑦ When you see a glass building on your right, it is TGG. The reception is on the 1st floor.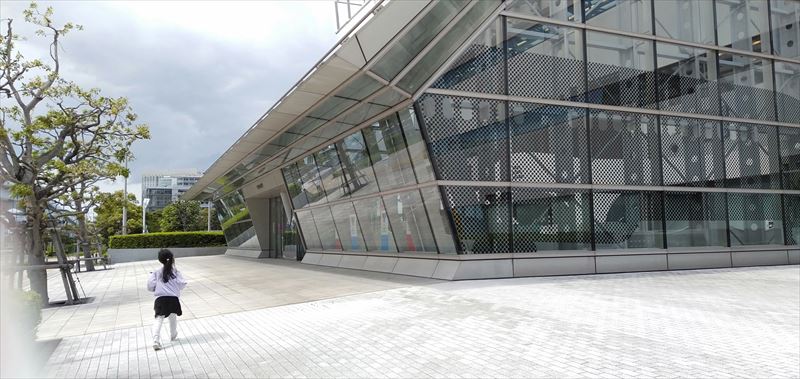 緊急事態宣言中のGWなのに遊び過ぎて、遅刻しました~!
Even though it was a GW declaring an emergency, I was late because I played too much!
2020年に続き、2021年のゴールデンウィークも緊急事態宣言でしたね。ああ、飲食店やデパートがかわいそう。。日本のGDPますます下がる、、。医療体制崩壊って、1年もあったのに何でまだ医療崩壊やってんの、、。という気持ちになりましたので、今年のGWは小池知事には悪いですが、遠くへの旅行はせずに家から電車で小1時間程度の場所へにわとりと戯れにお出かけしました。
We've arrived @Saontome konjaku mura.I love here.
埼玉県三富今昔村に来ました😄✨子連れしかいない😆ひよこがかわいい💞💨#三富今昔村 #小学生ママ #GW #動物触れ合い pic.twitter.com/xD9uStPjgC

— I love Bjork and outing and my daughter😃 (@sherry_turtle) May 3, 2021
Following 2020, Golden Week 2021 was also a state of emergency. Oh, I feel sorry for restaurants and department stores. .. Japan's GDP is declining more and more. It's been a year since the medical system collapsed, but why is the medical system still collapsing? This year's Golden Week is bad for Governor Koike, but I went out to play with chicken from my house to a place about an hour by train without traveling far.
まずは1階で受付⇒左の部屋で説明会
First reception on the 1st floor ⇒ Information session in the left room
遅刻したら、優しい女性の方が2名出てきてくれて、スマホのQRコードを見せて、はっちゃん(7歳こども)にTGGのパスポートをぶら下げて、左手にある部屋に案内してくれました。マズイね。ママが遅刻常習犯(2分くらい)だから、子供のこと言えないね。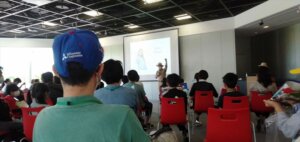 When I was late, two gentle women came out, showed me the QR code of my smartphone, hung my TGG passport to Hatchan (7-year-old child), and guided me to the room on the left. It's bad. I can't say about my child because my mom is a late addict (about 2 minutes).
中に入ると、探検隊の恰好をした外国人の先生が英語で説明をしていました。どうやら、2階でカードを5枚集めて、その後、3階でミッションをクリアすると、お宝をなくした大富豪に会いに行ける、という設定らしいです。リアルな世界でも、ぜひやってみたいシュチュエーションです、、!ちなみに、TGGの総面積は約7,000㎡と非常に広いです。
Once inside, a foreign teacher dressed as an expedition explained in English. Apparently, if you collect 5 cards on the 2nd floor and then clear the mission on the 3rd floor, you can go to see the millionaire who lost the treasure. It's a situation that you definitely want to try even in the real world! By the way, the total area of ​​TGG is very large, about 7,000㎡.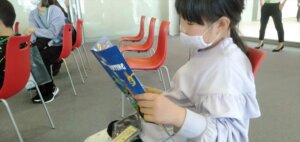 宝探しイベントの費用
Treasure hunt event costs
今回のイベントは、2021年5月2日~4日にかけて1日3回行われました。各回の費用は、大人1名、こども1名の場合は以下の通りです。
This event was held three times a day from May 2nd to 4th, 2021. The cost for each session is as follows for one adult and one child.
7,370円(税込)
・プログラム体験6,270円(税込)
・保護者または引率者(入場のみ)1,100円(税込)
7,370 yen (tax included) ・ Program experience 6,270 yen (tax included) ・ Parents or leaders (admission only) 1,100 yen (tax included)
、、、結構高いですよね!たったの2時間なので。でもね、うちはTGGに行くのが去年のクリスマスぶりですし、普段は英会話教室にお金を払っていないので(ワークとかも買ってない)、これくらいはいいかなあ?と思いました。
It's quite expensive, isn't it? It's only 2 hours. But, I've been to TGG for the first time last Christmas, and I don't usually pay for English conversation classes (I don't even buy work), so I wonder if this is all right? I thought.
ミッション1:2階で外国人先生とトークする×5回
Mission 1: Talk with a foreign teacher on the 2nd floor x 5 times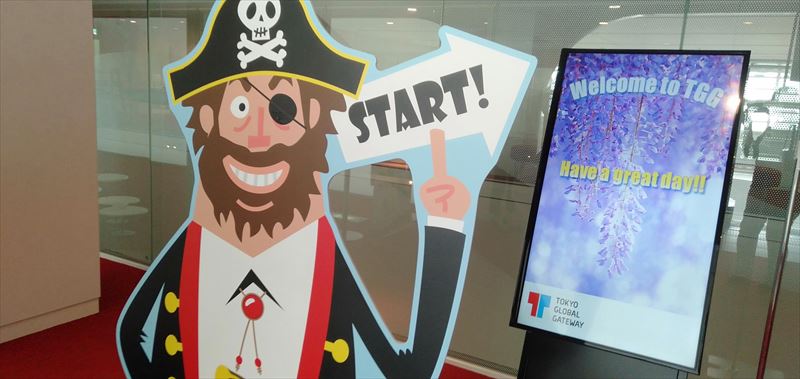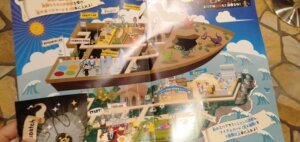 通常、TGGではアトラクションエリア・チャレンジエリアと呼ばれる場所が最初のミッションの舞台です。ホテルや機内など、本物さながらのセットで臨場感ある英会話を楽しめる、TGGのウリですね。そこで、子供たちは好きな場所(薬局、旅行会社など)に行き、外国人先生に簡単なフレーズなどを習い(子供のレベルによる)、本番のトークを行い、ミッションクリアの証のカードを1枚ゲットします。楽しそう~、、。(⇒私の英語習得なんて、地味に受験勉強だったよ!)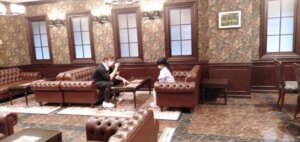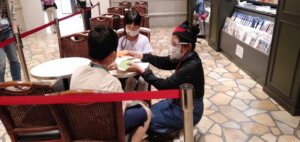 Usually, in TGG, the place called the attraction area / challenge area is the stage of the first mission. It's TGG's Uri, where you can enjoy realistic English conversation with a real set such as in a hotel or in-flight. Therefore, the children go to their favorite places (pharmacy, travel agency, etc.), learn simple phrases from foreign teachers (depending on the level of the child), give a real talk, and get one card proof of mission clear. I will get it. It looks fun … (⇒ My learning English was sober studying for entrance exams!)
ミッション2:1つ上のフロアでアクティビティをする×3
Mission 2: Activities on the next floor up x 3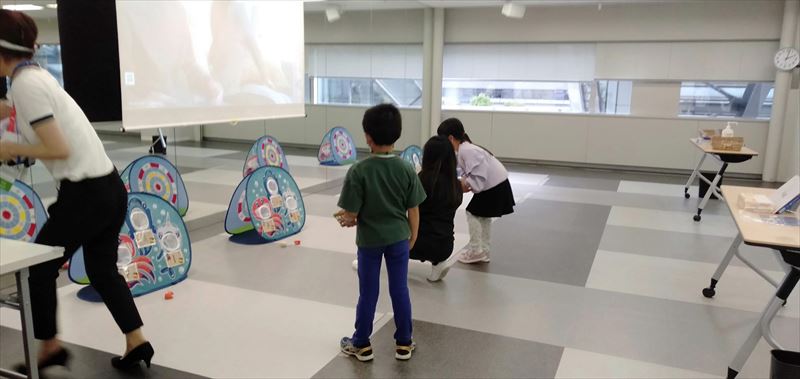 2階でのミッションを終え、エレベーターで上の階に進みます。TGGに来ている親子は、兄弟姉妹などで3名かまたは私たち親子のように2名のパターンが多いです。エレベーターの中でも「次は〇〇をしよう」みたいな作戦会議の会話が聞こえ、短い時間ながら、親子時間が充実しているみたいだな~と感じられ、なんだか嬉しくなりました。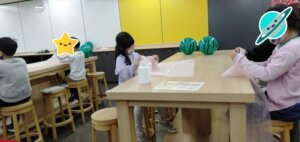 After completing the mission on the 2nd floor, take the elevator to the upper floor. There are many patterns of parents and children who come to TGG, such as siblings and 3 people, or 2 people like us parents and children. Even in the elevator, I heard a conversation of a strategy meeting like "Let's do XX next time", and although it was a short time, I felt that the parent-child time was fulfilling, which made me happy.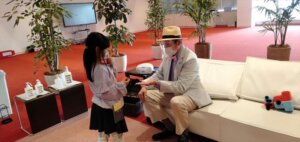 最後に謎解きがあるのですが、それが難しくて「ね~、わかんないよね~」とぼやいていたら、外国人先生が3人集まってくださり、「What is this?」「Monkey?」「Yeah,So this means the answer.」などと、ヒントをくださいました。そういう外国人の方と英語で話す機会が普段の生活ではなかなかないので、来てよかったです♪ 次回は、STEAM DAYに行きたいなあ♡
Finally, there is a mystery solution, but if it was difficult and I was wondering, "Hey, I don't know", three foreign teachers gathered and "What is this?" "Monkey?" " Yeah, So this means the answer. " I'm glad I came because I don't have many opportunities to speak in English with such foreigners in my daily life.Next time, I want to go to STEAM DAY ♡
最後までご覧いただき、ありがとうございました!東京は、もう梅雨に入ったとか言われています。はー、早いですね!今週は、長編映画でも見てまったりしようかなあ。
Thank you for watching until the end! It is said that Tokyo has already entered the rainy season. Hmm, it's fast! I wonder if I'll watch a feature film this week.
にほんブログ村ランキングに参加しています。よろしければ、ポチ!ッと押していただけると嬉しいです♡

にほんブログ村