Add to favorites
[Odawara City] Suzuhiro Kamaboko Chikuwa Experience! Reviews, reservations, cancellations, locations
夏の最後のお楽しみとして箱根に行くことにして、ずっと電車に乗ってるのも飽きるので、小田原の鈴廣かまぼこの体験教室に申込みました。コロナだしやってるかな?と公式ホームページ(https://www.kamaboko.com/)を見ましたが、すごく良くできたホームページですね。リンクがたくさんあって、コンテンツも充実していて、あっという間に鈴廣かまぼこのファンになりました♡(⇒めっちゃ単純な中年、、)
I decided to go to Hakone as the last pleasure of summer, and I got tired of riding the train all the time, so I applied for the Suzuhiro Kamaboko experience class in Odawara. Is it a corona? I saw the official homepage (https://www.kamaboko.com/), but it is a very good homepage. There were many links and the contents were substantial, and I became a fan of Suzuhiro Kamaboko in no time ♡ (⇒ Very simple middle-aged …)
というわけで、本日の「東京の小学生とおでかけ!」のテーマは小田原の鈴廣かまぼこです。
So, today's theme of "Going out with elementary school students in Tokyo!" Is Suzuhiro Kamaboko from Odawara.
ちくわ体験教室の予約~試食までの流れ
Flow from reservation of chikuwa experience class to tasting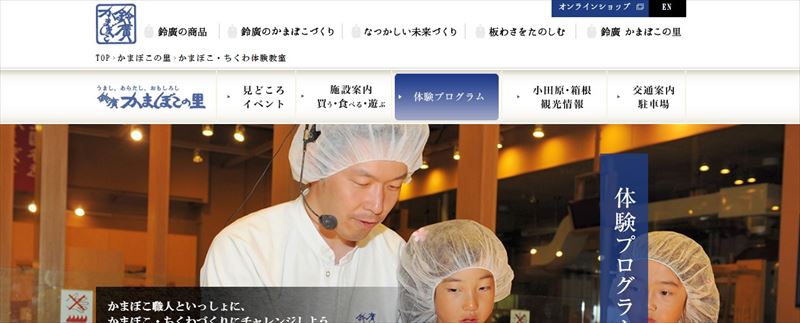 ①予約はWEB・電話から(キャンセル料かからず♡)
Reservations can be made online or by phone (cancellation fee?
かまぼこ体験教室に参加するには、予約が必要です。予約はWEBから空き状況を確認して好きな時間に申し込むか、または電話(0465-24-6262)で9時~17時の間に申し込みます。各回の人数は限定されているので、日程の候補が決まったら早めに予約することをおすすめします。(緊急事態宣言中の'21 8/25(水)の11時半の回に申し込みましたが、満席でした)
A reservation is required to participate in the Kamaboko experience class. To make a reservation, check the availability on the WEB and apply at your favorite time, or apply by phone (0465-24-6262) between 9:00 and 17:00. Since the number of people for each session is limited, it is recommended that you make a reservation early once you have decided on a schedule candidate. (I applied at 11:30 on Wednesday, August 25, '21 during the state of emergency, but it was full.)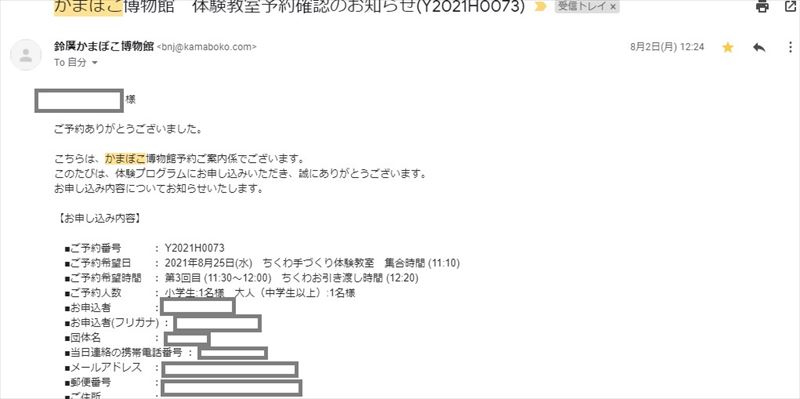 キャンセル料は取られないので、いけなくなったら必ず連絡を。当日は電話で、前日までならWEB予約された方はWEBからキャンセルが可能です。体験料の支払い(ちくわの場合ひとり税込み770円)は現地で支払います。クレジットカード利用も可能です。体験の種類はかまぼこ・ちくわのセットのものもありましたが、ちくわの方が体験料がお安かったので(セットだと1名で税込み1,760円)ちくわにしときました。
There is no cancellation fee, so be sure to contact us if you can't. If you make a reservation online on the day of the event, you can cancel it online until the day before. Payment of the experience fee (770 yen including tax per person in the case of chikuwa) will be paid locally. Credit cards are also accepted. There was a set of kamaboko and chikuwa, but the experience fee was cheaper for chikuwa (1,760 yen including tax for one person), so I chose chikuwa.
②現地に着いたら正面受付で清算

When you arrive at the site, settle at the front reception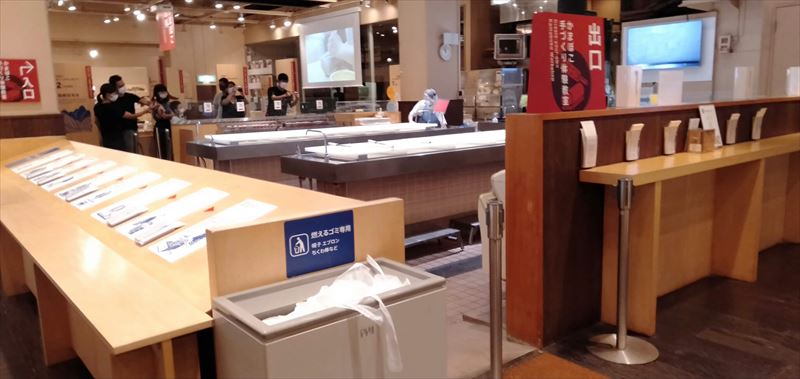 鈴廣かまぼこ博物館に着いたら、正面が受付になっているので「予約した〇〇です」と名前を告げます。私は親子2名分をクレジットカードで支払いました。(⇒日常でほとんど現金は使いません、、)その後、頭にかぶる白い帽子とエプロンを配られ、「手荷物は後ろのロッカーに入れて、手をよく洗って〇番のテーブルへ行ってください」と告げられました。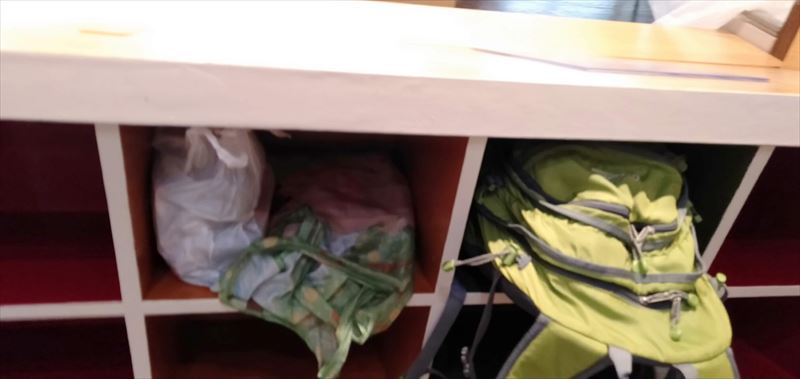 When you arrive at the Suzuhiro Kamaboko Museum, the reception desk is in front of you, so tell your name, "I made a reservation." I paid for two parents and children by credit card. (⇒ I rarely spend cash on a daily basis.) After that, I was given a white hat and an apron to wear on my head, and said, "Put your baggage in the locker behind you, wash your hands well, and go to table No. 0." I was told.
③スタッフの方が1名マイクで説明、前方にはスクリーンも
One staff member explained with a microphone, and there was a screen in front.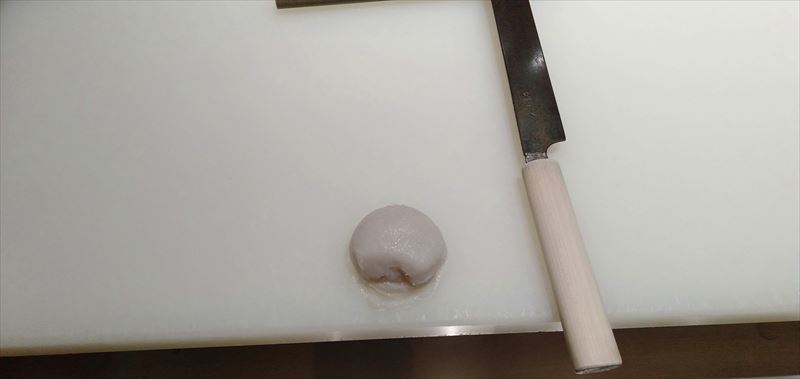 ちくわの体験教室はグループごとに座席が離れていたため、密にはなりにくい環境でした。意外でしたが、子連ればかりではなく、大学生の男の子のグループも参加していて、幅広い年齢層に人気なのね♡と思いました。時間ぎりぎりで到着してしまった私達。本来は20分前からいろいろ説明を受けているため、なんだか作り方がよくわかりません。でも、前方にスクリーンがあったために助かりました。簡単そうに見えるけど、手さばきは意外に難しかったです。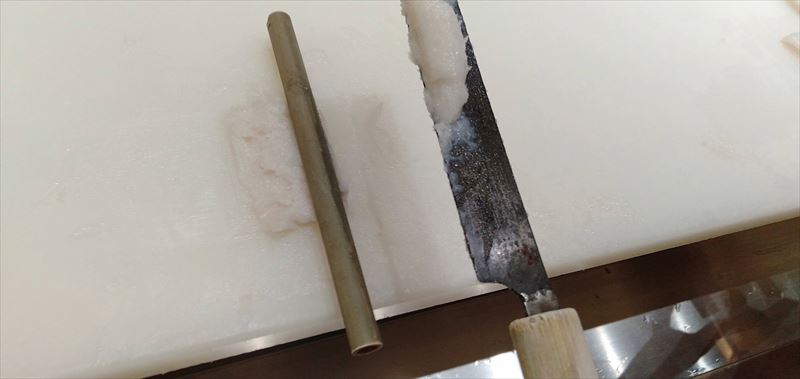 In the Chikuwa experience class, the seats were separated for each group, so it was difficult to get close. Surprisingly, not only with children but also a group of boys from college students participated, and I thought it was popular with a wide range of age groups ♡. We arrived at the last minute. Originally, I received various explanations from 20 minutes ago, so I don't know how to make it. But it was saved because there was a screen in front. It looks easy, but it was surprisingly difficult to handle.
④体験時間は15分?!意外に短い⇒札を渡され、ちくわの受取へ
Experience time is 15 minutes? !! Surprisingly short ⇒ Handed over the bill and to receive the chikuwa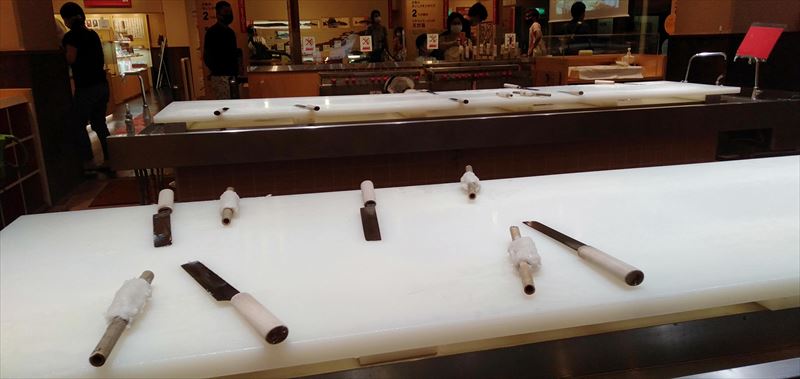 ちくわ体験教室は、正味20分ほどで終了します。実際に始まる前から集合しているので、集合時間からちくわ教室の終了までカウントすると40分ですね。その後、10分程度の焼き時間を挟んで、渡された整理券を受取場へ持参すると焼き立てちくわが頂けます。今まで特にちくわは好きでも嫌いでもなかったんですが、焼き立てのちくわは皮が香ばしくて(あ~、焼酎に合いそうね~♡)と思いました。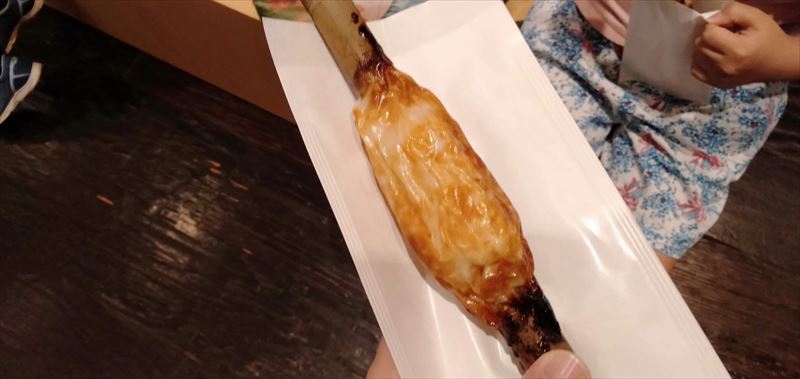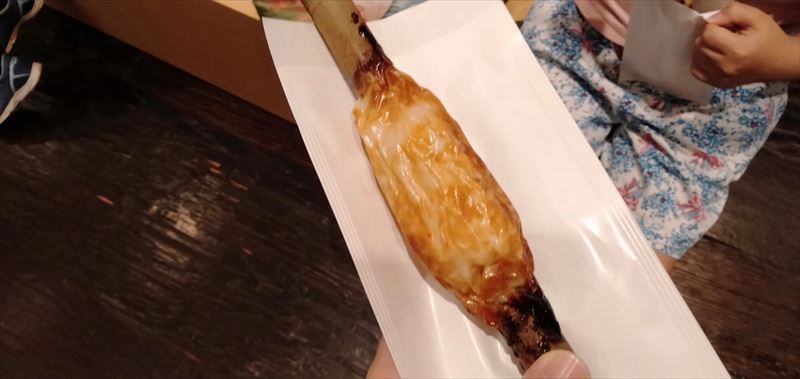 The Chikuwa experience class will end in about 20 minutes. Since we have gathered before the actual start, it takes 40 minutes to count from the meeting time to the end of the Chikuwa classroom. After that, after a baking time of about 10 minutes, bring the numbered ticket you received to the pick-up area to get a freshly baked chikuwa. Until now, I didn't particularly like or hate chikuwa, but I thought that freshly baked chikuwa had a fragrant skin (oh, it looks like it goes well with shochu).
鈴廣かまぼこ博物館は入場無料♡体験教室なしでも楽しめます
Suzuhiro Kamaboko Museum is admission
私は正直、いろいろな子供向けの体験教室に行っているためちくわ教室は特に「感動した!」というわけではなく、非常にシステマチックに感じました。(慣れているというか、事務的)その代わり、この体験教室が入っている鈴廣かまぼこ博物館自体の施設のスゴさにはかなり感動しました。これで入場無料でい~んかい?、鈴廣かまぼこってさすが太っ腹!って思いました。
To be honest, I went to various hands-on classrooms for children, so I wasn't particularly impressed with the Chikuwa classroom, and I felt it was very systematic. Instead (I'm used to it, it's clerical), I was quite impressed by the amazing facilities of the Suzuhiro Kamaboko Museum itself, which houses this hands-on classroom. Is this free to enter? , Suzuhiro Kamaboko is really fat! I tought.
小田原(風祭)は鈴廣かまぼこのおひざ元?!って思った
Odawara (Kazamatsuri) is Suzuhiro Kamaboko
ここからは、鈴廣かまぼこ博物館の場所を知りたい方のために、ご説明しますね~。
From here, I want to know the location of the Suzuhiro Kamaboko Museum
①場所は箱根登山鉄道線「風祭駅」下車3分くらい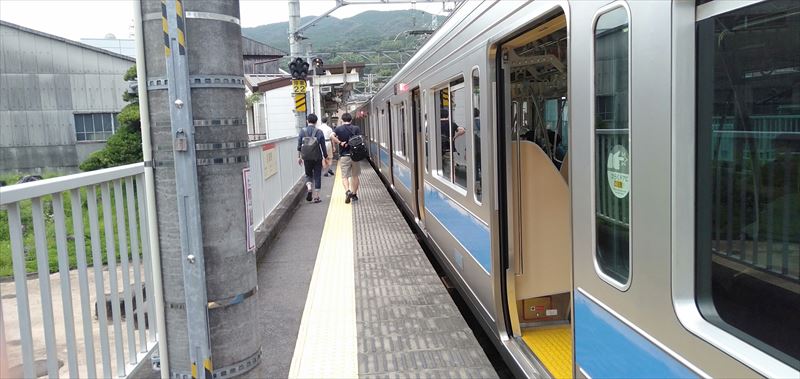 「小田原 かまぼこ 体験」とかキーワードでGoogle先生に尋ねると、「風祭に鈴廣かまぼこの体験教室があるよ!」と教えてくれました。ほうほう。小田原駅ではなく、小田原駅から箱根登山鉄道線で2駅の「風祭駅」にあるんだね。風祭といえば、クレヨンしんちゃんの風祭君だネwもしかして、風祭クンのご両親はこの地域の出身なのかな?なんて思いつつ、目の前に鈴廣かまぼこの建物があります。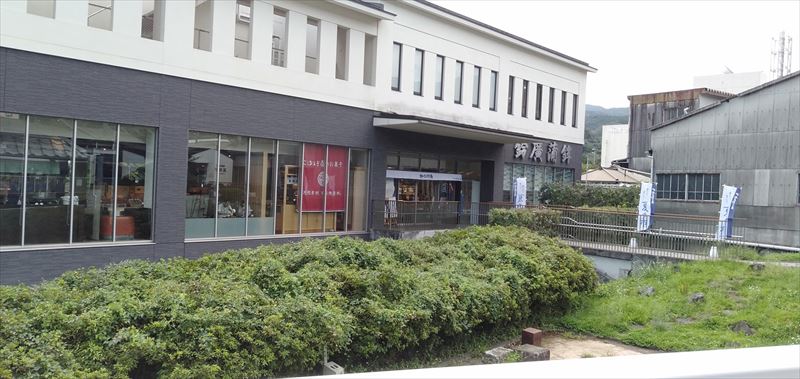 When I asked Google Sensei with keywords such as "Odawara Kamaboko Experience", he told me that "There is a Suzuhiro Kamaboko Experience Class at Kazamatsuri!". method. It's not at Odawara Station, but at "Kazamatsuri Station", which is two stations on the Hakonetozan Railway Line from Odawara Station. Speaking of Kazematsuri, it's Crayon Shin-chan's Kazematsuri-kun. Maybe Kazematsuri's parents are from this area? While thinking about it, there is a Suzuhiro Kamaboko building in front of me.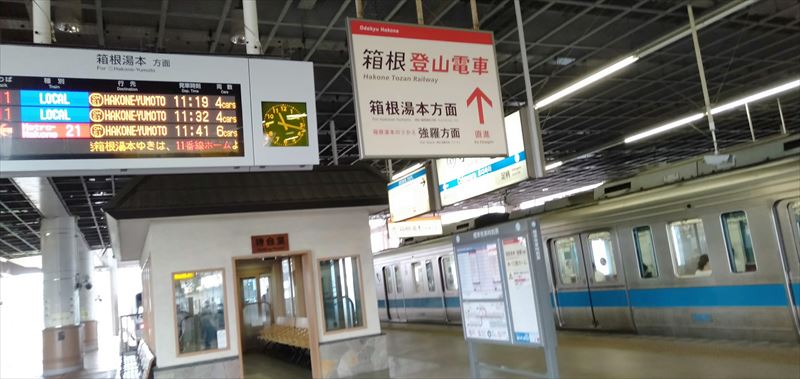 私はいろいろ気にしない性格なので、11時10分に鈴廣かまぼこ体験教室に集合ということを当日ロマンスカーの中で知り、11時10分に小田原駅に着きました。(げげ!間に合わないじゃん)とダッシュで箱根登山鉄道に乗り換えをし(同じホーム内なので助かった、、)スレスレで体験教室に参加できました。(⇒良かった、、)
I don't care about anything, so I learned in the romance car that I would meet at the Suzuhiro Kamaboko Experience Class at 11:10, and arrived at Odawara Station at 11:10. I changed to the Hakone Tozan Railway with a dash (it was saved because it was in the same platform) and I was able to participate in the experience class at Thresle. (⇒ Good …)
②かまぼこ(ちくわ)体験教室の会場は別館でした
The venue for the Kamaboko experience class was an annex.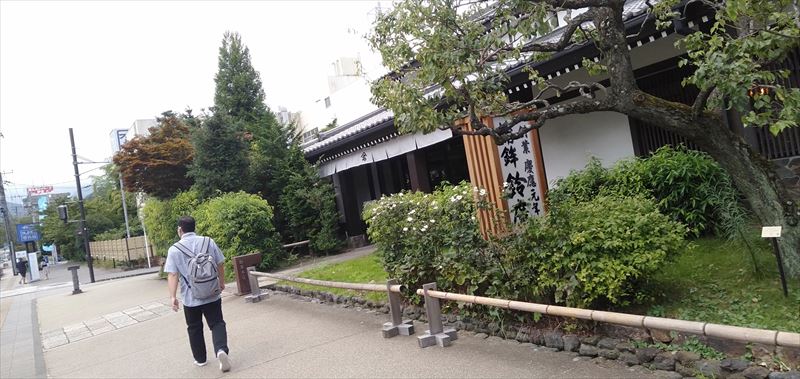 でも、かまぼこ・ちくわの体験教室は駅直結の「鈴廣かまぼこの里(おみやげ屋)」ではなく、別館の「鈴廣かまぼこ博物館」で行われます。あ~、おみやげ買いたい、と思いつつ、体験教室に向かうため、道を急ぎます。途中、鈴廣かまぼこ本店も右手に見えて、(何ここ?!駅出たら鈴廣かまぼこ、道を歩いても鈴廣かまぼこ。鈴廣かまぼこがめっちゃ法人税払ってる地域なんだろな~)と思いました。すいません、そんなどうでもいい感想でこのレポは終了です。ぜひ他の地域の記事もご覧いただけると嬉しいです♡
However, the Kamaboko / Chikuwa experience class is not held at the Suzuhiro Kamaboko no Sato (souvenir shop), which is directly connected to the station, but at the Suzuhiro Kamaboko Museum in the annex. Ah, I'm rushing to the hands-on classroom, thinking that I want to buy souvenirs. On the way, I saw the Suzuhiro Kamaboko main store on the right side, and I thought (What's here ?! Suzuhiro Kamaboko when you get out of the station, Suzuhiro Kamaboko even if you walk on the road. I did.